Dishes
Seafood Salad at Nearly Famous Deli & Pasta House
Plus six other things that passed the test of our taste buds.
By The Editors
Apr 2013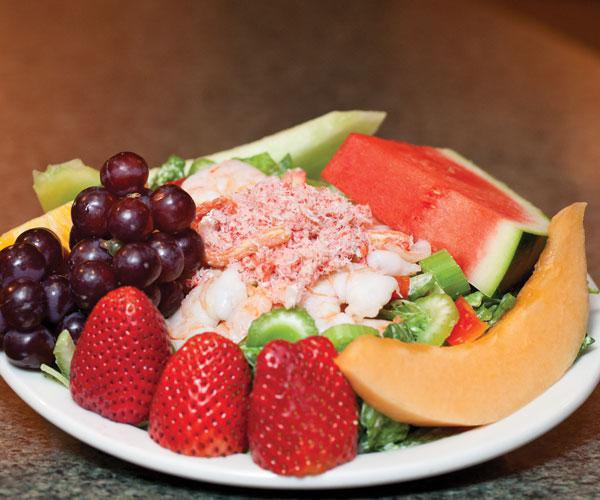 1. We can't get enough of the
seafood salad
at
Nearly Famous Deli & Pasta House
(
2708 S. Glenstone Ave., Springfield, 417-883-3403
). Fresh salad greens, celery, crunchy red bell pepper and scallions are tossed with the restaurant's creamy homemade green goddess dressing and topped with crab meat and shrimp, and it's all served with fresh fruit. Drool.
2. The smothered carnitas at Prima's Mexican Grill (21011 W. Chesterfield Blvd., Springfield, 417-823-7180; 1769 W. James River Rd., Ozark, 417-582-2776) feature fork-tender pork, gooey delicious white queso and fresh pico, and you can wrap it all in warm tortillas.
3. Friday's Blue Plate Special at Enoch's BBQ & Southern Classics (2101 W. Chesterfield, B-102, 417-881-2888, Springfield) is fried catfish. It's extra crunchy, kind of spicy and tastes great with the restaurant's homemade barbecue sauces.
4. The Scotch eggs at Farmers Gastropub (431 S. Jefferson Ave., Springfield, 417-864-6994) are wrapped in juicy homemade pork sausage, breaded and baked. Bonus: The crispy treats are made with eggs and pork from local farmers. 
5. The mushroom chicken at Yen Ching (5301 N. 22nd St., Ozark, 417-582-0555) features tender white chicken and mushrooms cooked in a savory brown garlic sauce. It's served with rice and bursting with flavor.
6. For a belly-warming meal, try the pot roast sliders at Houlihan's (2431 N. Glenstone Ave., Springfield, 417-862-7777; 2110 E. Republic Rd., Springfield, 417-883-3434). The melt-in-your-mouth beef is served on a cute little pillowy soft bun.
7. The hummus at That Lebanese Place (338 E. Commercial St., Springfield, 417-536-6677) is a rich and creamy blend of chickpeas, garlic and spices topped with the perfect amount of olive oil, sumac and cumin.