Reviews
Hurts Donut Company
Unusual toppings and a little creativity bring nearly 100 rotating flavors to Springfield's Hurts Donut Company.
By Savannah Waszczuk | Photo by Jamie Strong
Apr 2014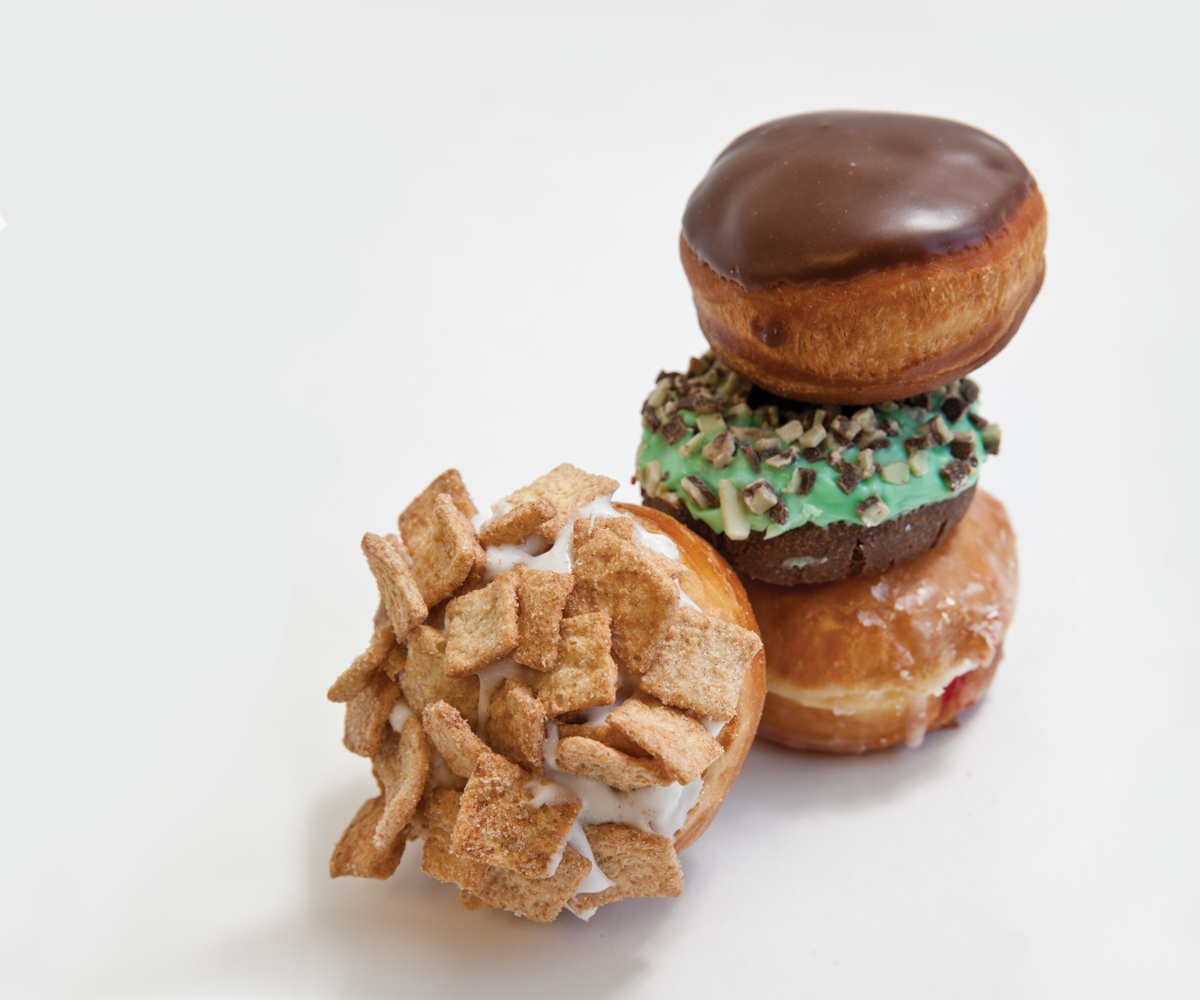 Hurts Donut Company
320 Park Central West, Springfield, 417-719-4119, 1111 E. Republic Road, Springfield, 
hurtsdonutco.com
Price Range
$1–3 for most items; $8–15 per dozen
Do if you dare
Try the Fearsome Big Mouth. Available on Saturdays, it's a gigantic glazed donut (equivalent to 1 dozen regular-size donuts). If you eat it in 90 seconds or less, it's free.
When to Try It
Any time your little heart desires. The spot is open 24-7.
I've caught myself lost in The Travel Channel's Donut Paradise show more than once. I'll just be flipping channels, then all of the sudden, a giant pillowy treat coated in gooey chocolate and sprinkled with bits of candy bar will fill my entire TV screen. Before I even have time to drool, a flash of a donut topped with crumbled Oreo cookies will appear. They're talking about candy bars and cookies on donuts! My mind is blown. That's not how we make donuts in southwest Missouri. At least it wasn't until recently. 
Enter November 2013. Springfield received a significant snowfall, Thanksgiving gave me more than my fill of turkey and I saw that a friend recently "Liked" a place called Hurts Donut on Facebook. Instantly curious for both myself and the magazine, I checked it out. Hurts had just opened, and it had a menu filled with donuts that were unusually topped (just like the ones on that show). There were donuts topped with Nerds and Reese's Pieces. There were some covered with cereal and others topped with cotton candy and bubble gum. There was even one with bacon, and a special one coated with potato chips! 
I finally visited Hurts on a quiet Thursday afternoon, having the whole spot to myself (minus a quick visit from a mom and two overly hyper kiddos who had spaz attacks at the display case). The shop is small, but it's nice and bright, and I set up camp by the window before beginning my calorie fest. I ordered a dark-roast coffee and a maple bacon bar, which is a long john topped with a generous layer of maple icing and completely covered in pieces of real chopped bacon. Yes, bacon on a donut.
After my first bite, I took a second to thank God for my decision. This long john—or masterpiece, dare I say—is unlike anything I've ever eaten in my life. The pastry portion itself is tasty—a beautiful combination of dense and fluffy. But most of the magic, in my opinion, is on top. The flavor of the thick maple icing took me back to the days of pouring maple syrup on a pile of pancakes. Then, there's the bacon. The salty, crumbly bacon that adds a meaty finish to the typically vegetarian breakfast pastry. When assembled, the pieces of bacon slightly submerge into the maple icing, creating a sweet-and-salty creation that takes the world of breakfast pastries to a whole new level.
Before I left, I grabbed a half dozen more donuts to take back to the office and share with my fellow workers. Here is my brief synopsis after trying a bite of each: 
1. Filling isn't something this spot takes lightly. We tried varieties stuffed with raspberry jelly, lemon filling and Boston cream, and there was a whole lot of sugary bliss jammed into the middle of every single one.
2. As for the cereal varieties, they marry the doughy-yeasty delicious qualities of the long john with a hefty portion of your favorite cereal. Captain Crunch on a donut? What's not to love? 
3. Of the candy-topped creations, the chocolate donut with mint icing and crushed Andes mints is something that'll make you want to start a dance party, if starting a dance party is something you do when you eat a sweetly delicious treat. It's a donut, but it's so much more. They all are. I can't wait to go back and try the others—all 100 of them.
Three Questions with Owner Tim Clegg
417 Magazine: How did you develop your recipes?
Tim Clegg: We were fortunate to hire some really creative people. Also, once I realized the restaurant was going to be conceived, I sat and brainstormed off-the-wall ideas.
417: What's your best-selling donut?
T.C.: Probably the maple bacon bar. We go through 15 pounds of bacon a day.
417: What donuts are unique to Hurts?
T.C.: A lot of our donuts are unique to this area. Our son thought of our pink lemonade donut—a white cake donut with vanilla icing, pink lemonade powder and pink lemonade icing.