Health
Mom-Friendly Fitness
After having a baby, it can seem like life is too busy for your old workout routine. Read a local mom's tips for bringing fitness back into the equation after an expanding family and a growing to-do list.
Apr 2014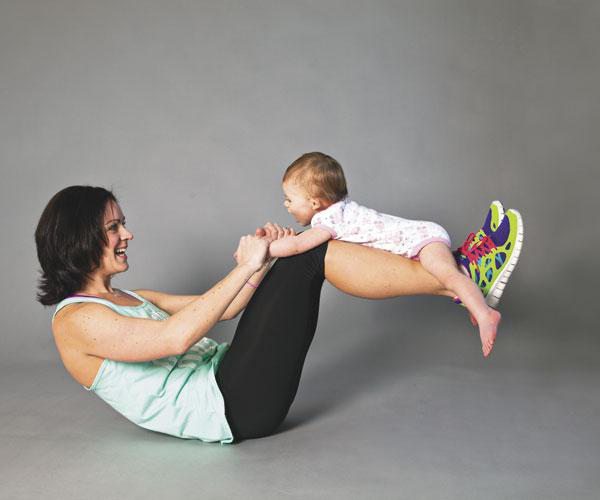 A
s a new mom, each day is a challenge to stay fit and healthy. Having been a Division 1 collegiate swimmer, I never imagined I would be more tired than when I was doing two-a-days on top of a full load of classes, but there is nothing like the fatigue that comes with having a newborn baby. From being up all night to carrying around the little 7-pound weight all day, your body takes on a whole new role: vehicle to survival. By starting slowly and building up a little each day, I've gotten into the best shape of my life with the help of my daughter, McKinley.
Since my doctor recommended no intense physical activity for 6 to 8 weeks after delivery, I started out by focusing on the good eating habits I had developed when I was pregnant—just slightly less strict. (I made sure to grab a cup of coffee as soon as I could get my hands on it.) I made more of my own foods using natural substitutes, such as honey for sugar and applesauce for oil, and ate protein-rich grains like quinoa and loads of fresh vegetables. By making the right choices with food, I noticed already I had more energy, and I needed every bit of it with the lack of sleep I was experiencing.
Before I knew it, two months had passed, and I was ready to get back to exercising. The gym I belong to does not allow children younger than 12 weeks of age in the daycare, so I had to get creative. I decided to do something I had only read about before: workout with McKinley. 
I started by doing 20 minutes a day of a variety of exercises that incorporated McKinley, including baby chest press, baby shoulder press, frog jumps, push up kisses, just to name a few. I did 10 repetitions of each exercise, three times, making sure to listen to my body, so I did not hurt myself. As I got better at the exercises, I added more repetitions. 
Get Started

If you're looking for a good place to start walking, check out the Ozark Greenways trails. They run different lengths, through different parts of the Springfield area, so you can change up your scenery every time you try out a new spot. Find the full list of trails and their lengths, descriptions and locations at ozarkgreenways.org. The Springfield Conservation Nature Center features an assortment of activities and walking trails the whole family can enjoy. Find it at 4601 S. Nature Center Way, Springfield.

Once I felt like I could handle the baby-and-me exercises, I added in walking. Pushing a stroller up and down the hills of the Ozarks is a challenge. I added a half-mile walk to my routine after my workout with McKinley every day and built up to doing it five days a week. (If you aren't able to find a good place to walk, try doing a few sets of lunges across the living room while the baby naps. This a good cardio alternative and works similar muscles.) It took time, but McKinley is now 11 months old, and I am up to running 5 miles, my best yet.

Every day is not a ground-breaking workout, but if I make an effort to get to the gym and improve myself, I consider it a successful day, and I am happy knowing McKinley is getting out and socializing with the other children in the nursery now that she is old enough. As a mom, I think it's important to do something that makes you feel good about yourself. Whether you are a former athlete or you are turning over a new leaf, your health is just as important as the health of your child, and the best way to teach our children to be fit, healthy and confident is by showing them ourselves.