Life
How Poverty is Affecting Springfield's Kids
Poverty affects much more than the amount of money in your pocket, especially when kids are concerned. But there is hope—and you can be the one who helps. We take a deeper look at the issue and find a kid who smiles through all of the challenges.
By Ettie Berneking | Photos by Chuck Travers
Apr 2015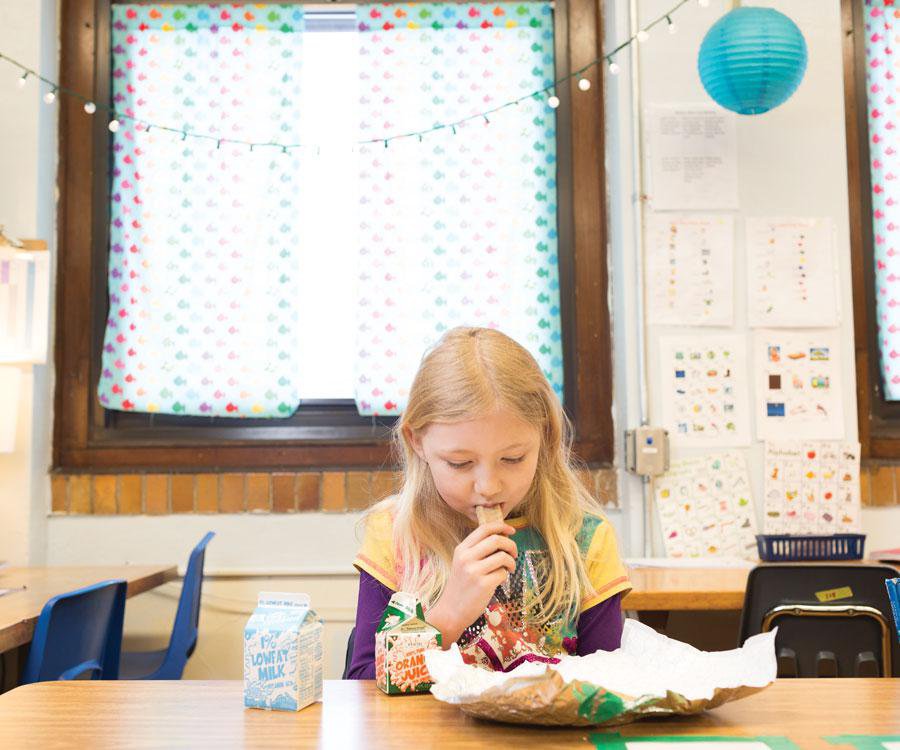 Even at 8 years old, Alana knows her family doesn't have much money. But she doesn't worry. She doesn't talk about money issues with her friends at school. None of them have money either. She has bigger concerns. She wants to be a math teacher. She's smart. But Alana isn't just book smart. She's street smart. She has to be. For much of her childhood so far, her parents were high. Prescription drugs, heroin, meth… the list goes on. But they're clean now—going on three years. And since Alana has been enrolled at Robberson Community School, she and her family have been slowly inching their way up. 




Alana (above) sits in her teacher Chelsea Forste's classroom at Robberson Community School ready to start her day after a breakfast provided by the Breakfast in the Classroom program.
Just the Facts
In second grade, Alana isn't the only student at Robberson with a pedigree that includes a broken family, life in poverty and parents recovering from addiction. While every student has his or her own story to tell, one similarity stands out: poverty. Some 88.2 percent of students at Robberson qualify for free and reduced lunch. There's a food pantry in the school's basement. And that collection of shoes in the library isn't lost and found. They're for students whose footwear likely doesn't stand up to freezing winter temperatures or rain. 
But Robberson is not alone. Out of Springfield's 36 elementary schools, seven report more than 90 percent of their student body qualifies for free and reduced lunch. And 60.8 percent of all Springfield elementary school students qualify for the program. To qualify for free meals at school, a family of four must bring home an annual income of $30,615 or less. And if you're thinking this is just a Springfield problem, think again. In January, The Wall Street Journal reported that for the first time in at least 50 years, a majority of United States public school students are from low-income families.
A slew of problems follow: Low attendance, a serious lack of social skills, hunger and food hoarding and issues with personal hygiene that can quickly label a student an outcast are just a few. And the data is clear—a growing number of these students are unprepared for kindergarten and by starting behind, catching up is a serious uphill battle for both students and teachers. 
Dana Carroll with Every Child Promise says 1 in 5 students are not ready for kindergarten. "These are kids who are unable to function in a classroom setting," Carroll says. "They are kids who, for the most part, have never been in a structured environment. So when you say 'Come to the table, sit here, use your pencil' they have no desire to be part of that. That's where preschool comes in."




Breakfast provided by the Breakfast in the Classroom program.


Long-Term Fixes
Carroll isn't alone in her mission to make preschool available to more kids. The Obama administration has long pushed for Congress to cover the cost of preschool for low-income families. But resistance is fierce. According to The Wall Street Journal, state and federal government already spends $500 billion annually on primary and secondary schools. That comes out to an average of $10,938 per student. At first glance, it seems like the money is there, but the number of students who are starting their education already behind is steadily growing. 
So to fight back, Springfield Public Schools is investing in long-term solutions. One of those investments is in the Parents as Teachers program—a 25-year-old program that started in Missouri before being adopted as a national program. The focus is on training parents to be their kids' first teachers. Educators meet with families to answer questions about child development and work to identify possible delays. But years of budget cuts have starved the program. So now SPS is putting its own money into the pot and doubling the number of educators involved. According to Carroll, Parents as Teachers serves some 4,500 children each year. Carroll and the Every Child Promise also offer scholarships to help cover the cost of preschool. "You're talking about families living in poverty who are struggling to just get by," she says. "Childcare is expensive. It's more money to pay for childcare than it is typically for rent and utilities." Carroll estimates childcare for an infant can reach $180 each week, and that's the low end. Now let's say you have a 4-year-old. Add an additional $100 a week. Suddenly you just handed over rent and utilities for the whole month.
But not getting your child in preschool can have lasting effects. Christian Mechlin, community resource coordinator with Robberson Community School, sees those effects every day. "Underdeveloped social interaction is a big problem when working with kids living in poverty," he says. "For starters they have less vocabulary than other kids. But you even have kids who during free time, they're so under-socialized that they won't even think to interact with the other kids. That's a skill you have to teach kids."
There are other tell-tale signs of poverty. The most obvious is food hoarding. "When you give them food, they are really efficient at rationing it out," Christian says. 
"Kids aren't going to be able to learn if they're hungry," says Morey Mechlin, executive director of Care to Learn, a non-profit that provides students with clothes, hygiene supplies and other needs. 
To address student hunger, Springfield Public Schools helped bring in the federal program Breakfast in the Classroom where students start their day by having breakfast at their desks. "What teachers have seen is interaction like Thanksgiving dinner," Morey says. "Kids have classroom discussions while they eat, and the teachers have seen better attention." In fact, Breakfast in the Classroom has been so successful, it has now been extended into high schools. "We have always addressed poverty in elementary schools and act like once students reach middle school and high school, everything is good," Morey says. "We just say good bye and good luck! They're hungry in middle school. They're hungry in high school." 
To help families fight food insecurity, Robberson offers a nightly dinner. The school is also on a continuous learning calendar, which ties into the "community school" model. "It's all about providing more resources to our families," Christian says. As part of the community school model, Robberson brought in more after-school programming, tutoring and counseling, and the school is seeing results.




Christian Mechlin coordinates resources for Robberson Community School.


Helping Hands
But there is still work to be done. While Alana eagerly soaks in her math lessons, other students are just trying to catch up. Addressing student needs is still an issue, but programs like Big Brothers Big Sisters of the Ozarks are trying to help. "We focus on preventative services," says Katie Davis, chief executive officer with Big Brothers Big Sisters of the Ozarks. "We want to identify those kids who might not be going down the right path. They could be struggling academically or struggling socially. Those two issues carry equal weight."
The Lunch Buddy program is one way BBBS is trying to address both social and academic struggles. One day each week, bigs meet their littles for lunch at school. Research shows that bigs and littles who are paired for one year see improvement at school as well as in the little's social life. 
"People worry that they don't know how to be a big or that they have to be something really special," Davis says. "It's just about incorporating your little in your life and being a regular presence."
Rob Fulp, chairman/chief executive officer at Springfield First Community Bank, was a Lunch Buddy big for one year. Each Thursday, he would meet his little for lunch, and the two would chat about life, school, homework and what was going to be on the menu next week. "It was more of a highlight in my week than it was for him," Fulp says. The experience made such an impact on Fulp that he even encouraged other bank employees to join the Lunch Buddy program. "When you leave your little to go back to your day, it's a bright, shiny day because of what you've done," he says. 
Back at Care to Learn, Morey is working to address student needs in a different way as she distributes her $1 million budget toward hearing aids, glasses, new winter shoes—you name it. 
"Money is the best," Christian says. While donations are always appreciated, organizations like Care To Learn and The Every Child Promise can make that dollar donation stretch much further. "People love the hands-on value of making a tangible donation," Morey says. "And it meets some of the need, but it doesn't meet all of the need." 
The food pantry at Robberson is a great example of the limitations of food and clothing donations. "There are probably 200 cans of corn sitting down there," Christian says. "But there's only so much you can do with corn. If there's a food shortage, that corn is great. But when I have a kid who needs glasses, I can't put two cans of corn over his eyes and say 'There! This is going to help.'"




Nadiah, Delilah, Brian, Paxton and Alana were once homeless for six months, but now they're in a three-bedroom home near Robberson Community School, and Brian has a good-paying job.


Moving Up
Like so many families at Robberson, money is the main concern for Alana's family. Alana's stepdad Brian worked at a pizza place for several years making just $7.50 while Alana's mom, Delilah, stayed at home with Alana's younger brother Paxton. Over the last few years, the family has jumped around while Brian and Delilah got clean and started to put their life back together. But the scars remain. Alana was 3 when her mom was at the peak of her drug addiction, and she can still remember those times. "She'll still say she misses those nights when I would stay up with her all night coloring," Delilah says. "How can she miss those times? I was high on meth." 
At one point, unable to pay rent, the family was evicted and homeless. They spent six months living out of a hotel and survived on pizza Brian brought back from work. The money they did have came from family who helped cover bills. But things have started to look up. 
Not long after moving into a three-bedroom home, Brian got a better paying job through Penmac. For the first time in years, Brian and Delilah are able to pay their own bills. But the increase in pay came with its own set of issues. Delilah is terrified the family will lose its state support. "I feel like we're finally moving up and becoming normal citizens," she says. "That's when they cut you off from everything that was helping."
If you ask Alana about her family's struggles, she knows what's going on. She doesn't spend her money. "You give her a quarter and she saves it," Delilah says. "Sometimes we have to borrow money from her for gas and groceries. She understands."
But for now things are calm. Brian has a good paying job. The family has a house they love, and they are able to send their kids to Robberson. They still only have one car, but it runs. It doesn't have heat, and the driver's-side window is stuck halfway down, which means Brian drives to work with a blanket during the winter, but the family is grateful. 
Looking Ahead
Whether it's providing kids with winter coats, school supplies or even a stable adult figure in their lives, programs like Care to Learn, Every Child Promise and Big Brothers Big Sisters are there to help. And you can join in too by volunteering with Big Brothers Big Sisters or by donating to Every Child Promise or Care to Learn. Kids like Alana will thank you.
Stay up-to-date on poverty in Springfield, when we pick up the conversation again in July. There is hope, and you can help.
Get Involved
In each segment of this four-part series, we introduce you to a local charity in need of assistance—whether that means volunteers, donated items or financial support. In this segment, we challenge you to join the Lunch Buddy program through Big Brothers Big Sisters of the Ozarks. 
Who to contact: Dylan McKinsey, 417-889-9136
Who can volunteer: Anyone, but the program is especially in need of male bigs.
Goal: 55 matches
What to bring: It's really up to the big and little. Some bigs have brought nail polish and books to share with their littles during the lunch break, and others have actually brought lunch to share. It's all about being a regular part of the little's life.
Time commitment: Bigs meet their lunch buddy once a week for 30 minutes. The goal is for bigs and littles to meet for one year.