Reviews
Maso Kitchen Bar
Nicola Gilardi's new restaurant, Maso Kitchen Bar, might be just around the corner from his popular Italian eatery, but the décor and menu are light years apart.
By Ettie Berneking | Photos by Kevin O'Riley
Apr 2015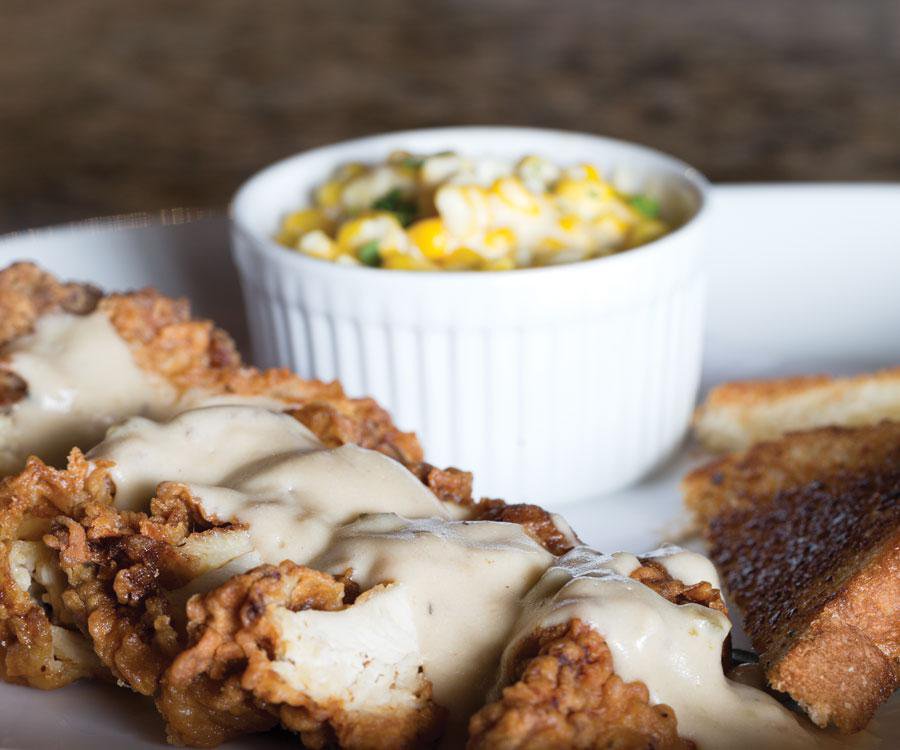 After three years of working at 417 Magazine, I've devoured my fair share of local cuisine. It seems like there's always a  new restaurant to scout. But when it comes to enjoying a simple-yet-delicious meal, I regularly find myself at one of Nicola and Monica Gilardi's restaurants. His latest eatery, Maso Kitchen Bar, is the newest addition to my list of go-to dining spots. Editor's note: Since publishing this story, Maso has rebranded to be Maso Pizza Bar.
When Maso first opened, we thought the always-charming Nicola had traded some of that charm for a bit of madness. Maso is just a few storefronts away from Nicola's—the popular Italian restaurant named after Nicola himself. It seemed nuts to open a competing restaurant. But after a recent dinner landed me and our Senior Editor Savannah Waszczuk at Maso smack dab in the middle of the dinner rush, Nicola's business savvy was reinforced. 
Decked in casual, lodgy décor, rows of high tops, cavernous leather booths and an impressive front bar, Maso feels like a total departure from Nicola's more traditional Italian restaurant that is swathed in shadowy romance. But the real difference for me was the menu. Instead of the rich lineup of steaks and decadent pastas, the Maso kitchen has narrowed its focus: American comfort food with a twist.
Hamburgers come with barbecue pulled pork or garlic butter and melty mozzarella. One of the four burgers on the menu even features a fried egg and hash browns. Maso diners can feast on jazzed up burgers, baked mac and cheese, fried airline chicken, fish tacos and a chopped wedge salad. Like I said, the menu is small but mighty.
As I waited for Savannah to arrive, I settled into one of the cozy leather booths that could easily fit six and ordered myself a glass of red wine and the fried chicken liver appetizer, which comes with a sweet chili aioli dipping sauce. The thick, crunchy breading was hot and peppery and was a great contrast to the velvety smooth liver hidden inside. Carefully selecting the plumpest pieces, I probably ate half of the appetizer before Savannah even arrived.
I decided to continue my indulgent meal and ordered the Messy Maso burger. Layers of juicy barbecue pulled pork, coleslaw and a perfectly cooked burger are stacked on a buttery brioche bun, which sags under the weight of all that deliciousness. I was in heaven as droplets of juice ran down my wrist and over the pile of crispy thick potato wedges.


Savannah went with the airline buttermilk fried chicken. An hour later, we were still sunk into our booth as we picked the last morsels of food from our plates and dug into our latest life happenings. 
A change in décor and an Americanized menu still didn't change the welcoming atmosphere that lingers over Gilardi's restaurants. A new name and a new menu, but still the same Gilardi touch.



Springfield chef Nicola Gilardi expands beyond his traditional Italian menus at his latest restaurant, Maso Kitchen Bar.


Q&A with Maso Kitchen Bar Owner Nicola Gilardi
417 Magazine: Where does the name Maso come from?
Nicola Gilardi: Coming up with the name of a business is a really big stress, and I didn't realize how hard it was. My first restaurant was Gilardi's, and the second restaurant was Nicola's, so that was pretty easy. But this one here was so difficult. We came up with a lot of different names. Maso Kitchen Bar is named after my son Tomaso. I took the T and the O off. So now when people say "let's go to Maso," they're saying my son's name without realizing it. My little boy is very happy to know this is named after him.
417: What was the first item on the menu?
N.G.: The Nic's Rise and Shine dish. It's named after my son Nic. When he wakes up in the morning, he's very grumpy. But then he gets his breakfast, he rises and shines. The burger has fried eggs and hash browns on it. 
417: How do you de-stress at the end of the day?
N.G.: I watch The Bold and The Beautiful. My wife and I watch that every day. We always say you wake up together, you stay together; you have a glass of wine together, you stay together; and now we say you watch soap operas together, you'll stay together.
417: Do you see Maso as competing with Nicola's since it's a few doors down?
N.G.: Instead of competing with my business, I'm providing a different experience. I notice people coming here for drinks before dinner then heading down to Nicola's for dinner and vice versa. It's really working out well.
417: Tell me about the menu?
N.G.: The menu was actually designed by my wife, Monica. And in my kitchen I have the chef from Twilight Grill, so with his knowledge the menu wasn't difficult. 
417: What was the inspiration for Maso Kitchen Bar?
N.G.: I wanted to create more of a bar scenery with American-style comfort food. Not that Nicola's doesn't have comfort food, but over there comfort food is pasta, a nice tenderloin and ribeye. Here it's more like a nice cheeseburger, fried chicken liver and French fries.
417: Do either of your sons have culinary aspirations?
N.G.: Both my boys have really learned the common sense of cooking. Just keep it simple. It doesn't take that much to make something good if you just keep it simple. 
417: Is that why you've decided to keep the menu small?
N.G.: I believe in small menu and fresh ingredients.
417: What's the inspiration for the decor?
N.G.: I'm from the Alps, so when you come here you get that smell of the wood and of the rock. You get the atmosphere of being in the Alps or in Colorado. You see this tree hanging from the ceiling? I was down at the lake with a friend of mine. We went down for his last weekend before his family's cabin was sold, and he was really upset about it because he practically grew up there. I saw this on the shore and said why don't you bring this up to me in Springfield and then it will always remind you of your house here on the lake. So he brought it up to me, and I turned it into a light fixture.
417: Are you happy with how the restaurant is doing?
N.G.: The restaurant is doing well. It can always get better, but it can also always get worse. In this business you can't take anything for granted.