Style
Chrisara Designs
Christa Schmitz and Sara Schmitz Olson are the twins behind Chrisara Designs, a local company putting an artsy twist on scenes from the outdoors.
Written by Rose Marthis | Photo by Vivian Wheeler
Apr 2016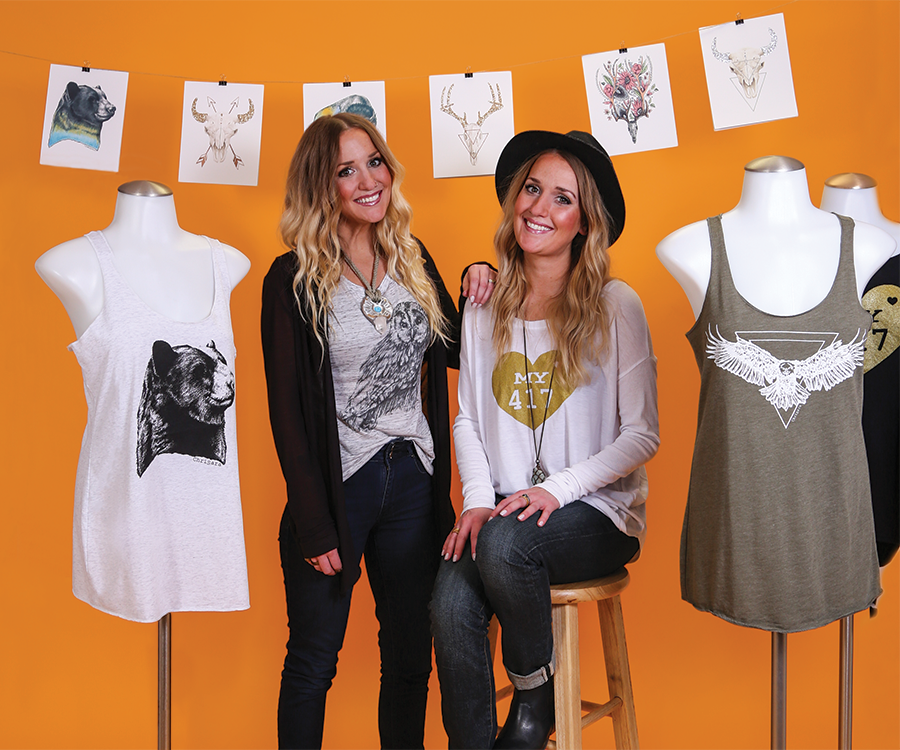 There are a lot of ways to bring the outdoors in. You can track mud in on your shoes. You can make a centerpiece with wildflowers. But our favorite way to connect with the outside world? Furnishing our homes and closets with Chrisara Designs. 
Twin sisters Christa Schmitz and Sara Schmitz Olson create art featuring animals and wildlife mixed with bright colors and fun embellishments that are capturing the hearts of nature lovers everywhere. You can find their designs on women's and men's clothing, pillows, home accents and art prints along with handmade natural stone jewelry. 
Christa and Sara started drawing at a young age, and found that their natural competitiveness drove them to be better. They moved to Springfield in 2002 to go to school for design, and they did commissioned drawings and murals on the side. Then, in 2012, Sara moved to Colorado and Christa quickly joined her. They were looking for a way to establish their art and connect with Colorado. "We always loved doing nature and landscapes and animals," Sara says. "Then it clicked in our heads to do it where we can sell it and not just do one piece at a time." The pair started selling their designs at a festival in downtown Denver. Then they got the idea of putting their images on clothing and pillows, and art prints came soon after that. "We got really good feedback on it," Sara says. "We started doing festivals and launched the website." Chrisara Designs found its way into local boutiques and started spreading west of Colorado. But Sara says the duo started to miss 417-land.
After moving back in March 2015, the sisters got connected to Farmers Market of the Ozarks, had a booth at Cider Days, participated in a festival at the Branson Landing and also became part of the farmers market there. "I feel like it was a step forward moving back here, and we still get to sell in boutiques back [in Colorado]," Sara says. 
Sara describes their art as their own twist on images inspired by nature. Everything is hand drawn and then printed on the shirts, and Sara says they want it to feel more artsy than graphic. The goal is to portray their love of animals and the beauty behind things that are natural and raw. And collaboration is a huge part. "One of us will start a piece and one will finish," Sara says. "We'll have a huge fight, then silence, then we'll pick up right where we left off." Though disagreements happen, Sara says it's just how the sisters bond and bounce ideas off each other to take it from their minds to the paper.