Dishes
5 Best Creative Tacos
We know it's hard to break routine, but these unusual yet tasty tacos are worth departing from your norm.
By Adrienne Donica
Apr 2018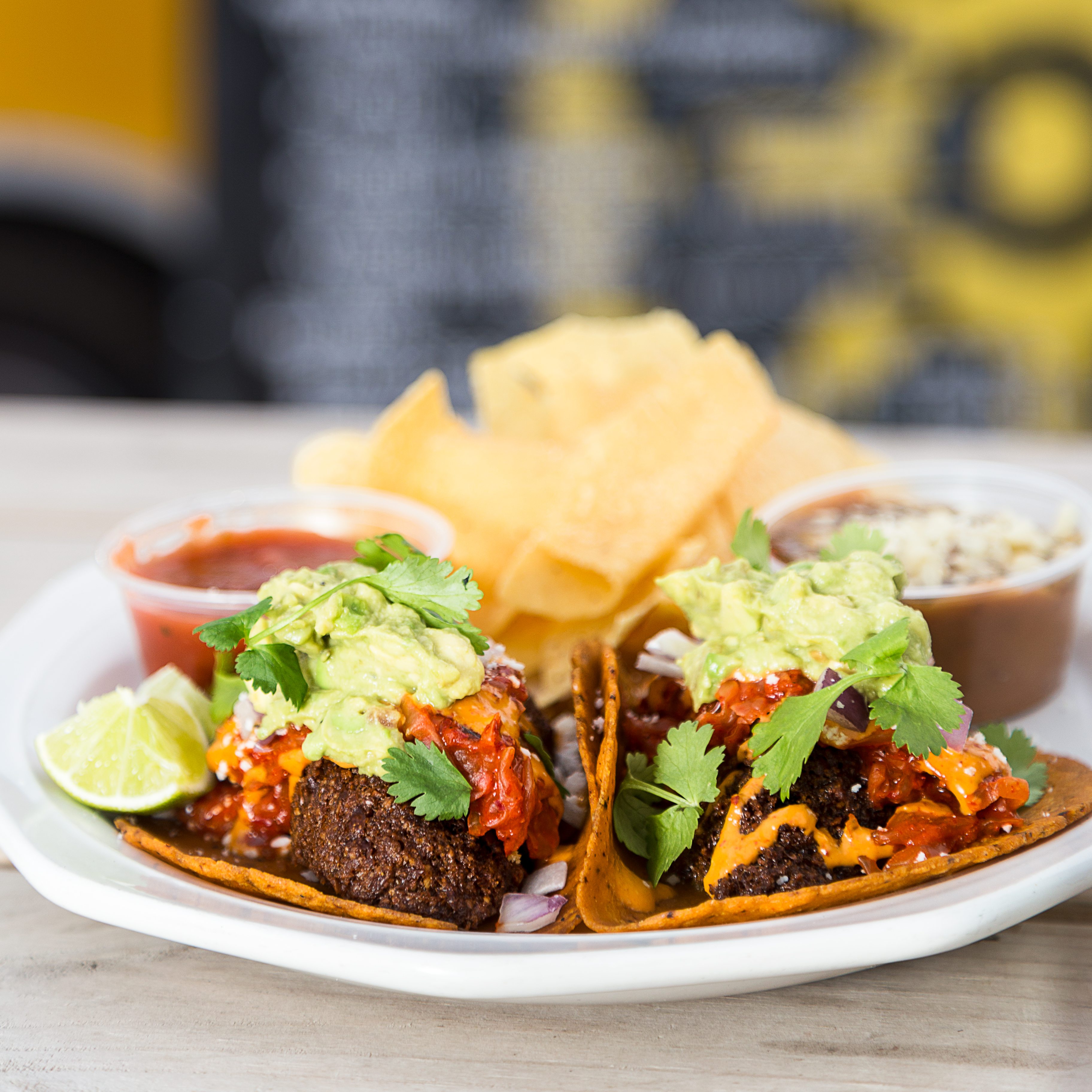 1. Kimchi Falafel Tacos
The Wheelhouse, 1670 E. Saint Louis St., Springfield, 417-351-5220, wheelhousefood.com

A recurring special, these Kimchi Falafel Tacos are the stuff of fusion cuisine dreams. Homemade corn tortillas barely contain the crunchy, flavorful falafel; tangy, organic kimchi; and house-made Thai hot sauce. Top it off with some guac—it's extra, but you'll be glad you splurged.
Also try: The Peanut Chicken Tacos. Shredded chicken meets salty Thai peanut sauce in a perfect Thai-Mexican combo.
2. Hawaiian Chicken Taco
Great American Taco Co., 2915 E. Battlefield Road, Springfield, 417-315-8745; 2150 W. Republic Road, Springfield

Great American Taco Co. is known for its menu full of inventive recipes, and few are as delicious as its Hawaiian Chicken Taco. Juicy citrus-marinated chicken is topped with sweet chili sauce, pineapple pico, bacon, cabbage, feta and cilantro sour cream. It's not overly sweet and certainly jam-packed with flavor. 
Also try: A Caprese Chicken Taco. If you love the salad, you'll dig the taco version, too.
3. Fu Yu Taco
Tinga Tacos, 308 W. McDaniel St., Springfield, 417-831-8007, facebook.com/tingatacos

Tofu on a taco sounds like a weird combination, but Tinga Tacos has perfected the mix in its vegan Fu Yu Taco. Firm tofu joins mango habanero syrup, cabbage, cilantro and pickled carrots and onions. Bonus: All tacos come with your choice of flour, corn or crunchy shells.
Also try: A Fruity Piggles Taco. Habenero fig jam on a pork taco? Yes, please.
4. Yin Yang Taco
Not'cho Ordinary Taco, Parked at Aldrich Road and Springfield Ave., Bolivar, 417-399-1101, facebook.com/notchoordinarytaco

Honey Sriracha–glazed shrimp pack heat into this unusual taco served with teriyaki slaw and pineapple chutney that adds a hint of sweetness. Did we mention the sinful fried wonton shell?
Also try: A Neverfake Cheesesteak Taco. The traditional sandwich fixings join jalapeño cream cheese, cilantro, chipotle aioli, tomato and lettuce.
5. Machaca con Huevo a la Mexicana
Tortilleria Perches, 1601 W. Sunshine St., Suite M, Springfield, 417-864-8195

What's better than a taco? A breakfast taco. Tortilleria Perches serves several on its breakfast menu. Our favorite is the Machaca Con Huevo a La Mexicana. Tender barbacoa scrambled in eggs and wrapped in a homemade flour or white corn tortilla is just what your morning needs.
Also try: A Chorizo Con Huevo y Papas Taco. Swap the barbacoa for chorizo and add in potatoes.