Reviews
5 Best Fish Tacos
Tacos are the perfect handheld food, but there's something about a good fish taco that takes it to the next level. There's just something a little fresher and a little cooler about a really good fish taco.
By Katie Pollock Estes | Photo by Brandon Alms
Aug 2014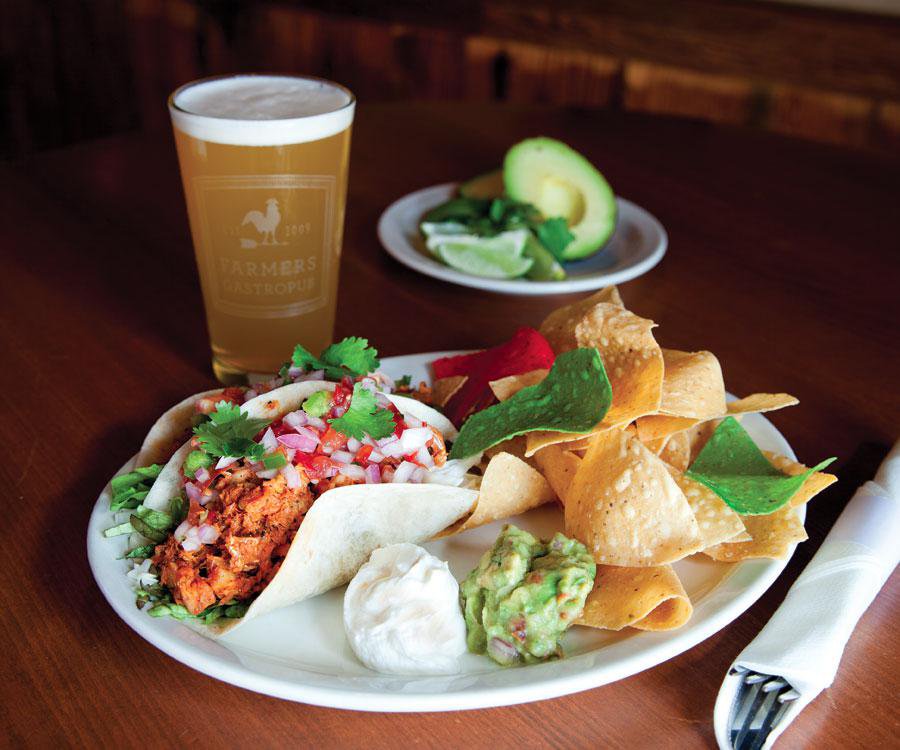 1. Fish Taco Tuesday
Farmers Gastropub, 2620 S. Glenstone Ave., Springfield, 417- 864-6994, farmersgastropub.com
Why We Love Them: These puppies are only available on Tuesdays, but we crave them all week long. What makes them stand out? Without a doubt, it's the spicy sauce that covers the fish. It adds quite a kick, while still offering a little creamy coolness. It's the yin and yang of taco toppings. Some fresh salsa, shredded lettuce and cilantro round out the flavors perfectly.
2. Baja Taco with Tuna​
Gourmet Taco company to Great American Taco Company, 2915 E. Battlefield Springfield, 417.315.8745
Why We Love Them: Unlike the other tacos on this list, these are filled with ahi tuna that's seared rare. The rich fish pairs perfectly with some non-traditional fish taco fillings, like feta cheese, pineapple, white hominy salsa, balsamic vinegar and cilantro-citrus sour cream. All in all, it's the fanciest fish taco we've ever had, and we are addicted.
3. Long Beach with Fish
Grad School, 434 S. Jefferson Ave., Springfield, 417-866-8163
Why We Love Them: The Long Beach tacos at Grad School are a winner no matter what's inside, but we especially love to order them with fish. The tasty protein is packed into soft flour tortillas and comes topped with zippy garlic aioli and crunchy  marinated cabbage. The whole delicious mess is served with rice and black bean salsa. And with three hefty tacos in one serving, this meal is so big that you'll almost certainly be bringing one home for later. If you're brave, order them extra-spicy—the sriracha kick will knock your socks off.
4. So. Cal Fish Tacos
Houlihan's; 2431 N. Glenstone Ave., Springfield, 417-862-7777; 2110 E. Republic Rd., Springfield, 417-883-3434; houlihans.com
Why We Love Them: These tasty tacos never disappoint. They have everything you would want in a handheld meal: a shell that holds up to the fillings inside, and a nice combo of flavors and textures in every bite. The tilapia is breaded in panko for a nice crunch (the napa cabbage ups the crunch factor even more), and the whole thing gets a sweet-savory hit with the honey-cumin dressing and the chipotle mayonnaise. 
5. Tacos de Pescado
Cantina Laredo; 4109 S. National Ave, Springfield, 417-881-7200; 1001 Branson Landing, Branson, 417-334-6062; cantinalaredo.com
Why We Love Them: The mahi mahi inside these tiny tacos is the perfect partner to the tasty marinated veggies that also fill the shells. On top is a not-too-spicy chipotle aioli and a sprinkling of queso fresco. All together, the ingredients combine to make one heck of a tasty, light meal.