Health
Kid Size Workouts
You don't have to be a grown-up to break a sweat at the gym in 417-land. Reduce your kids' screen time and increase their play time with fun fitness classes just for kids.
By Ren Bishop | Photo by Brandon Alms
Aug 2014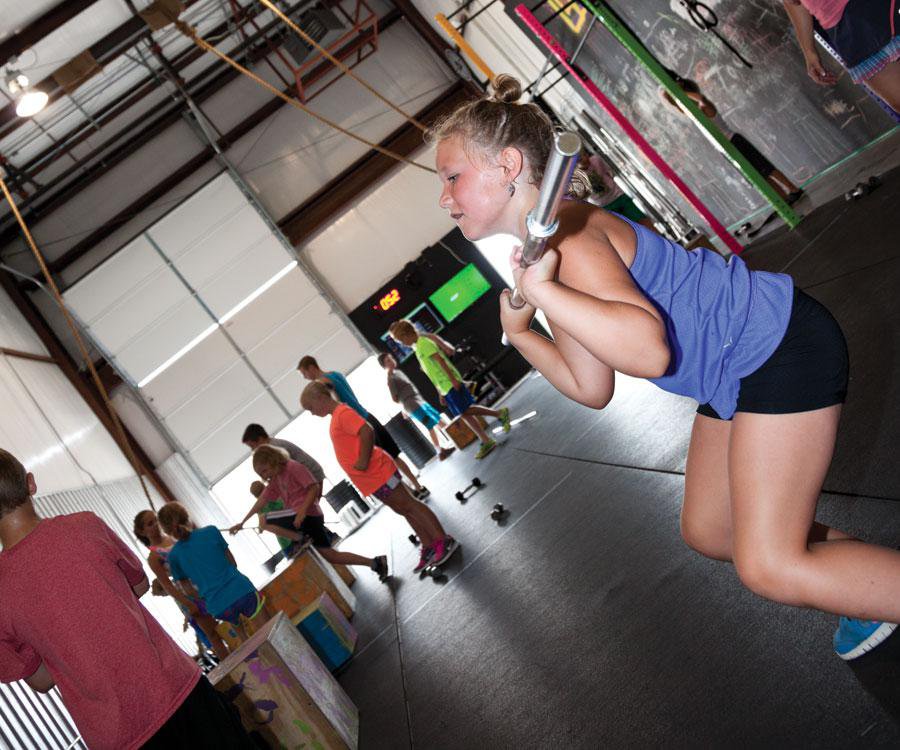 Jiu Jitsu
Kids ages 5 to 12 can learn discipline, poise and self-defense during a Japanese Jiu Jitsu class at the Springfield Combat Sambo Club in Malaika Dancers studio (1907A S. Glenstone Ave., Springfield, 417-619-0700, malaikadancers.com). The ancient martial art focuses on self-defense and grounding techniques. 
Hot Yoga
The kids yoga class at Pure Hot Yoga (610 E. Battlefield, Springfield, 417-886-7873, purehotyoga.net) provides a cleansing and conditioning experience best suited for preteens and teens looking to increase their flexibility and decrease their stress. Kids with asthma or severe allergies should be cautious during the heated workouts. 
Zumba
Tiny movers can dance their way to being more active at Club Z (1320 Schatz Lane, Nixa, 417-379-0093, studioznixa.com). The Zumba studio features a couple of special dance fitness classes catered to kids ages 3 to 11: Zumba Kids Jr. and Zumba Kids. 
CrossFit
No two workouts at CrossFit Kids & Teens Springfield are the same (1915 W. Woodland No. 144, Springfield, 417-720-4504, crossfitkidsspringfield.com), so kids are never bored. Toddlers can begin at age 3 with their parents at TotFit, then head to a more rigorous KidFit for ages 5 to 11. CrossFitters ages 12 to 18 receive advanced athletic training and conditioning at TeenFit. 
Cardio and More
Kids ages 7 to 12 can get moving at a variety of classes offered at Cox Fitness Centers at The Meyer Center (3545 S. National Ave., Springfield, 417-269-5147, coxhealth.com/fitnesscenters). Options range from youth yoga and kiddo cardio to personal training and more. 
Boxing
Kids bursting with energy can channel it effectively during Kids Boxing at The Body Smith (317 E. Walnut St., Springfield, 417-865-0500, bodysmithpilates.com).  Students ages 8 to 12 meet after school twice a week for an hour to receive specific agility and mobility training, along with the fundamentals of boxing. Class sizes are small, and instructor Will Grover focuses on a big goal: instilling self-discipline in preteens. 
Weights and Beyond
For preteens interested in working out, a tween orientation class is available at the south Joplin Family YMCA (3404 W. Macintosh Circle Drive, Joplin, 417-781-9622, joplinfamilyy.org). The class allows children ages 11 and older access to workout equipment that is safe for their age and size. The program also teaches proper use of equipment and etiquette in the cardio center. 
Girls on the Run
For girls who are ready to run to a bright future, a 417-land organization is able to take the lead. Girls on the Run of Southwest Missouri is the local council of a national organization that inspires girls to be joyful, healthy and confident, while using exercise to build self-esteem. Girls in third to eighth grade are inspired each fall and spring with workouts and lessons that support a healthy lifestyle. To find out if there's a Girls on the Run club at your child's school, visit gotrswmo.org.