Spaces
Eclectic Urban Farmhouse
Inspired by an old grain silo, Mark and Kel McDowell worked with custom builder Jason Bekebrede to create this one-of-a-kind silo home in east Springfield.
By Savannah Waszczuk | Photographed by Randy Colwell
Aug 2014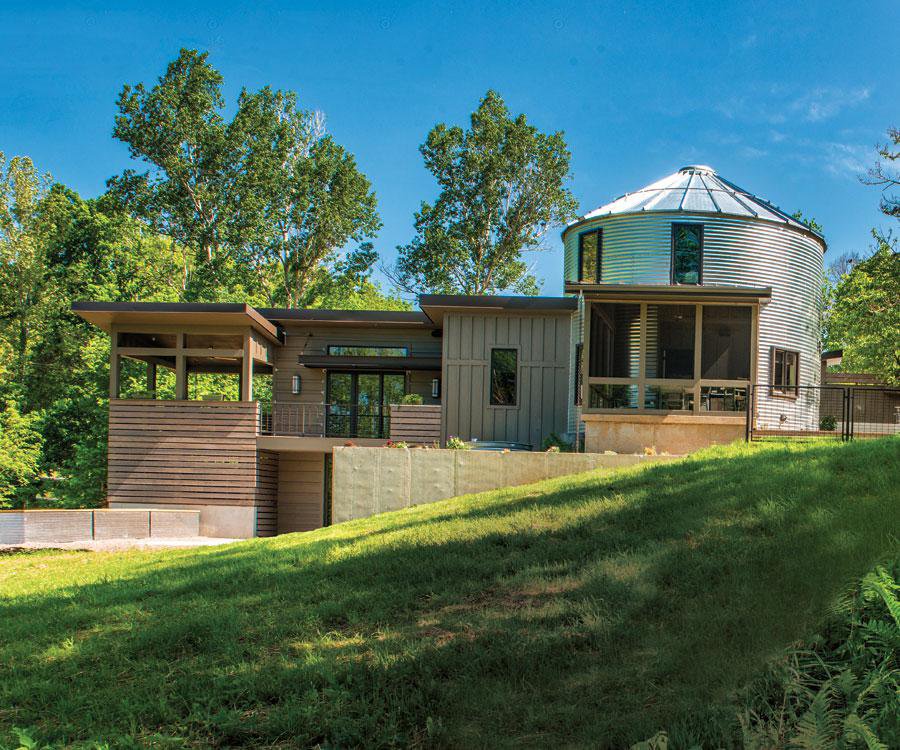 It all started with an old grain silo. "We have a piece of property in Fordland, and it had an old grain silo sitting on it," says Mark McDowell, who shares this custom-built silo home with his wife, Kel. "My original idea was to bring it here and build a guest house out of it, but when we started making plans, we figured out it was too small in diameter." But that didn't stop the two from their plan—they purchased a larger 24-foot diameter grain silo and marched on. 
With the help of custom builder Jason Bekebrede of Monticello Homes & Development, the two quickly saw their silo home plans become a reality. "As it was coming together, I said to Mark, 'I really like this, and I think I'd actually like to live here, but I can't live with you and three dogs in 800 square feet," Kel says. That's when they decided to reconfigure the space to make it large enough to be their actual home. "Since I was the architect on the project, I was able to draw us up some new plans pretty quickly," Mark says. "We actually had the entire front completed already, so we had to rip it off. Jason was great at rolling with the punches."
A week before Christmas in December 2013, the couple moved into their 2,200-square-foot silo home, which features two bedrooms, two-and-a-half bathrooms, a dining room, a kitchen, a living room and an office. The dining room, kitchen and a full bathroom are located within the silo on the home's main level, and spiral staircases to upper and lower levels lead to the bedrooms. The main level extends beyond the silo to house Kel's office, the living room, a screened-in porch and an additional deck and porch off of the living area. The property is also home to several outbuildings, including Mark's studio where he works on designing furniture, lighting and accessories for his business, Mark McDowell Design. "We love the idea of lots of different outbuildings and things," Kel says. "I would describe it as a homestead."
EXTERIOR
While Kel McDowell had a lot to do with the interior design decisions, her husband,  Mark, chose many colors and materials for the home's exterior. "I chose to keep it muted and more organic," he says. The home's screened in porch faces a pond on the property, which is fed by a spring that runs near the home. 
 DINING ROOM
To match the silo, the home's spiral staircases feature galvanized metal casings. The space also features a dining room table the couple found at an antique store in Fair Grove. "We had the chairs refinished to go with the house," Kel says. The hand-scraped wood floors are topped with a wool and silk Barbara Barry rug that the couple has had for many years, and a stained glass window that used to be in Kel's parents' home occupies a portion of the wall behind the stairs. 
 KITCHEN
"I absolutely love my little kitchen," Kel says. Built just for her and designed around her cooking needs, the room features many special features, including custom storage drawers and shelving built to accommodate her various sizes of serving trays and platters. The space also features a 36-inch commercial range and a backsplash made of nickels. "We saw things made with pennies before and we liked them," Kel says. "Since we had the color of the silo, we decided to go with nickels." 
 LIVING ROOM
Mark and Kel are both designers, and they've always been fans of original art. "We really enjoy supporting local artists," Kel says. "All of the art in the home is original art." A collage of a woman that came from an art gallery in Miami hangs behind the living room sofa, and a piece of kinetic art hangs by the room's entry. The sphere on the table is also an original art piece. 
 MASTER BEDROOM
The master bedroom's ceiling is also the roof of the silo, which adds interesting architectural detail to the space. The couple found the screen behind the bed at an antique store years ago, but it was covered in fabric when they bought it. "We have a habit of buying things and repurposing things," Kel says. The hand-built dressers feature Hamilton antique drawer pulls, and the railing along the top of the stairwell was made with cattle fencing.