Travel
Mansfield Missouri
The small town of Mansfield is a great place to spend a day exploring coffee shops and historic places. It's close enough for a day trip, but if you decide to spend the night, you can hunker down in a quaint little bed and breakfast.
By Jessica Covert | Photo by Brandon Alms
Aug 2014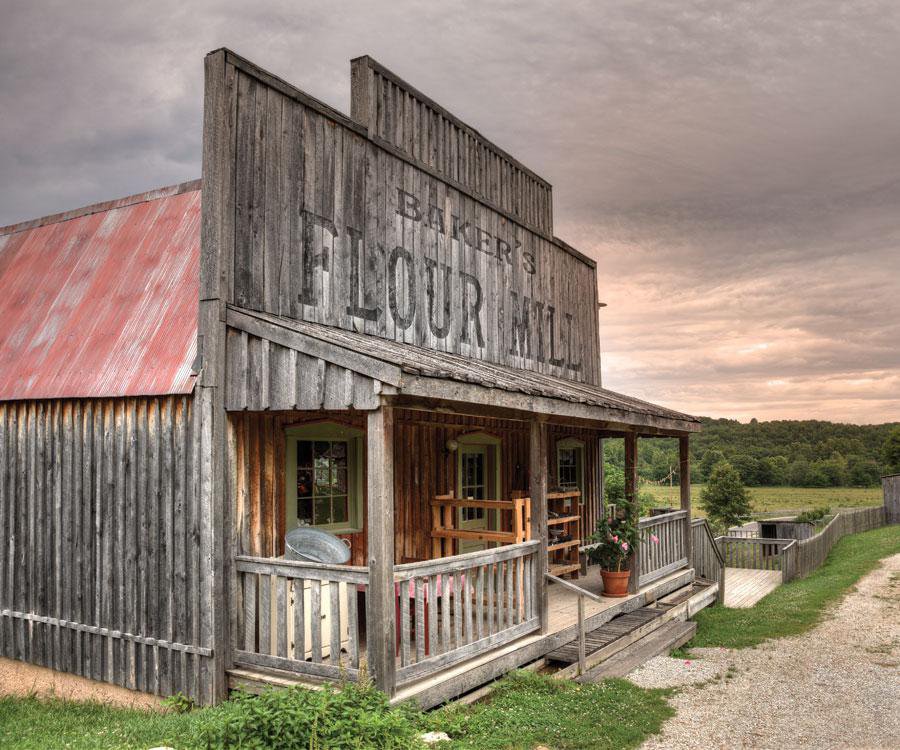 PLAY
On the first Sunday of each month through October, Bakersville Pioneer Village (2278 Baker Creek Road, Mansfield, 417-924-8917) is chock-full of music and handmade goods at the Heritage Day Festivals. Vendors bring their wares, which include everything from jewelry to bread and pottery to jams. The festival is from 10 a.m. to 6 p.m., but if you can't make it to one of the festivals, don't worry. Bakersville and the Baker Creek Heirloom Seed store are open Sunday through Friday.

The Ozark Hotel is home to a vegan restaurant where payment is by donation.
EAT
Walking around Bakersville Pioneer Village can certainly work up an appetite, and having lunch is easy with a visit to the vegan restaurant in Bakersville's Ozark Hotel. This little restaurant has no menu. The chef's choice is posted inside each day, and all you have to do is order and enjoy. The only payment is by donation, and you choose how much or how little to add to the jar. 

If visiting Mansfield, the Laura Ingalls Wilder Historic Home and Museum is a must-see.
SEE
One of the most famous names in children's literature called the town of Mansfield home, and you can see her life's history at the Laura Ingalls Wilder Historic Home and Museum (3068 Highway A, Mansfield, 1-877-924-7126). The house is open to visitors Monday through Saturday from 9 a.m. to 5 p.m. and on Sunday from 12:30 to 5 p.m. Fans of the Little House on the Prairie series will recognize artifacts from the books like Pa's fiddle, and they'll enjoy seeing some of Wilder's handwritten manuscripts. Admission to the home and museum is $8 for seniors, $10 for adults, $6 for children and free for kids younger than 6. 
EXPLORE
The Ozarks have abundant wildlife and natural wonders, and Cedar Gap Conservation Area (near Mansfield, 417-255-9561) is one place you can explore while on a day trip to the area. The Cedar Gap Plateau is the second highest point in the state of Missouri, and three watersheds start here. Limestone glades and forests of oak and hickory cover the area, and hiking trails wind through the park.  
Rosewood Farms is best known for Grandpa Joe's Old Fashioned Chocolates.
SHOP
Don't leave Mansfield without taking a jaunt to nearby Hartville and visiting Rosewood Farms (7345 Highway 5, Mansfield, 417-741-6915). This gift shop is best known for Grandpa Joe's Old Fashioned Chocolates. There are more than 110 varieties in the store, so grab a truffle and enjoy a cup of coffee from the full-service coffee bar while perusing a large selection of spices, herbs, jams and jellies, women's accessories and jewelry.

Extend your fun in Mansfield by checking into the Weaver Inn Bed and Breakfast.
STAY
If you want to extend your stay into the weekend, check out Weaver Inn Bed and Breakfast (100 East Park Square, Mansfield, 417-924-2600). The 100-plus-year-old storefront houses six rooms that take you back into the late 1800s and early 1900s. Plus, there's a coffee and dessert bar downstairs that's open Monday through Saturday from 7 to 11 a.m. and 2 to 6 p.m. Room rates range from $89 to $119.