Reviews
Pho Kim
On our first trip to Pho Kim we found a tiny restaurant, a yummy menu and a new favorite soup.
By Katie Pollock Estes | Photos by Kevin O'Riley
Aug 2015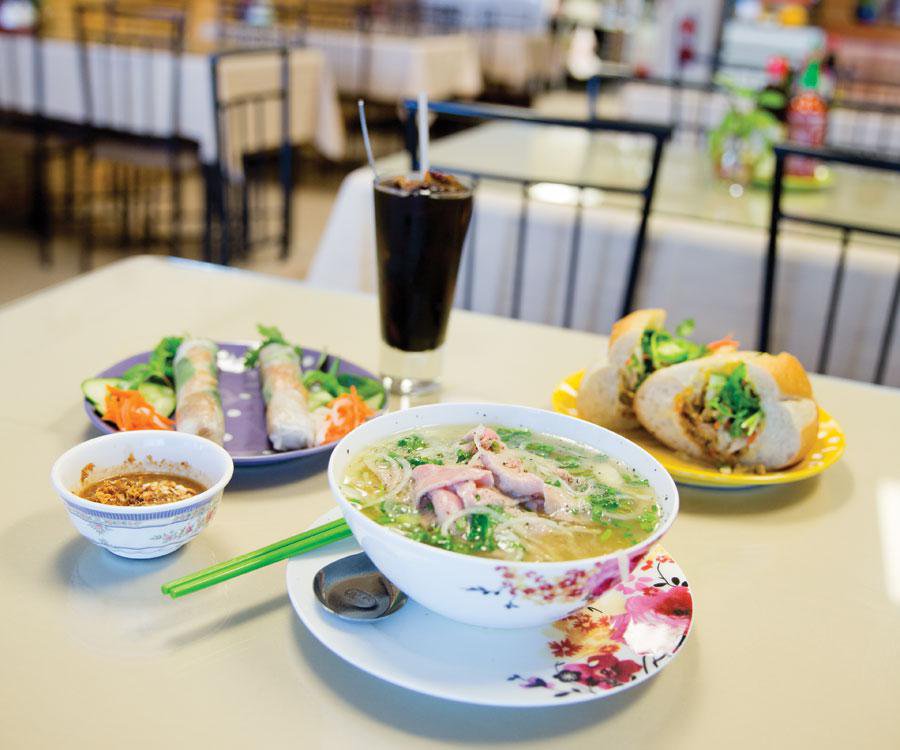 It started with a chuckle. Someone told me, "Did you hear there's a restaurant called Pho Kim over on Campbell?" The name is humorously scandalous if you know how to pronounce "pho."
Then my curiosity was piqued. A friend mentioned seeing four types of banh mi sandwiches on the restaurant's little menu. I adore banh mi.
And then my stomach started rumbling when I heard the restaurant's pho soups were second to none. It was time to give this little spot with a wacky name a try.
My husband, Eli, and I met there on our lunch hour one Friday afternoon. The tiny space was about half filled with groups of hungry patrons, laughing with their friends and making yummy sounds after every bite. That was a good sign.
We took a spot by the window and opened our menus to read about Pho Kim's take on one of our favorite world cuisines: Vietnamese. There were fresh spring rolls and fried egg rolls, those promised four types of banh mi, a list of pho soup varieties and a few vermicelli rice noodle bun bowls. It all sounded delicious. I ordered a pho, and Eli ordered a sandwich, and we shared some vegetarian spring rolls. We thought about adding some sweet, indulgent Vietnamese iced coffee but decided to be good instead, unfortunately.
For the uninitiated, I'll explain pho. It starts with a beef-based broth that is the dish's heart and soul—so full of flavor I could eat it by itself and feel satisfied. Beyond the broth, each type of pho features a different combination of meat. I am a wimp; I order it with rare eye of round slices. Depending on the restaurant, more adventurous pho soups could contain things like Vietnamese meatballs, tripe, tendon and sometimes gelatinous coagulated blood cubes that I know I'll never be able to stomach. 



But forget what I just said about blood, and focus instead on those thin slices of rare beef that I actually ordered. Once they hit the hot broth, they cook a little but still stay nice and tender. The soup also has heaping helpings of rice noodles and some chopped green onions and thinly sliced onions. On the side, you get a plate of freshness that you can add according to your preferences: lots of mint leaves, bean sprouts, jalapeño slices and lime wedges. If you want to, you can add some squirts of hoisin sauce, sriracha or hot sauce. I don't like to ruin the broth, so I just occasionally add sriracha to individual bites instead of stirring it in.
After one bite, I was hooked and had to admit that this spot serves up my favorite bowl of pho in town. And that's saying a lot, since another local Vietnamese restaurant has pho that I've been raving about for years. The broth at Pho Kim was so complex and full of flavor, complementing the meat and getting even better once I added lime and mint. 
Eli's banh mi was a treat, too. I didn't like it as much as other banh mi I've tried, but Eli said it was the best one he's ever had. You should try it yourself and see which side you're on. The sandwich features sliced lemongrass-marinated pork, picked carrots and daikon radish, fresh cucumber and jalapeño slices and tons of cilantro. It's all served on a baguette that's crunchy on the outside and chewy on the inside, soaking up the banh mi sauce without getting soggy. It's a sandwich that blends fresh ingredients with savory and spicy tastes—and a great variety of texture. So satisfying.
With full bellies, we both headed back to work—already making mental plans for when we can come back for another delicious lunch. We'll splurge on that coffee treat next time.