Reviews
Falstaff's Local
Falstaff's Local serves up a bratwurst like we've never had before, plus lots more tasty fare and plenty of cold beer.
By Katie Pollock Estes | Photo by Kevin O'Riley
Dec 2014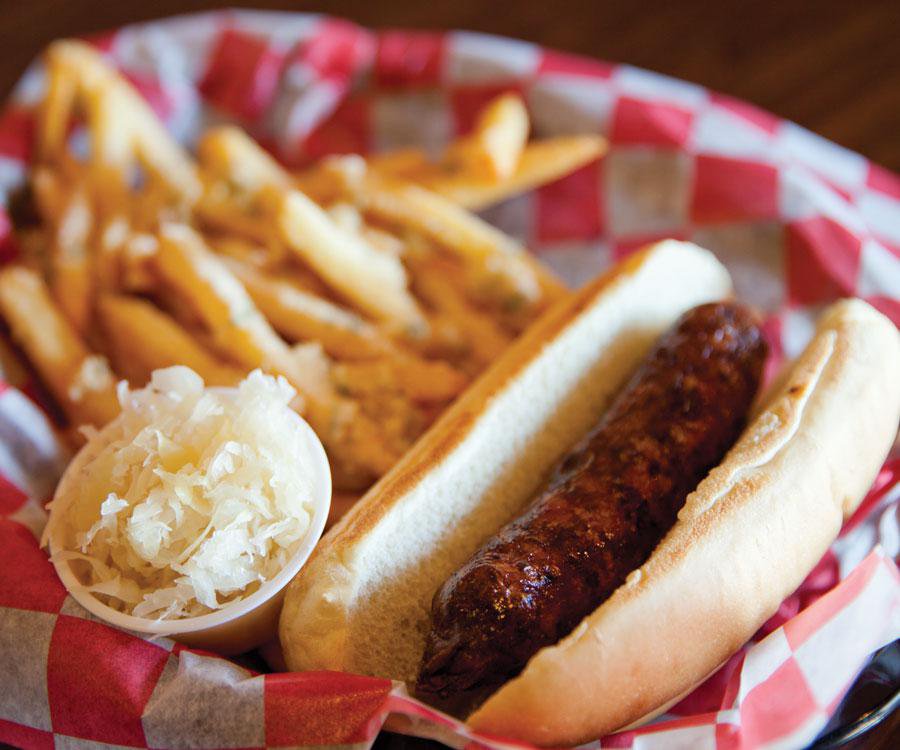 I'll be the first to admit that bar food is not usually my first choice for a meal. My food cravings tend to lean in the Asian direction. But when I'm in the mood for a tall frosty beer and bar food, nothing can get between me and the good eats. I know you've been there, too. There's a game on that you care about (St. Louis Blues for me), and all you can think about is hunkering down in front of a TV with just the right burger and just the right friends. 
Falstaff's Local, a handsome Park Central West bar full of brick and wood, has a menu that's small but mighty with hearty fare and some real stick-to-your-ribs dishes—many of which offer up a bit of a twist. I just had to try the Missouri Bacon, Cheddar and Potato Brat. I'm a big bratwurst fan—to me brats are the ultimate barbecue food. A Fourth of July staple. And in the middle of winter, I was feeling like I needed a little warm summery memory. According the menu, this unusual brat was inspired by a particular recipe from Swiss, Missouri. It's filled with cheddar cheese and little bits of baked potato and bacon. I was skeptical. A brat is a brat is a brat. It should be a greasy and indulgent gut bomb, but it shouldn't be fancy. It shouldn't be too creative. Right? 
Wrong. This clever take on the classic brat is so delicious. The cheese is melty and gooey, the fluffy potato in place of some of the meat makes the brat a little less heavy, and the bacon adds that perfect savory touch. With a fresh toasted bun and a side of sauerkraut, it's a lot of food. The kraut was the perfect accompaniment because it lent a tart crunchiness that actually lightened up the greasy meatiness of the sausage. My only regret is that I didn't splatter on a dash of mustard.
On the side I opted for the Chicago Garlic Parmesan Fries—thin, crispy French fries topped with tons of grated Parmesan cheese and garlic. These are bad-breath fries, but they are totally worth it. And the garlic is somehow a little bit sweet, making them an interesting partner to my savory lunch.
Just for fun, I also ordered some of the Falstaff Chili Relleno Bites. These two-bite-size fried wonders are filled with ooey-gooey sharp cheddar cheese and little chunks of green chili peppers. They came out hot and steamy, perfectly crunchy on the outside with all the indulgent stretchy cheesiness you want in a forget-your-diet appetizer. They had a little kick from the pepper bits, but not too much. Just enough to add a kick to all that cheese. The dish comes with a tub of homemade ranch dressing on the side for dipping, so even spicy-food wimps can cool down their taste buds.
With all of that food in front of me, there was no way I was going to finish it all. I packed up most of the fries and chili relleno bites to take to my husband, but I gobbled up every last bite of my entree. And although I kind of felt like I needed a nap, I also knew that on my next night out for beer and eats with friends, I'd be dreaming about popping over to Falstaff's for another bite of that perfect brat.

Falstaff's Local offers customers a causal bar atmosphere with sports games blasting on the TVs and filling bar food on the menu.