Health
Fusion Fitness PiYo Class
After taking far too long of a vacation from the gym, our senior editor breaks back into the workout scene with a PiYo class at Fusion Fitness.
By Savannah Waszczuk | Photos by Brandon Alms
Dec 2014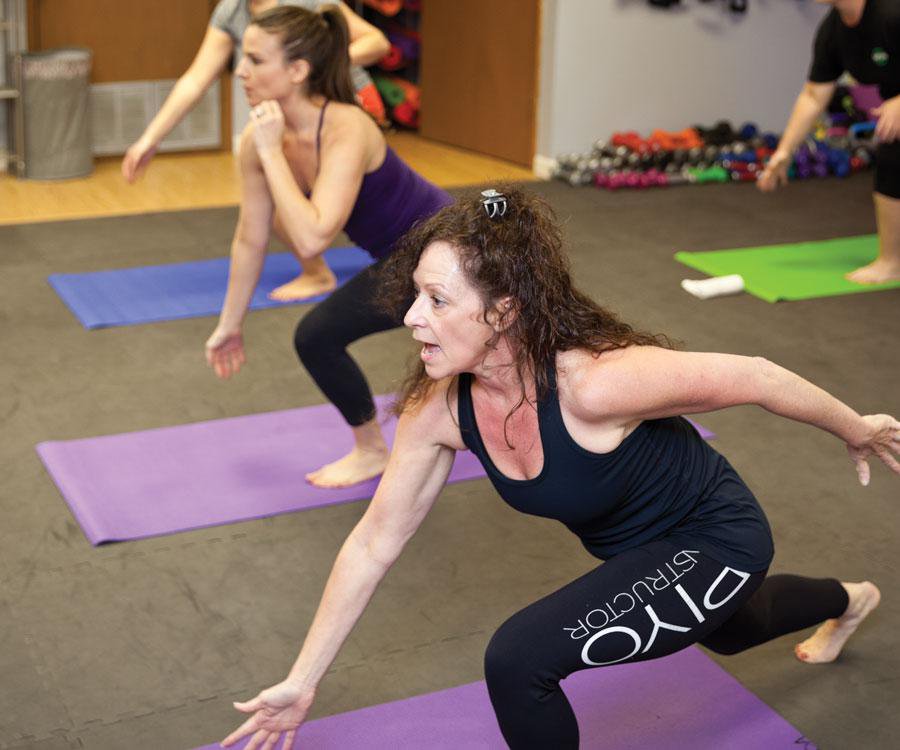 Like many people, my workout routine comes and goes. I'll go to the gym four to five times a week regularly for a few months, then I'll fall into a rut, and pretty much the only thing I'll do for 30 days is the class I'm required to try for this Get Fit column. Unfortunately, I've recently fallen victim to the latter scenario, and I have felt like a sloth for the past few weeks. To make matters worse, I took a road trip to Hot Springs, Arkansas, last weekend. This means I enjoyed a few too many drinks and gourmet meals, and I spent a good 10 hours sitting on my bum in the car. And although I had to squeeze myself into some of my most-forgiving leggings before heading back to Springfield, I still decided to top off my lazy, gluttonous adventure by munching on salty potato chips during the ride home. Two days later when I visited Fusion Fitness for PiYo, a strength-training class based on yoga and Pilates moves, I still felt bloated, gross and blah. Read on for a recap of my experience, or, as I call it, Battle of the Bloat 2014.
The Gym
Fusion Fitness is a one-room workout studio located just off of Glenstone Avenue. The space itself looks just as you would expect a workout studio to look, minus one exception: the words "Sleek, Sexy, Powerful" are displayed on an overhead wall just outside of the workout area. "That's something we say at the end of one of our classes," says Ronda Shirley, who opened the gym in August 2013 after she developed a passion for exercise. "I took a TRX class and really got hooked on fitness," Shirley says. Next, she became a certified personal trainer, and she also became certified to teach a variety of classes—the gym offers Body Fusion, Flex Fusion, InTENse Fusion, Piloxing, which is a class that combines Pilates, boxing and dance, and PiYo, my class of choice.
The Experience
Since I was new to PiYo, Shirley demonstrated each of the series of moves just before we performed them together. "I do this when anyone new is in the class, whether it's one person or 15 people," she says. Having this extra demo helped a lot, making it a bit easier to catch on during the actual workout. We began with a warm up, and then we moved to a heat-building warm up to get our muscles going strong. Next we started the lower body workout, which was literally nothing but various forms of lunges for an entire song. If you've never understood the saying "Sweat is just fat crying," you'll get it first-hand about 30 seconds into a lunge. As we pulsed up and down in lunge formation, I began to really suffer from the effects of my gluttonous weekend. It was as if each and every one of those potato chips I shoveled in my mouth two days prior came back to haunt me. I felt as if I weighed 1,000 pounds, and it was all resting on my poor little legs to the point of torture. Imagine a watermelon resting on a couple of toothpicks. At one point, I feared my ankles were going to give out and send me crashing to the ground. But I pressed on. I didn't stop, and I made it! 
Next we continued the full body fusion portion of the class, where we practiced various moves including the PiYo push-up. "The PiYo push-up is a move you start by standing straight, then lean forward and act as if you're slowly peeling yourself off the wall," Shirley says. "You walk out three steps with your hands, then bring your elbows close to your sides and do three tricep push-ups, then walk your hands back in towards your feet, slowly roll up and finish with a little squat." Yes, basically, a PiYo push-up is a regular push-up on steroids, and we did a bunch of them. My sweat went from the fat-crying mode to full-on losing-its-mind mode. My sweat was basically having a hysterical nervous breakdown at this point. 
We continued on to flow, which is a variety of flowing movements that combine yoga positions and strength-training exercises. "Flow is really the meat of PiYo," Shirley says. This makes sense, because we spent the most time on it. We carried on to work our cores with a variety of floor exercises, then did stretch and strength exercises before we had a nice, long cooldown session with lots of long, deep stretches. Drenched and exhausted, I relished in every glorious second of that cooldown session.
The Effects
Unfortunately, getting back on the wagon is never easy. This class is challenging to begin with, and trying it after my infamous workout sabbatical resulted in lots of pain and sweat-drenched struggle. But the good news is, with a little determination and pushing myself, I made it through, and I felt as if a weight was lifted off my shoulders when I finished. With that workout, I broke my vicious cycle of lazy, and I had a great time while doing it. And perhaps the best part is, I felt welcome and comfortable the entire time. "I wanted a place where women could come and feel comfortable and not be intimidated," Shirley says. I know first-hand that she accomplished this mission, and Fusion is definitely a place I would enjoy working out regularly. Soon, my sweat will be fat crying, but it'll be tears of joy.