Dishes
5 Best Cinnamon Rolls
Sweet, swirled and oh-so-perfect for warming up on a chilly morning, cinnamon rolls are made to sooth the soul. Check out five standouts in all their glazed glory.
By Claire Porter | Photo by Vivian Wheeler
Dec 2017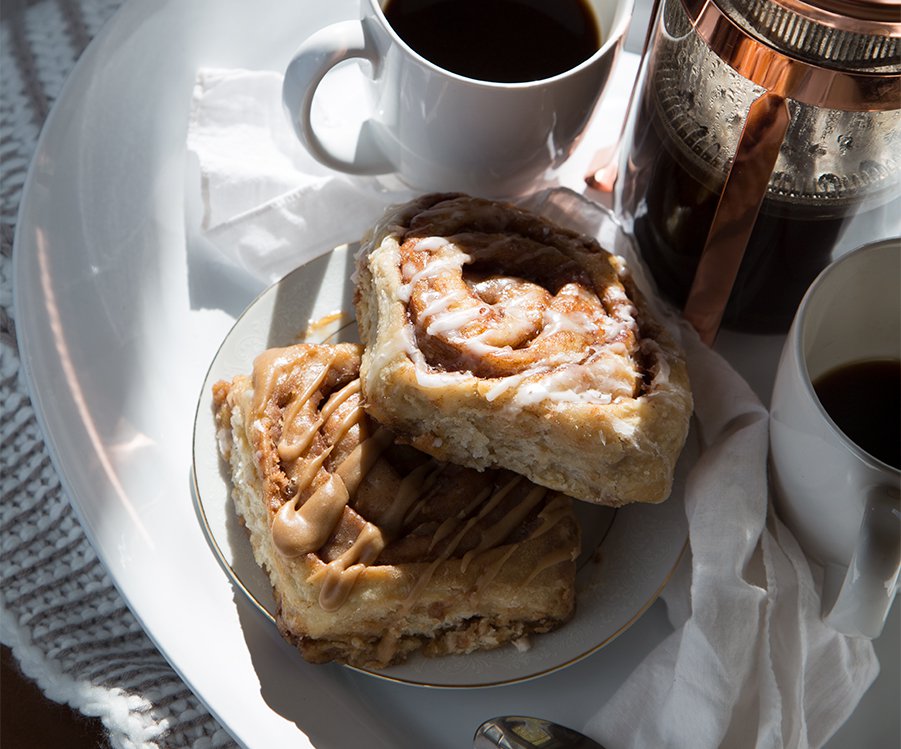 The TGIF Treat
Amycakes, 1108 E. Walnut St., Springfield, 417-831-6095, amycakesbakery.com
These are the cinnamon rolls known 'round the world—or at least around 417-land. They're consistently voted a Best of 417 winner, but they're only served on Fridays. If you're feeling adventurous, try the maple pecan version, which is served with a maple glaze.


The Goliath
Hurts Donut, 320 Park Central West; 1111 E. Republic Road, Springfield, 417-300-6106, hurtsdonutco.com
These glazed swirlies are, in the words of our president, 'uge. You might find yourself tempted by the shop's inventive donut offerings, but skip them for this classic treat. They're sometimes topped with cream cheese and are about the size of your head. They sell out quickly, too, so call the custom order line at 417-368-0279 to guarantee a bite.


The Sweet Tooth Satisfier 
Tea Bar & Bites, 621 S. Pickwick Ave., Springfield, 417-866-7500, teabarandbites.com
The classic cinnamon rolls we know and love come drizzled with gooey glaze, but Tea Bar & Bites takes it up a notch. Each Saturday, the bakery serves cinnamon rolls topped with caramel icing. They sell like hotcakes, so get in line early and grab a piece of quiche and a cup of tea too to wake you up.

The Better-Than-Funnel-Cake
Eva & Delilah's Bakery, 399 Silver Dollar City Parkway, within the park
Next time you're coasting at SDC, forget the funnel cake and churros. Grab a cinnamon roll from Eva & Delilah's Bakery. If you're a purist, they knock the classic out of the park. But you're here for adventure, so go out on a limb and try one of their weekly flavors, like red velvet, caramel apple, orange cinnamon, chocolate cinnamon or maple bacon cinnamon.


The Worth the Drive
Red Barn Cafe and Hen House Bakery, 107 W. Mount Vernon Blvd., Mount Vernon, 417-466-4650
Gas up the car and prepare your appetite. The perfect accompaniment to the Red Barn Cafe and Hen House Bakery's famous big breakfast is a sticky sweet cinnamon roll. The handmade rolls are divine and extra-huge. Come hungry!