Profiles
7 Questions with Comic Book Writer Cullen Bunn
Comic book writer and Springfield resident Cullen Bunn has some big-name characters in his repertoire, including Batman, Deadpool and more.
By Jeff Houghton
Dec 2018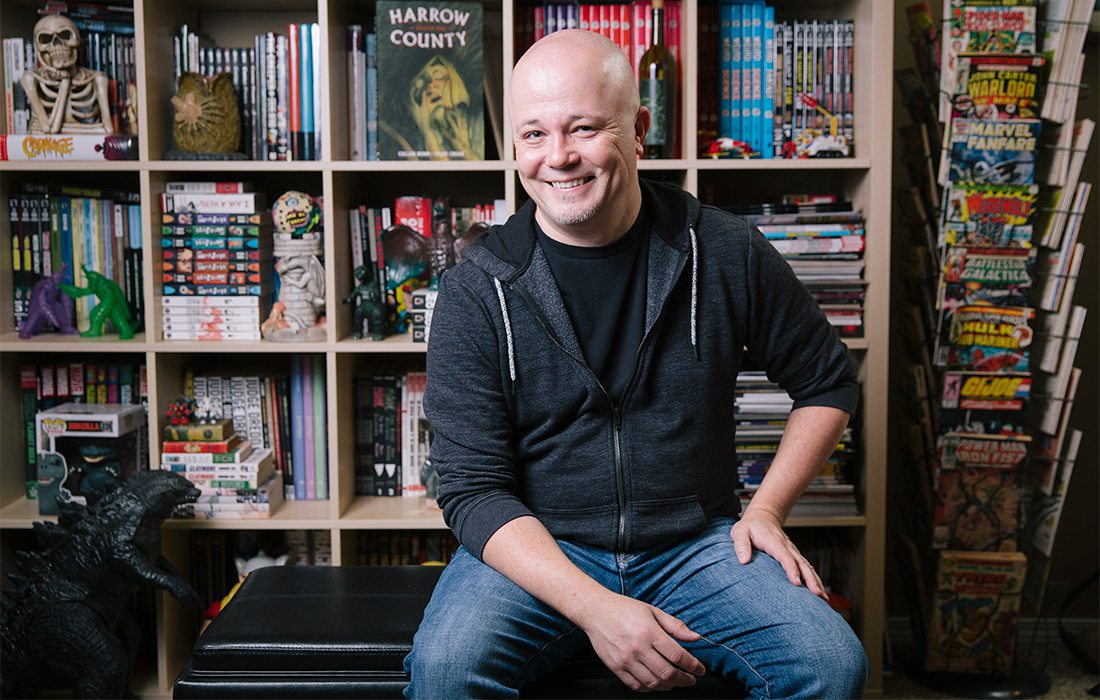 Cullen Bunn is a New York Times bestselling comic book writer, creating original works like the critically acclaimed Harrow County and The Sixth Gun, as well as writing for DC Comics and Marvel Comics where he's written for well known characters like Superman, Batman and Deadpool, among others. Bunn spends half of his time in Springfield with his family and the other half inside the dark, creative corners of his mind.


417 Magazine: Where are you from originally?
Cullen Bunn: I'm from North Carolina. I lived there until I was 19, and then my parents decided they wanted to run a cattle farm...in Thayer, Missouri, so they moved to Thayer, and I followed them a few months later. After a couple years, they moved back to North Carolina, and I stayed in Missouri. I think they were trying to shake me.
417: A lot of people who love comic books start when they're young. Was that the case for you?
C.B.: I grew up in a wonderful era, when you could go to a garage sale and buy 50 comics for a couple dollars. I was reading them before I could read, just looking at the pictures. In elementary school I used to write and draw a comic book for all my friends where we were all the stars. My dad had a photocopier at his office, so I'd copy and staple them together and bring them to my friends about once a month. It was called X-Lazer Nights. The "z" made it cool.
417: Describe the process. Once you have an idea, how do you go from there?
C.B.: I do a lot of free writing. I'll just sit and start writing in my notebook, starting with a grain of an idea, just brainstorming on the page. Sometimes it's just rambling and it makes no sense, but usually after about a page and a half or two, something starts to take shape or a story comes together. Once it takes shape, I do a lot of outlining, and once I have my outline, the writing is pretty easy.
417: How about the story of your career. What was your breakthrough?
C.B.: Starting in my early years at Missouri State, I was submitting stories and ideas to publishers, but really I had no idea how to go about it. After college I had a job at a comic book store in St. Louis, and one of my co-workers was an aspiring artist named Brian Hurtt. We started talking about what we would do if we wrote a book together. We made a book called The Damned, put out by Oni Press, a small publisher. Then later Brian and I made The Sixth Gun. That was the real breakthrough. After that, DC and Marvel reached out. Eventually it led to enough work where I could quit my day job and become a full-time writer.
417: That's a huge victory.
C.B.: Terrifying, terrifying victory. I live in the worry, not the certainty, that eventually it will all go away.
417: Describe your work for DC and Marvel.
C.B.: With DC the early projects were short runs. Superman/Batman was the first thing I did for DC, and it was daunting to write two of the biggest characters in comics. I did a book with Marvel called Deadpool Kills the Marvel Universe, that was such a big hit that I started writing more Deadpool. I did close to 40 Deadpool issues.
I've written a book called Magneto that was critically well received, I wrote Venom for a long while, several X-Men series. Right now I'm working on Asgardians of the Galaxy, which is a cosmic adventure starring characters from the Thor universe.
417: What brought you to Springfield?
C.B.: I've always loved it. I went to MSU, and Springfield has a way of just getting its hooks in you. I had moved to St. Louis and always thought about moving back here. Now, I have no interest in moving again. Too many books. I don't want to move books again.
BUY YOUR OWN
Want to pick up a Cullen Bunn–penned comic book? There are plenty of shops in Springfield and the surrounding area.