Reviews
Review: Main Street Mediterranean Cuisine in Bolivar
Bringing Mediterranean flavors to downtown Bolivar, Main Street Mediterranean Cuisine offers flavorful fare at an affordable price.
By Savannah Waszczuk
Feb 2014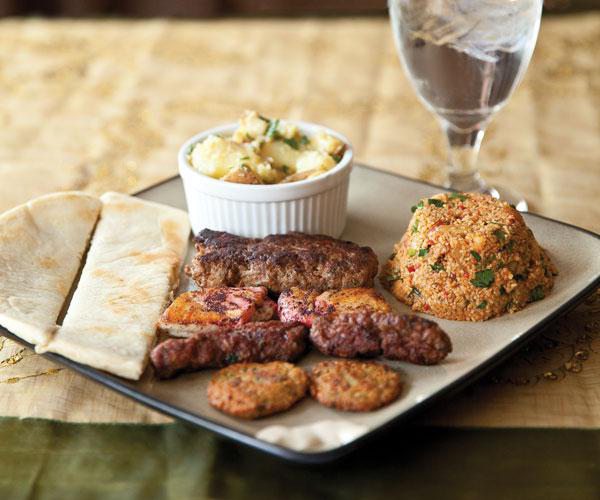 Our ears perk up anytime we hear of a new restaurant in 417-land. That's why we were so excited when we learned of Main Street Mediterranean Cuisine in Bolivar. Mediterranean food in Bolivar? This was something we had to try.
The restaurant isn't too snazzy in terms of décor, but wood floors, white linen-topped tables and a few artistic creations along the walls make it a welcoming environment. 

Complimentary tea is a dining perk at Main Street Mediterranean Cuisine. 


I was dining alone, but that didn't stop me from exploring all parts of the menu. The appetizers are affordable (most apps are around $3), and the options stretch from homemade hummus and muhamara (a Middle Eastern spread made of pureed bread, walnuts, onions, tomato paste and spices) to tabouli and falafel. Entrees include a decent variety of seasoned meat dishes, kebabs and even a few sandwiches. There are even several gluten-free options. 
I started my culinary adventure with the Cheese Borek appetizer, which is a perfect concoction of French feta cheese and Italian parsley that's rolled in thin phyllo dough and fried in oil. The borek resembles a crispy mozzerella stick in shape, but this Mediterranean appetizer isn't nearly as greasy as its fried cheese comrade. Rather than being coated in a thick, crunchy shell like most fried apps, this treat tastes as if it's fried just long enough to warm the cheese and give the phyllo dough a light and crispy texture. The feta was tangy and had a salty punch, and there was plenty of fresh parsley flavor.
I explored the entrees and landed on the combination platter. Loaded with an Adana Kebab, Inegol Kafta, chicken kebab, Lebanese potato salad, falafel, flat bread and a choice of basmati rice or tabouli, it was the perfect chance to try a little of everything. The Adana Kebab is a ground beef mixture seasoned with white onions, Italian parsley and tomato paste. It tasted superb wrapped in warm and pillowy flat bread. The chicken was juicy and the seasoning subtle, and the Inegol Kafta, which are small beef rolls, had the texture of a juicy meatball.
I really liked the simplicity of the potato salad with its bright lemony flavor, but the tabouli might have been my favorite part of the whole platter. There was a dash of pomegranate molasses that added a bit of sweetness, and tomato paste gave the dish a rich underlying acidity and flavor. The falafel was delicious, too—crispy on the outside but soft on the inside. 
I was so stuffed that I was afraid my pants might pop, so I ordered the baklava to go. But just about an hour after returning to the office, I couldn't resist the semi-sweet dessert any longer. I had to dive into the dish. With buttery and flaky phyllo dough, an appropriately sweet filling and a heavy dash of rose water, it alone was reason enough to make the drive to Bolivar again. All the rest is a delicious added bonus.
Three questions with owner Deborah Sherrer: 
417 Magazine: What dish is a safe bet for someone unfamiliar with Mediterranean cuisine?
Deborah Sherrer: The Adana Kebab. It's made with ground beef (a familiar ingredient), white onions, Italian parsley and tomato paste and cooked on a skewer. 
417: What's your favorite ingredient?
D.S.: Italian parsley
417: Why did you decide to open a restaurant?
D.S.: A love for the cuisine in Turkey [where I lived for five years], and wanting to share the food, culture and experience with the people here.