Dishes
Smoked Salmon at Buckingham's BBQ
Plus six other things that passed the test of our taste buds.
By The Editors
Feb 2014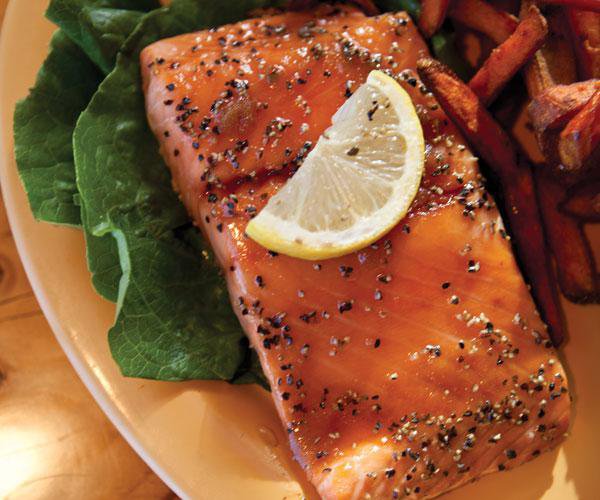 1. The smoked salmon with horseradish sauce from Buckingham's BBQ (multiple 417-land locations, buckinghambbq.com) is our newest addiction. You can order a whole filet smoked to take home, or you can grab a dinner portion with two sides.

2. The Tuna Napoleon from The Tower Club (901 Saint Louis St., Springfield, 417-866-4466, towerclubspringfield.com) is a winner. Fresh tuna is peppered and seared rare then layered on crispy wontons and served with wasabi mayonnaise and Asian slaw.
3. We love the Rosa's Mediterranean turkey at Vasken's Deli (3200 Gretna Rd., No. 100, Branson, 417-334-9182, vaskensdeli.com). It comes with garlic mayo, smoked turkey, veggies and provolone on a toasted pita with olive tapenade and a skosh of olive oil. 
4. Don't miss the coconut shrimp at Ocean Zen (600 E. Battlefield, Springfield, 417-889-9596, eatoceanzen.com). It's fried to perfection and served on a bed of rice with that awesome red sauce that Ocean Zen is famous for. 
5. If you want a break from salsa, we recommend the queso with homemade tortilla strips from City Mexican Cuisine (3014 E. Sunshine St., Ste. A, Springfield, 417-719-4188, citymexicancuisine.com). The homemade chips are thick, and the queso comes in different levels of spiciness. We like medium; it has just enough kick.
6. The Tomato Bacon Parmesan soup at The Grotto (301 E. Battlefield, Springfield, 417-886-9600, gogrotto.com) is delish. Some tomato soup tastes healthy. This one tastes indulgent. 
7. The Frito Pie at Springfield Gourmet Taco Company (3120 E. Sunshine St., Springfield, 417-315-8745, gourmettacocompany.com) is a customer favorite, and it's the perfect dish to order for an enormous appetite. The chili and Fritos are loaded with toppings.