Dishes
Pepperoni Pockets from Bud & Walt's Pizza
Plus six other things that passed the test of our taste buds.
By The Editors
Oct 2013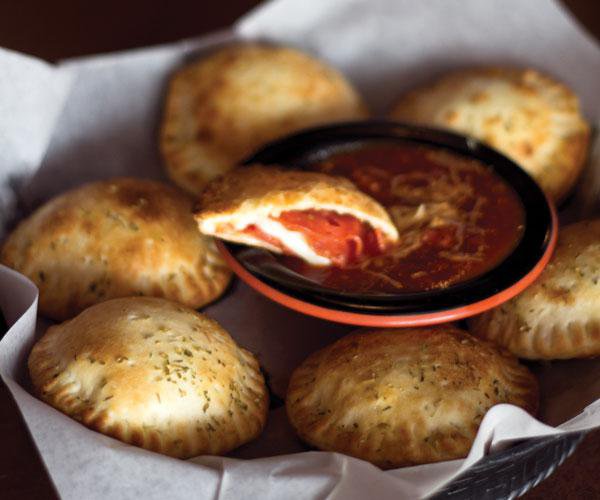 1. We love the personal-sized pepperoni pockets from Bud & Walt's Pizza (701 N. McCroskey St., Nixa, 417-724-0070). They are like mini-calzones stuffed with pepperoni and mozzarella with garlic butter on top.
2. Go with a classic, and order the butter pecan concrete from Andy's Frozen Custard (several 417-land locations). Butterscotch and roasted pecans are blended with vanilla custard for a perfect old-fashioned treat.

3. The paneer mint curry is a new favorite at Gem of India (211 W. Battlefield, Springfield, 417-881-9558). The creamy chunks of homemade cheese are covered in a rich, spicy, herbaceous curry sauce.

4. The lavender float from Elle's Patisserie (1454 E. Cherry St., Springfield, 417-832-2171) is a delightful treat made from homemade lavender ice cream and cream soda. The floral flavors are very grown-up, but the fizzy float makes you feel like a kid.

5. For the perfect combo of spicy and fresh, we love the Thai salad from The Grotto (301 E. Battlefield, Springfield, 417-886-9600). Lettuce is topped with peppery blackened chicken breast, cashews, broccoli, and a thick and spicy peanut dressing.

6. Don't go to The Big Slice (1450 E. Sunshine St., Springfield, 417-720-1928) for the pizza alone. We love the house vinaigrette, an herb-filled and zippy Italian dressing that makes us crave salad.

7. For a tasty rendition of a classic sammy, try the Reuben from Nearly Famous Deli & Pasta House (2708 S. Glenstone Ave., Springfield, 417-883-3403). It's corned beef perfection.