Life
Beat the Winter Blues
Stuck inside on chilly winter weekends? Cabin fever can get the best of us, so we rounded up a few kid-friendly ideas for ways to make the most of your indoor playtime. And if you'd rather brave the cold and get out instead, we give local activities that
By Katie Pollock Estes
Feb 2015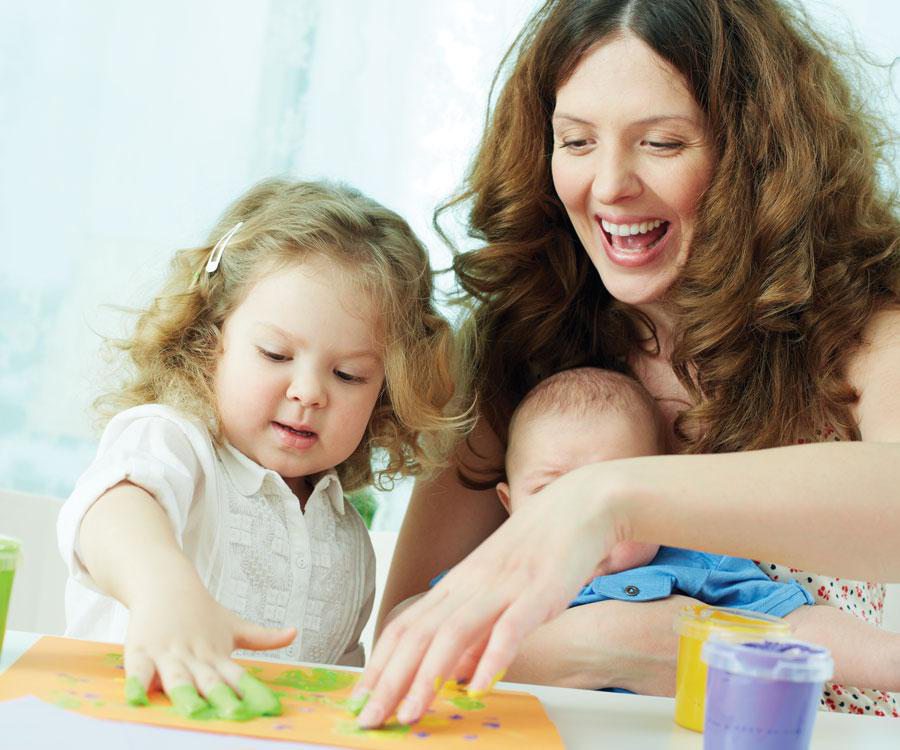 1. Finger Painting
The kiddo can unleash their creative side, with the added bonus of squishing tiny fingers into ooey, gooey paints.
What Your Kid Thinks: "I'm allowed to get messy? I'M ALLOWED TO GET MESSY!"
What You Think: "Just keep it on the paper. Just keep it on the paper. Oh god, it's getting on the table. It's dripping onto the floor. Where's my wine?"
Alternative: Moxie Mornings. If you are not crafty and don't have a house full of art supplies, bring your kiddo to Moxie Mornings on Saturdays at Moxie Cinema (moxiecinema.com/films/moxie-mornings). A kid-friendly film followed by a fun art project will take care of everything for you. This month's event is on February 14.
2. Storytime Marathon
Have your kiddo pick out all of his favorite books, then hunker down with some pillows and plow through them together.
What Your Kid Thinks: "Can we read this one three more times?"
What You Think: "You mean I just get to kick back and put my feet up with you for a while? Awesome. I'll take it."
Alternative: Hop into the car and drive to the Springfield Greene County Library Branch (thelibrary.org) that's nearest you, and spend some quality time picking out a stack of new reads to enjoy together. You can learn about upcoming children reading sessions and events by visiting thelibrary.org and clicking on "Programs".
3. Bake a Batch of Something Sweet
There's nothing like fresh chocolate chip cookies to warm up a cold day.
What Your Kid Thinks: "I have permission to eat cookies for fun? I love it!"
What You Think: "So proud of this little helper. But how, exactly, did we get flour on the ceiling?"
Alternative: Sign your chef-in-training up for Kids Club at Hy-Vee (hy-vee.com). Kids ages 3 to 12 can join, and membership gets them free goodies throughout the store, plus an invitation to monthly Kids Club parties that feature plenty of food and fun.
4. Make a Vinegar Volcano
Get your science on by mixing up a little baking soda and vinegar and watching it all blow.
What Your Kid Thinks: "Wow!"
What You Think: "I forgot how much fun this is!"
Alternative: The Discovery Center of Springfield (discoverycenter.org) offers science-y activities plus a giant hamster wheel and high-wire bicycle.
5. Set up an Obstacle Course
An obstacle course, a pillow fort, a nice game of lava… any of those games equal big fun for kids. Get creative, and join the fun.
What Your Kid Thinks: "I could do this all day!"
What You Think: "Good grief, I am out of shape."
Alternative: You can get family memberships to Warrior Sports in Springfield (springfieldwarrior-sports.com), which means you can race around an obstacle course without trashing your living room.