Reviews
The Brick Slice House
A new pizzeria in downtown Springfield offers massive and delicious slices of pie in a variety of not-so-typical flavor combinations.
By Savannah Waszczuk
Feb 2015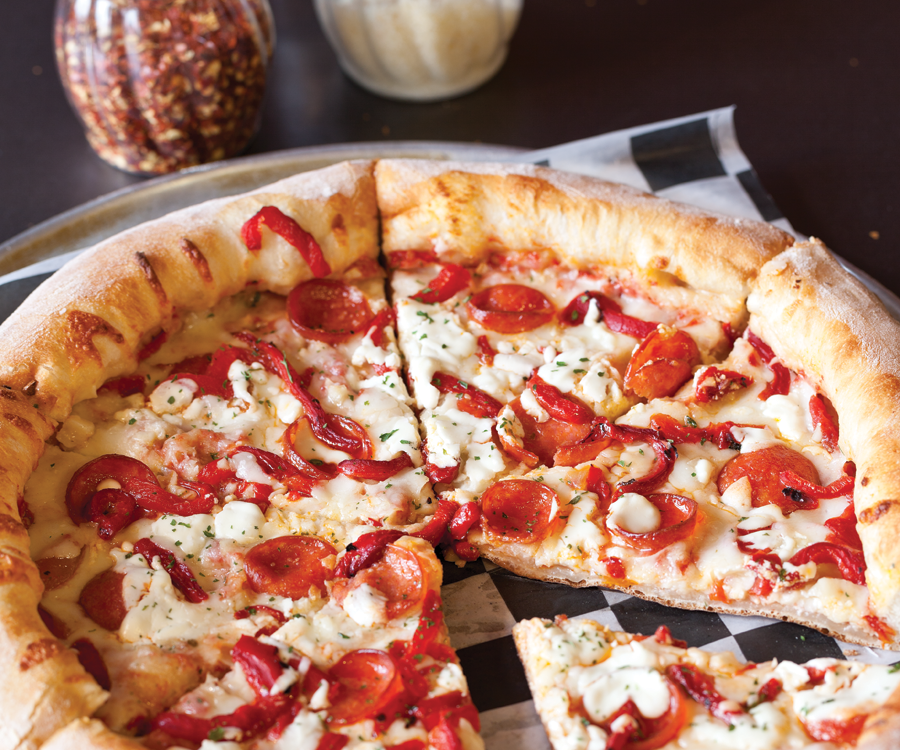 The Brick Slice House
308 W. McDaniel St., Springfield, 417-720-1329, thebrickslicehouse.com
I find pizzerias that offer pizza by the slice a bit magical. I know this may seem silly to say about a restaurant, but it's true. Think about it. Everyone's favorite food, the beloved pizza pie, is hot and waiting the second you walk through the door. And a huge slice can likely be purchased with the dollars you have crumpled in your pocket. Pizza-by-the-slice restaurants are a win for everyone.
I recently had lunch at The Brick Slice House, Springfield's newest joint offering by-the-slice pizza, with Assistant Editor Ettie Berneking and Editorial Designer Abby Gust. After walking through the door, my eyes were immediately drawn to the pizza bar, where massive 20-inch pies were blanketed with gooey seas of mozzarella, crispy circles of pepperoni and many more drool-inducing toppings that were practically begging for me to  order them and eat them right up. Have I mentioned that I love pizza more than life itself?
Finding a seat for all three of us was a bit of a challenge—there are only a handful of barstools and a few two-person tables inside the restaurant. It wasn't a problem to pull a chair from another table for our party of three, but it was obvious that the spot was created as more of an eat-and-run restaurant rather than a place where you invite the whole gang for Sunday dinner. The walls are partially covered with splashes of brick, and some well-thought graffiti adds an array of colors. It's inviting and chill, just as you'd like a by-the-slice pizza spot downtown to be.
The girls and I had a bit of trouble deciding what to order. We each wanted to try the pie, but we also wanted to try out one of the restaurant's calzones. Since no one wanted to be the chubby one who ordered a plate-sized slice of pie and a calzone, we decided on ordering a 12-inch pie and a calzone to split among us all. 
The list of specialty pies here will make your stomach growl. Options include the Mr. & Mrs. White with white sauce, sun-dried tomatoes, minced garlic and your choice of Italian sausage, chicken or roasted red peppers, the Queen City Sweetie with caramelized onions, goat cheese and roasted red peppers and the Spring Patch Spinach with white sauce, creamy spinach, garlic and tomatoes. Oh, the possibilities! We ordered The Scapegoat, another specialty pie made with pepperoni, goat cheese and roasted red peppers, and we also ordered the Vintage Brooklyn Calzone with mozzarella, ricotta, creamy spinach and fresh garlic.
When our food arrived, I decided to start out with a slice of the scapegoat. After my first bite, I wanted to find the brilliant soul who decided to put goat cheese on that pizza and lay a big fat kiss on them. The pungent cheese adds a salty, tangy depth to each bite, pairing perfectly with the spiciness of the pepperoni, the smoothness of the mozzarella and a slight sweetness from the roasted peppers. The topping combo was spot on, and the crust measured up, too: It's on the thinner side and has a bit of a crunchy finish. It is perfect for folding, which is my favorite pizza-eating habit. The house-made red sauce provided the ultimate base, being mellow enough in flavor to let the real stars of the pie shine. 
Next I moved on to try a piece of the calzone. Most calzones I have tried at 417-land restaurants taste like nothing more than a pizza folded in half, but that wasn't the case with this pretty pocket. With the addition of ricotta cheese inside, the calzone's filling was mega creamy, and it was perfected with loads of spinach-y flavor and pops of fresh garlic. The crust was crispy and buttery, and dipping it in house-made ranch made it all the more indulgent. 
After we filled our bellies, we still had some pizza and calzone left to bring back to the office for our co-workers. They loved it as much as we did, and we all agreed that we're more than thrilled to have a new place to grab pizza by the slice in Springfield.

Q&A With The Brick Slice House Owner Taylor Bentley
417 Magazine: What inspired you to open The Brick Slice House?
Taylor Bentley: My parents owned a restaurant when I was a kid, and I've spent 20 years working in the restaurant industry. My brother and I have always talked about opening something, and we found this spot at the right time.
417: What's your favorite pizza you serve?
T.B.: That's a really tough question. Right now, I can give you two. The Brick original with cup and char pepperoni, Italian sausage, fresh minced garlic and goat cheese and the Queen City Sweetie that comes with caramelized onions, roasted red peppers and goat cheese.
417: What kind of oven do you use at The Brick Slice House?
T.B.: We have a natural stone deck oven that runs at a continuous temperature, producing a very consistent product every time, and it's fast.
417: How would you describe the style of the pizza you serve at The Brick Slice House? 
T.B.: We don't really consider our pizza any particular style. A lot of people call it New York–style and I guess it would be closest to New York–style, but it's honestly just what we liked the best when we were coming up with the recipe, size and slices.
417: What sets your pizza apart from other pizzas sold locally?
T.B.: I would say the obvious thing is the size. We do 20-inch pizzas. Also, I would say the quality of ingredients and the flavor combinations, and the fact that we're the only people in town that run the style of oven we do. 
417: What's the most popular variety of pizza you serve at The Brick Slice House?
T.B.: I would say our top sellers are the Stockyard and Spring Patch Spinach. The Stockyard comes with pepperoni, salami, Italian sausage, bacon and capicola, and the Spring Patch Spinach comes with our white sauce that's similar to alfredo sauce and creamy spinach and fresh garlic.
417: Is The Brick Slice House more focused on by-the-slice or entire pizzas and other items? 
T.B.: We wanted to focus on by-the-slice. That's the niche we were trying to fill. We opened on October 1, and that was what we wanted people to know we do. But now, whole pizza orders are happening daily.
417: How many pizzas does The Brick Slice House have available during the day? 
T.B.: We always have pepperoni, cheese and sausage, and we try to have a lot of our specialty pizzas available. We sometimes have as many as 10 varieties at once, but we always have at least five to six. And if we don't have something and somebody wants something in particular, we can typically make it if they want to wait.
417: What kind of toppings do you offer? 
T.B.: We have essentially everything in the traditional sense of pizza toppings. We don't have pineapple or barbecue sauce or those kind of things. Really, the only non-traditional things would be goat cheese and maybe the caramelized onions.
417: You say you're the only local restaurant you know of that offers cup and char pepperoni. What exactly is that?
T.B.: It's pepperoni with a natural casing. I am told by our distributor that we're the only ones in the state who carry it.
417: What's your favorite kitchen tool?
T.B.: My pizza peel. It's definitely the most fun. I get to twirl it around, mess with it and more.
417: How did you come up with your menu? 
T.B.: Test kitchen work. We just put together things we thought would be most complimentary in flavor profiles, then tried them out. 
We are anticipating on rolling out monthly specials
417: What items do you make in house? 
T.B.: We make our dough fresh, and we make our own red sauce and ranch salad dressing in house, too. Aside from toppings, like our Italian meats that come from a big Italian meat supplier, we make everything in house.