Travel
Wine Down on Hermann's Wine Trail
Seek out Hermann's rolling hills and scenic views while sipping delicious wines made in Missouri's own wine country. A quiet weekend getaway is perfect for visiting one of the oldest towns in our state, making it the go-to for a weekend retreat.
By Jenna DeJong
Jan 2018
Years ago, Hermann didn't have the money to modernize its outdated, old buildings because of Prohibition and the Great Depression, making it one of the most unique cities in Missouri. Because most of its buildings were never modernized, the town is a blast from the past sure to charm its way into the hearts of its visitors.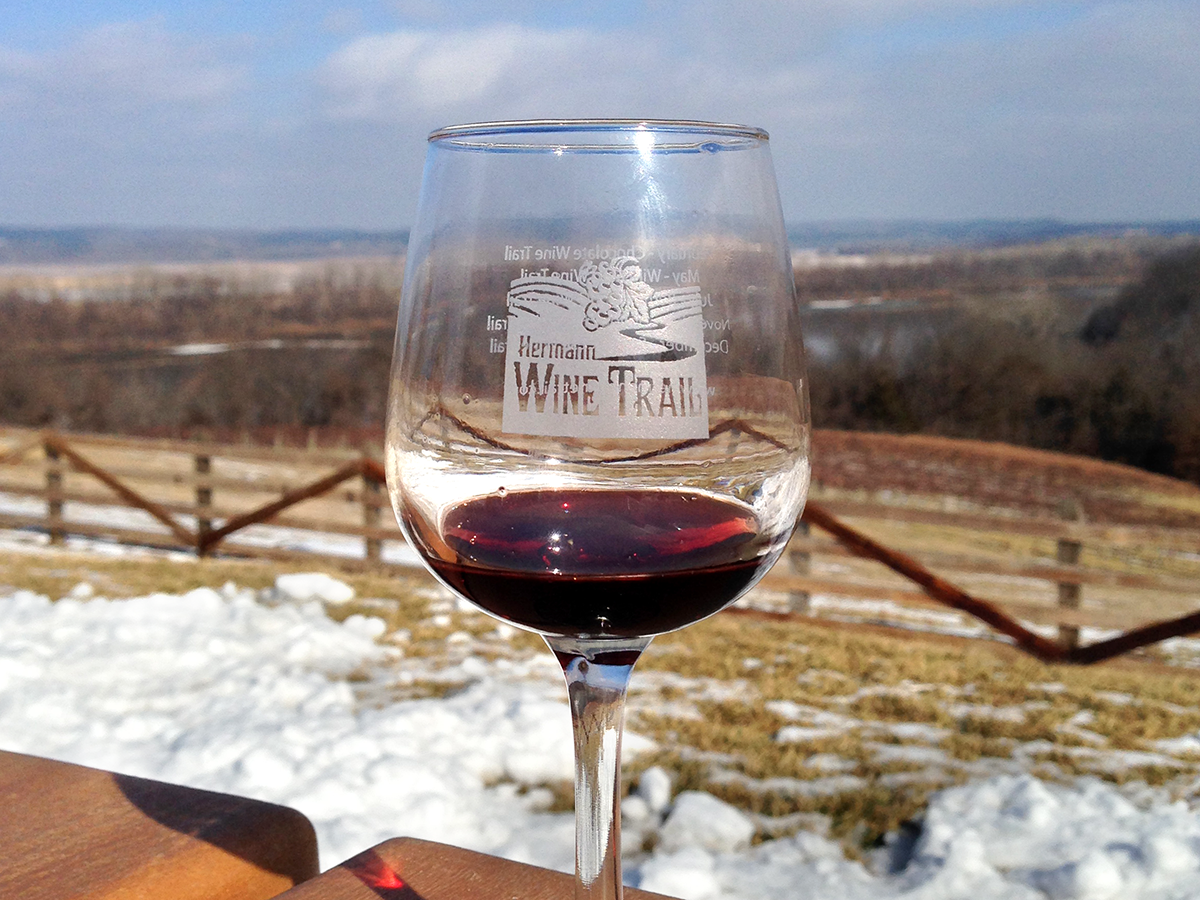 Indulge
Known as the "Birthplace of Wine Country," Hermann is a must-see for tasting delicious wine. The seven wineries are organized in the Hermann Wine Trail and include the Adam Puchta Winery (1947 Frene Creek Road, Hermann; 573-486-5596; adampuchtawine.com), Bias Winery & Gruhlke's Microbrewery (3166 Highway B, Berger; 573-834-5475; biaswinery.com), Dierberg Star Lane Tasting Room (338 E. First St., Hermann; 573-486-1182; hermannhof.com), Hermannhof Winery (330 E. First St., Hermann; 573-486-5959; hermannhof.com), OakGlenn Vineyards & Winery (1104 Oak Glenn Place, Hermann; 573-486-5057; oakglenn.com), Robller Vineyard (275 Robller Vineyard Road, New Haven; 573-237-3986; robllerwines.com), and Stone Hill Winery (1110 Stone Hill Highway, Hermann; 573-486-2221; stonehillwinery.com). Some are within walking distance to bed and breakfasts around town, and the Hermann Trolley can transport guests to and from each winery and back into town. 


Play
Walk down any street and visitors are almost guaranteed to spot one of the many antique or specialty stores. Visit Antique's Unlimited/ Ye Old Fire Company (117 E. Second St., Hermann; 573-486-2148; antsunltd.com), a museum and shop specializing in firefighter memorabilia including antique helmets, nozzles, badges and more. The owner is a retired career firefighter and has collected items for 46 years, some of which date back to the early 1800s. Aside from his collection, the owner also sells firefighting trinkets and gifts for visitors to take home. 
While shopping, make the most of your time and participate in one of the many walking tours around the city. The Riverfront Walking Tour is an exploration of downtown and views of the Missouri River, and the Bayer Walking Tour offers glimpses of Hermann's past and what the town will look like in the future. Visit Hermann's visitor website for a PDF of all routes, some of which even have short descriptions of the town's historic buildings. 


Stay
For a quiet, quaint feeling, stay in one of the three treehouses or the cabin at The Cottage (1185 Highway H, Hermann; 573-486-4300; hermanncottage.com). The five-acre property is in the woods and offers guests a unique way to sleep away the wine after a long day. The Moonlight Tree House is even handicap friendly, and the property sits four minutes driving from downtown Hermann. Each house includes plumbing, heating and cooling, Wi-Fi and a few hammocks. 
Looking for something more traditional? Try the Black Oak Inn (129 W. Third Street, Hermann; 573-486-1519; blackoakinn.com), a small house rental with lots of charm. Only a 10-minute walk to Hermannhof Winery and Dierberg Star Lane Tasting Room and less than 15 minutes of driving to the rest of the wineries, the Black Oak Inn is a no-brainer. Guests are also within walking distance of downtown, and Wi-Fi and satellite TV are included. 
Trip Info
Drive time and route
3 hours via I-44 east and MO-19 north. 
Recommended stay
Three days, two nights, a long weekend. 
Don't forget to pack 
Extra $1 bills. Tip trolley drivers driving you from winery to winery. Hermann Trolley charges $20 a day and picks up patrons from bed and breakfasts up to 8 miles outside of town and drops them off at Hermann wineries or any restaurant in town. Hours Friday and Saturday extend to 6 p.m. and end at 5 p.m. on Sundays.