Reviews
Feeling a Little Irish
A new location for a still-also-pretty-new Irish pub offers hearty fare for people craving bites from across the pond.
By Katie Pollock Estes Photos by Kevin O'Riley
Jan 2013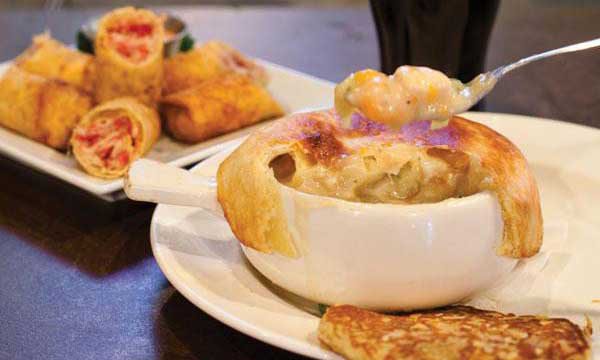 Taste a wealth of Irish flavors in Dublin Pass's reuben rolls and chicken pub pie filled with peas, carrots, chicken chunks and mashed potatoes.


Dublin's Pass
2767 W. Republic Rd., Springfield, 417-877-7625;
317 Park Central East, Springfield, 417-862-7625, 
dublinspass.com
$-$$
I admit I had been putting off my visit to the new Dublin's Pass in its downtown Springfield location for a few weeks. I was getting pregnanter and pregnanter by the minute and was starting to feel increasingly out of place in bars. But Dublin's Pass has a laid-back atmosphere, a friendly staff and a full (tasty) dinner menu, so my worries were unfounded. When my husband, Eli Estes, and I finally made it down to Park Central East, we were ravenous and ready to eat some yummy Irish fare. The menu had changed a bit since our last visit, and we couldn't wait to try something new.
First up were the reuben rolls from the appetizer menu. Big egg roll wrappers were stuffed with corned beef, Swiss cheese and sauerkraut and fried until the outside was super-crispy. They came to the table piping hot and smelling amazing. We dipped them in the accompanying Thousand Island dressing, and it was like a wrapped up, more indulgent version of a reuben sandwich. And these puppies were filling! 
I followed that with the chicken pub pie entrée. It featured a big bowl full of comforting chicken pot pie whose filling was packed with peas, carrots, chunks of chicken breast and thick broth that formed a moat around the island of mashed potatoes that rested in the middle. The whole thing was covered with a layer of pastry that was flaky and oh-so-buttery. It was the definition of comfort food. I was surprised to find mashed potatoes inside instead of chunks of potato, but it was a fun change of pace that made the dish all the more homey.
Eli opted for something off the burger menu: The fried egg burger. This monster was enormous. On a toasted bun were two big beef patties, gorgonzola cheese, basil pesto, a fried egg and bacon. Eli could barely get his mouth around it and wound up only eating about half. But he loved every bite. He said the flavors melded perfectly, and the pesto added a bit of a gourmet zip along with the gorgonzola cheese. It came with a mountain of crispy French fries.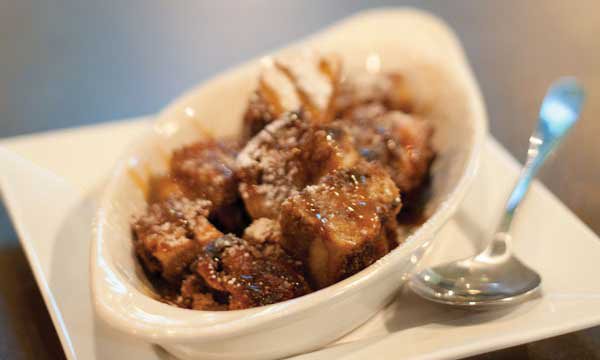 Even though we were pretty stuffed by the end of our meal, the bartender told us we better try the fried bread pudding. We couldn't pass up his enthusiastic recommendation, so we ordered some. The chunks of fried bread pudding are soft on the inside but almost crunchy on the outside. They were drizzled with a warm caramel sauce and topped with powdered sugar. At first they smelled like funnel cake, but after one bite, we agreed that they tasted more like French toast—a little custardy in the center and packed with sweet goodness.