Dishes
Pizza at D'Arpino's Italian Café
Plus six other things that passed the test of our taste buds.
By The Editors
Jan 2013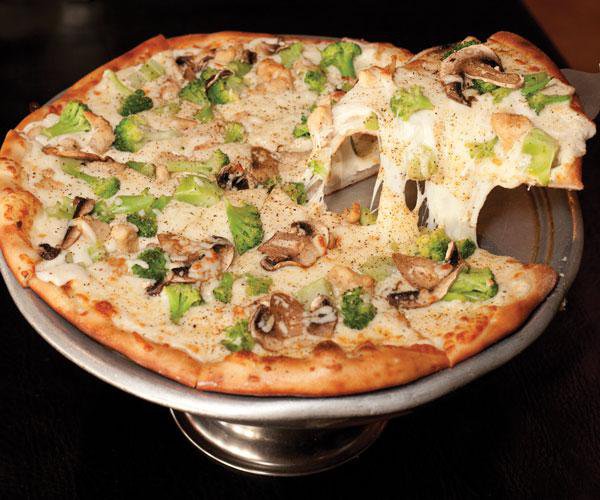 1. The pizza at D'Arpino's Italian Café (304 S. National Ave., Springfield, 417-889-9898) is a new favorite, with its garlicky and delicious crust. Try the Papa Leone, which comes topped with Alfredo sauce, broccoli, mushrooms and grilled chicken

2. On a chilly January night, we love warming up with a bowl of kimchi chigae from Soo's Korean Restaurant (3644 S. Campbell Ave., Springfield, 417-889-2220). The spicy soup features loads of pungent kimchi, silky tofu and crunchy chives.
3. The shrimp and avocado cocktail at Texas Land & Cattle (915 Branson Landing Blvd., Branson, 417-337-8200) is a slightly sweet tomato salsa with delicious chunks of shrimp and creamy bits of avocado. The flavors are perfectly complemented by the salty crunch of tortilla chips.
4. Bacon makes everything better, including hot dogs. Combining two of our favorite comfort foods, the BLT Hot Dog at Harbell's Grill & Sports Bar (315 Park Central West, Springfield, 417-862-0477) is a delicious, indulgent dinner.
5. The mushroom cream soup from the south Springfield Nonna's Italian Café (3512 S. National Ave., Springfield, 417-890-8300) is a special that you can't find every day. But if it's available, nab it! It is so silky smooth and decadent. One of the best soups we've ever had.
6. We love to indulge in the fried chicken from Enoch's BBQ & Southern Classics (2101 W. Chesterfield Blvd., Springfield, 417-881-2888). It's truly a finger-licking good reminder of the South.
7. A new favorite dessert is the Kahlua Ding Dong at Black Oak Grill (601 Branson Landing Blvd., Branson, 417-239-0063). This petite chocolate cake is moist and delicious, topped with Kahlua-laced goodness in the form of a pillowy cloud of whipped cream and a rich and thick layer of chocolate ganache.