Life
The Beehive Collaborative
Carthage residents are invited to get crafty and creative with community art projects at The Beehive Collaborative.
By Sara Eaker
Jan 2013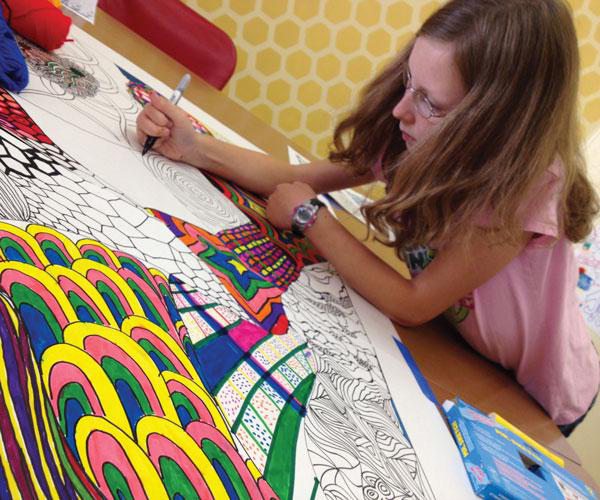 The Beehive Collaborative is a place where people make sweet things together. A place with a buzz of activity. A place where founder, Josie Mai, is the queen bee. This queen bee facilitates and hosts workshops, exhibitions and events designed to celebrate, create and challenge both your creativity and self-imposed boundaries. Based out of Carthage with a mission to create meaningful collaborative visual art encounters, Mai is bringing people together all in the name of art. From visual art projects to poetry readings and her Honeycomb Kids, there are opportunities for everyone to get their art buzz on.
The 411
Mai has experience with teaching art majors and seasoned artists at Missouri Southern and Missouri State universities, but she is particularly passionate about teaching non-artists. Mai thrives on the challenge of teaching hesitant, less artsy patrons how to explore art and have fun with the finished product.
The goal of these workshops is to highlight the necessity of visual art in contemporary culture instead of visual art as a hobby. As Joplin—Carthage's neighbor—rebuilds after the tornado, The Beehive helps the local workforce work together and have fun. Mai is injecting new life and inspiration back into the community one workshop at a time.
The Beehive Collaborative 
Upcoming events in January include Paint to Play, a monthly workshop that does not involve instruction. You simply show up, loosen up your tie or kick off your heels, and play with paint. 
Friday workshops are offered for any group seeking a creative endeavor. The Beehive Collaborative is located in Carthage, but founder Josie Mai is willing to travel to a space near you. Contact her at beehive.collaborative.studio@gmail.com or at 417-483-9336.