Weddings
Blake Tucker & Haley Tyson
The couple was married on September 28, 2013 at Ms. Gilmore's Carriage house.
By Ettie Berneking
Jan 2014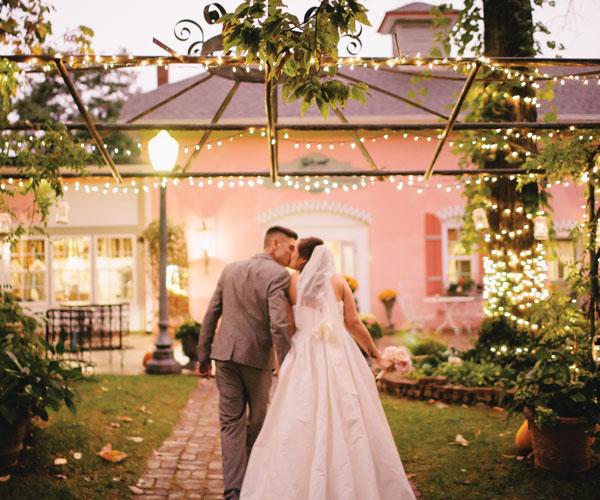 It's amazing what you can find online. A new house, the perfect living room set, and in the case of Blake Tucker and Haley Tyson, your future husband and wife. Blake and Haley first met through Myspace when they were 17. Two years later, when the pair was getting ready to start college, they took their online friendship out of cyberspace and into downtown Springfield where they enjoyed a first date at Moxie Cinema. Sixteen months later while enjoying a short getaway to St. Louis, a very nervous Blake proposed. Turns out, before popping the big question, Blake had asked Haley's dad and best friend for their permission. He even asked Haley's grandmother if she would be gracious enough to pass along her mother's 1930s era engagement ring to the young couple.

On September 28, 2013, Blake and Haley were married at Ms. Gilmore's Carriage House. But they weren't the only ones celebrating a wedding. Haley and Blake shared the 28th with Haley's grandparents, who raised a glass to their 43rd anniversary as the young couple said "I do."
Today the couple lives in Springfield where Haley is a full-time nanny and Blake is a student at Missouri State University.
The Details
Reception Venue: Ms. Gilmore's Carriage House
Caterer: Big Woodie BBQ
Music/Entertainment: The Midwest Indies
Dress: David's Bridal
Photographer: Elise Abigail Photography
Hair and Makeup: Studio 417
Invitations: BrandYu Designs
Cake Toppers: Skunkboy Creatures