Reviews
Heritage Cafeteria
Heritage Cafeteria served up home cooking for more than 50 years in Springfield.
By Katie Pollock Estes | Photo by Brandon Alms
Jan 2015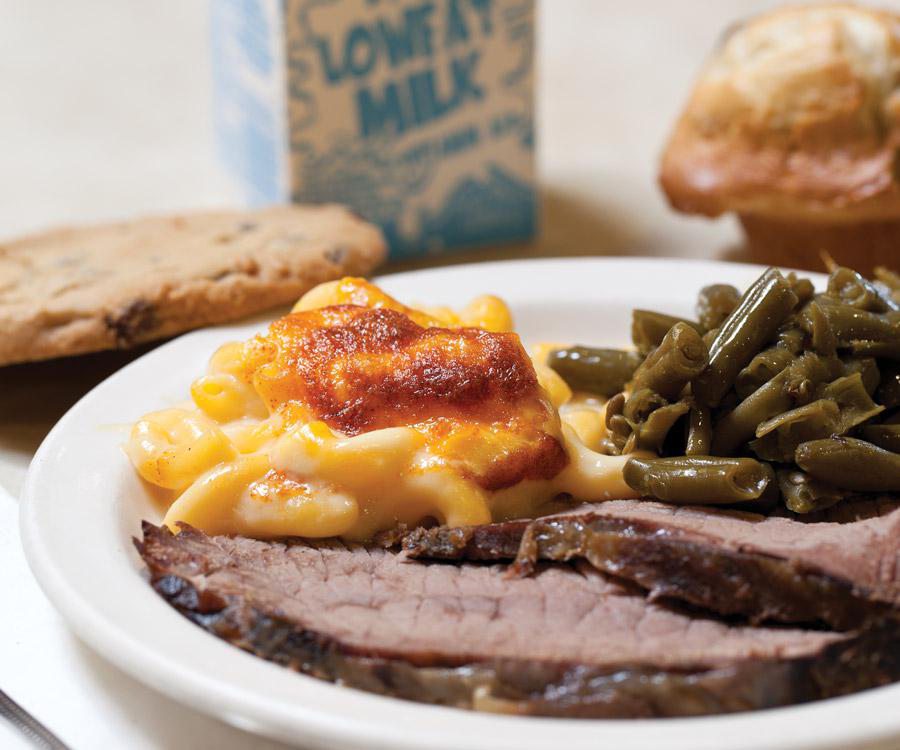 I live about two blocks from Heritage Cafeteria, the Springfield mainstay that has been serving up heaping plates of comfort food for more than 50 years. Yet in nearly a decade of living in 417-land, I had never tried it. I had heard about the fluffy homemade rolls and the juicy fried chicken. I had heard about how all the food is made from scratch. But I had always been  unsure of the idea of cafeteria-style dining. At Heritage, you shuffle through a line to grab your fare, then pay at the end of your meal when the cashier rings up all your tickets.
No matter what your preconceived notions of cafeteria dining are, you have to admit that a restaurant that has been open and hopping since 1960 must be doing something right. It was high time I rolled up my sleeves and hefted up a plastic tray full of miniature plates to give it a try. 
I popped into Heritage Cafeteria on a Monday night at about 5:30. I met my husband and son there before any of us had made it home from work. The only child dining that night, our 2-year-old son worked some statistical magic and brought the average age inside that building way down. With hungry bellies, we headed straight to the cafeteria line.
The colors and textures of some of the food laid out under those sneeze guards reminded me of that "Bangarang" scene in the movie Hook. You know... the one where the boys hurl imaginary technicolor food at one another? There were sizeable cubes of cobalt blue and clementine orange Jell-o jiggling gently in tiny little bowls. The carrot salad featured clouds of mini marshmallows and big cubes of pineapple poking out of a fluff that was tiger striped with shredded carrots and speckled with raisins. And even the beets displayed a little Wonka-esque style; they were engulfed in a sweet, glossy, gelatinous red sauce. 
If it sounds like I'm telling you that some of the food seemed very unlike food at first glance... well... I am. But don't be fooled. That carrot salad is stinking delicious. I can't even write about it without wishing I had a little more for a workday snack. It was like Watergate salad with a twist. (And I love Watergate salad.) To me, it tasted like something straight out of a 1950s cookbook. It would have been printed right next to the lemon icebox cake and the ketchup-smothered meatloaf. I'm being completely serious when I tell you I really enjoy both of those things. In fact, I really enjoy any sort of made-from-scratch home-cooking meal that's seasoned with a little nostalgia. I don't cook like that at home, so eating a meal at Heritage Cafeteria made me feel like I was eating a meal at Grandma's house. 
After scooping up bowls of the carrot salad and goo-coated beets to satisfy my curiosity, I filled the rest of my tray with dishes I knew I'd love: fried chicken, bacon-laced green beans and jalapeño corn bread. Eli opted for a French dip sandwich, and we loaded Oliver's kids' plate up with roast beef, broccoli, macaroni and cheese and a sweet blueberry muffin.
My fried chicken was wonderful. With tender, juicy meat and a crispy coating that was delicate but flavorful, it was a bird I'd go back for. The green beans were savory and hearty, and the jalapeño cornbread was, in a word, killer. The sweet bread had a whisper of a spicy bite, but it wasn't so much that I raced to my water glass. I loved it.
And even though the carrot salad won me over, I couldn't get behind the beet side dish. The beets themselves were delicious, but I didn't understand the sauce. And I never like it when I am very aware that my food was thickened with cornstarch. I learned later that these are Harvard beets, and they are really common and not weird at all. This is just one recipe that has managed to never cross my path before now.
I tasted Oliver's roast beef (tender and juicy), but I didn't get a chance to taste his macaroni and cheese. He immediately gobbled down half of it and then spilled his milk onto the other half. 
For good measure, I went back for dessert. I was eyeing the luscious-looking cherry cobbler, but in the end I nabbed one of the apple dumplings for the three of us to share. A buttery pie crust shell surrounded a tender, baked apple that was seasoned with plenty of cinnamon and just the right amount of sugar. It was a comforting but not-too-sweet way to cap off our meal.
If you're someone who appreciates home cooking, nostalgic flavors and dishes that make you feel like you've stepped into a time warp, then you'll probably really enjoy a meal at Heritage Cafeteria. Maybe it's not serving up the most modern menu, but you can't go wrong with the fried chicken that dreams are made of. Not everything has to change with the times. Stay gold, Heritage Cafeteria.