Travel
Nashville, TN
Go for the music, stay for the food.
By Katie Pollock Estes
Jan 2015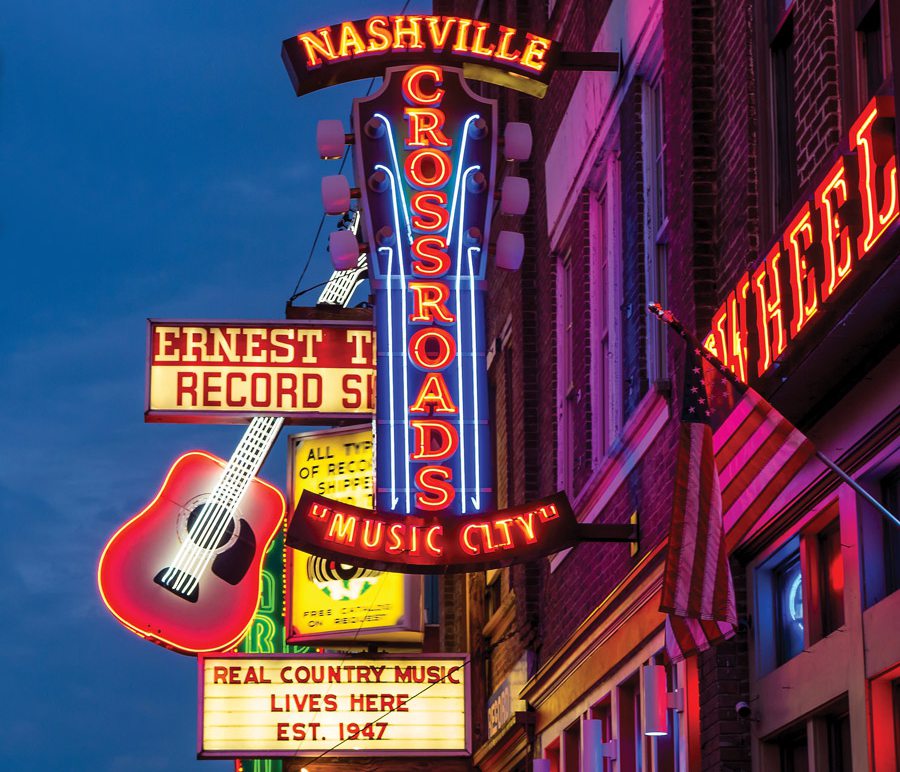 It was a Saturday night, and I was sipping a Champagne cocktail in a swank restaurant while I filled up on the fanciest comfort food I've ever had. I was having a yummy dinner with a group of girls—some friends, some new acquaintances—who were all getting excited about a night of bachelorette partying (well, the kind you do in your thirties, which is a lot different than the kind you do in your twenties). It was the tail end of a long day of fun in Nashville, and I was loving every minute of it. 
But rewind to a couple of months before. One of my husband Eli's good friends had made plans for the groomsmen and bridesmaids (and dates) in his wedding party to spend a weekend in Nashville for a bachelor-bachelorette trip. Eli and I were excited to spend a grown-up weekend away while my parents watched our 2-year-old son. But I had never been to Nashville and thought the city was nothing but all country music all the time. I'm anything but a country music fan. Yet that little detail didn't hamper my excitement. Nashville was going to be awesome, twang or no twang.  
Getting our feet wet
Eli and I arrived about half a day before our friends, so we had some time to explore. Our group was staying at the Courtyard Nashville Downtown, which is conveniently within walking distance of tons of stuff, including Broadway. That's where you can find honky tonks, shops selling cowboy boots (on one street corner, there were seven of them within eyeshot!) and lots of action. We walked down the street in late morning that day, and it was hopping. Later in the weekend we found ourselves there in the afternoon and late into the evening, and it only got busier as the hours ticked by. 
Also very near that hotel is the Printer's Alley (a stretch of road full of bars and clubs, making for easy nightlife navigation) and the Country Music Hall of Fame & Museum, which is a must-see for country music fans visiting Nashville. I am sure our prime location helped, but we found getting around in Nashville to be a cinch. Over the course of the weekend, we were able to walk from our home base at the hotel to most of our destinations, including Pinewood Social and the Nashville Farmers Market (more on those later). Where we couldn't walk, we could get a cab or an Uber car for a short wait and a low price tag. Or, if you feel like pushing pedals, you can find a Nashville B-Cycle station and hop on a rental bike as you cruise around the downtown scene.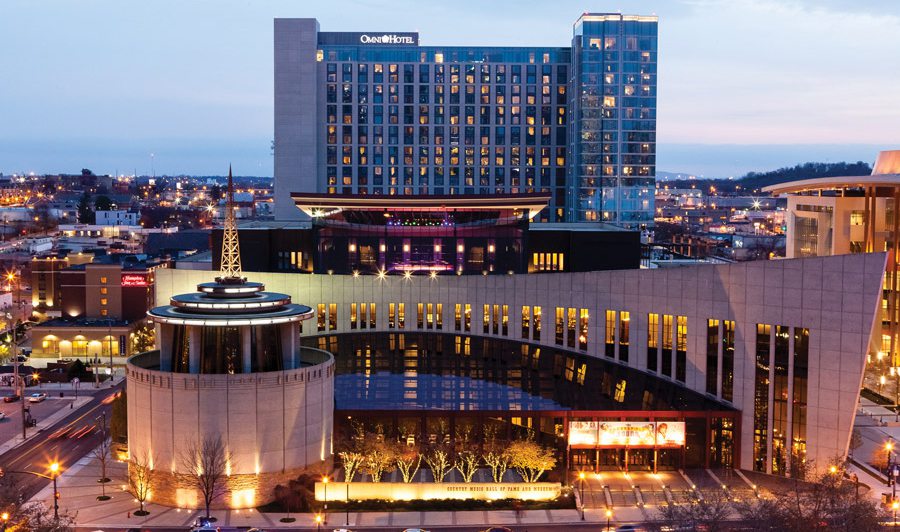 Everything is delicious
After wandering around Broadway, we walked down to the waterfront then headed back to the hotel to drop off some stuff, check in and then hail a cab to the first of many incredible Nashville meals. I was beyond impressed by Nashville's dining scene. If we'd had more than two days to spend in the city, I'm sure I would have needed to go up a size in my jeans due to all the good stuff I would want to eat. 
Our first meal, when it was just Eli and me in town, was lunch at Husk. The restaurant itself is gorgeous. It's located in a historic house surrounded by pretty gardens, and the inside is decorated to feel like the perfect combination of modern and rustic. We dined in a room with two-story floor-to-ceiling windows that looked out over the restaurant's little kitchen garden and petite pear trees.
The menu is full of Husk's take on farm-to-table modern southern cooking, and it changes every day. This restaurant is certainly on my must-try-again list for our next visit to Nashville. We started our meal with creamy, dreamy deviled eggs, and then I had a big bowl of spicy shrimp and grits with a beautiful yellow egg yolk plopped right on top. Eli ordered Husk's take on Nashville hot chicken—juicy chicken fried to perfection then topped with a liberal dose of super-spicy seasonings. It was so hot! The side of pickled cucumbers and radishes was perfect for cooling back down.
This meal was just an introduction to all the incredible things we'd eat that weekend.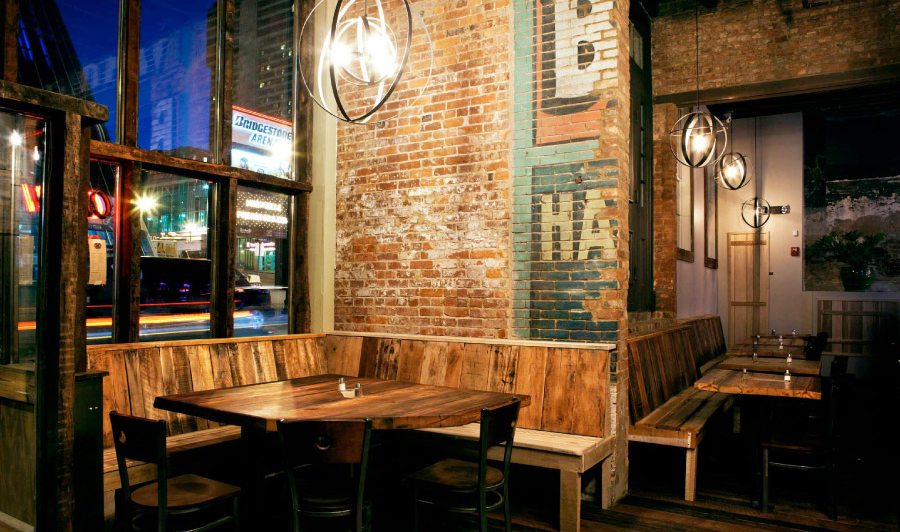 For dinner later that night with our friends, we popped into Pub 5, a restaurant and bar that serves up modern small plates, sandwiches and more alongside beautiful cocktails in a three-story building that mixes a loft feel with lots of wood and exposed brick. From the rooftop deck, we could see a flood of Elsa-costumed little girls pouring out of the Bridgestone Arena across the street after a showing of Frozen on Ice. It was raining, though, so we headed back inside where I ate a crispy pork belly sandwich topped with pickled carrots, manchego and kale and sipped on a fizzy Lavender 75 cocktail made with gin, lavender simple syrup, lemon and sparkling wine.
By the time we were finished with dinner, it was prime bar-hopping time. If you're the kind of person who likes your nightlife to come with a side of live music, Nashville will be a dream come true. As we walked down the street, we heard country and blues music pouring out of every doorway. We hit a crowded, noisy honky tonk for a couple of beers, then trudged back to the hotel for a little rest. The food alone was a wonderful first experience in Nashville that day, but the next day we had plans for even more fun.
Day fun
The next day, we slept in and then walked to the Nashville Farmers Market for lunch. None of us were shopping for fresh produce, so we zipped past the vender booths and headed straight for the big indoor food court lined with tasty mini eateries and even a beer garden serving local brews on tap. Eli and I walked over to order a pie from Bella Nashville Pizzeria.  I had the hummus pizza, with spicy chili oil, hummus, toasted nuts, mint, sumac and zatar spread over a chewy whole wheat crust that's cooked in a fiery brick oven. It was divine. Can they please open a branch in Springfield? We brought our pizza to the beer garden, where our friends had snagged a long picnic-style table in the bustling space.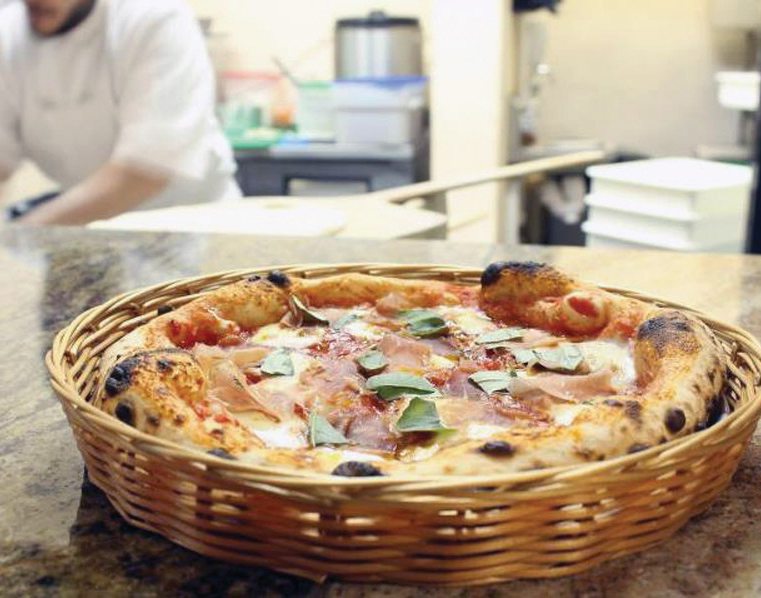 Photo by Gary Layda
The cheesy brick-oven pizzas at Bella Nashville Pizzeria include a creative lineup of pizza pies including a hummus pie.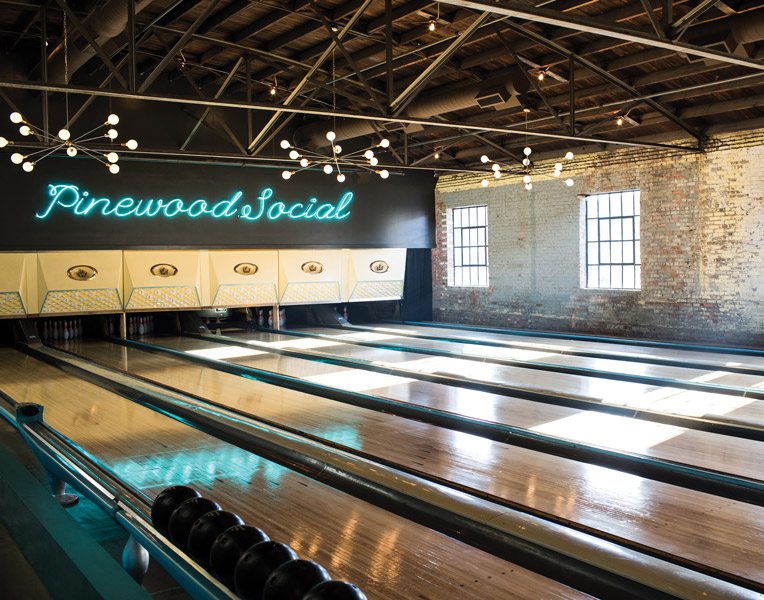 Photo by Andrea Behrends
Pinewood Social has everything needed for a great time including a tricked-out bowling alley.
Our next stop was Pinewood Social, a place that can really only be described as a playground for grown-ups who want to simultaneously feel like a kid and feel hip. It's open all day, so it can be your coffee shop in the morning or your bar in the evening. But no matter what time of day you're there, the real fun comes in the activities that are offered: bowling lanes and private karaoke rooms inside, with bocce ball, an Airstream-turned-bar, and even two grown-ups-only wading pools outside. All of this in a beautiful, bright, enormous sunny space with tall ceilings, a big outdoor area, a spacious dining room, a kitchen serving up tasty food and a cocktail menu full of gorgeous drinks presented in pretty little coupe glasses. 
I really, really loved this place.
Our big group of about 20 people opted for karaoke. It's a good thing the rooms are private because we're a noisy bunch when it comes to belting into a microphone. Inside the room, it sounded like our singing would surely be interrupting everybody's dinners in the quieter dining room just outside the door. But when I stepped out for a minute, I didn't hear a peep. Some good sound-proofing makes this the perfect place to leave your inhibitions at the door and let the good times roll. 
The food looked tasty, but we mostly took advantage of the drinks menu. If you go, try The Meaning of Happiness with cognac, lemon, ginger syrup, spiced pear liqueur and Pimm's. While perusing the menu, I found a local 417-land business whose ingredients were used in a Nashville hot cocoa drink: Askinosie Chocolate.
One more night on the town
We walked back to our hotel from Pinewood Social because the wait for a car was a little long, and the weather was perfect for a stroll. But it was a bit of a hike. By the time we got back, we just had a little time to spruce up and rest our feet before heading out for another walk—this one to the nearby Omni Hotel.
The hotel is attached to the Country Music Hall of Fame and has a lobby that's a mix of masculine and luxe décor. Lots of wood, lots of steel, like a modern take on a cigar lounge. One of the restaurants on-site is Kitchen Notes. Like Husk, its menu is full of updated versions of southern food, and the spacious restaurant was even more beautiful than the hotel. Wood floors, white tufted booths against brick walls, touches of glam with bright little pops of color here and there. Can I live there?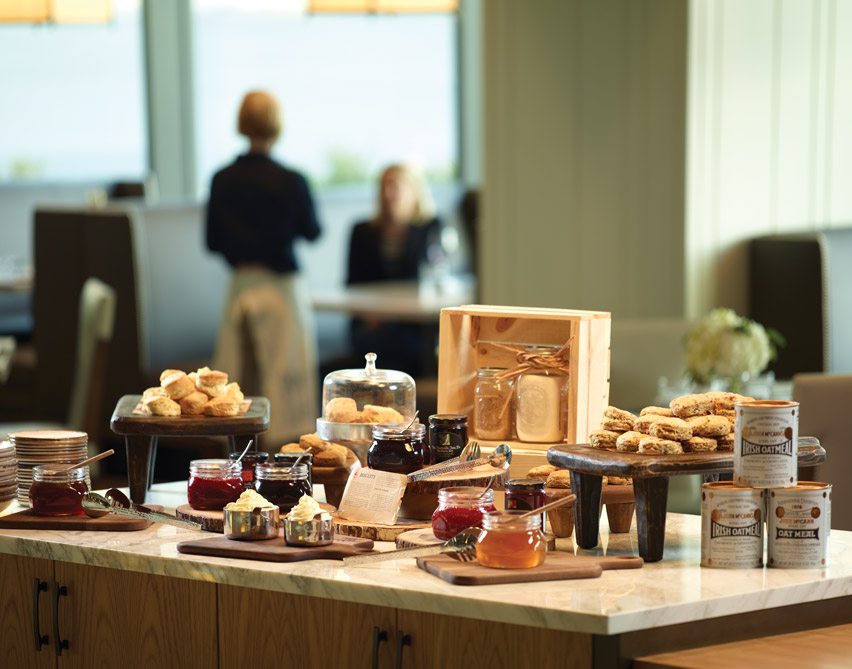 Photo courtesy Omni Nashville Hotel
The Biscuit Bar at the Kitchen Notes Restaurant offers diners an array of fruity jams, jellies and spreads to schmear over fluffy biscuits.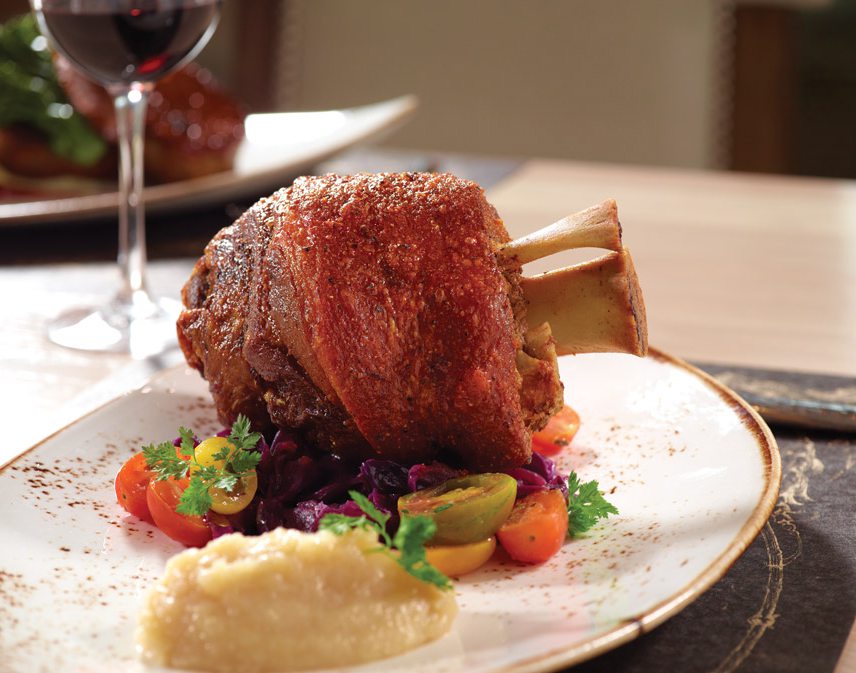 Photo courtesy Omni Nashville Hotel
The Pork Shank from the Kitchen Notes Restaurant is just one of of the menu items, which show off updated versions of classic Southern eats.
We ordered our food family-style, so everybody got to taste a little of everything. The meal began with cute little plates of jellies for spreading on fresh biscuits and cornbread. Then we tried a smorgasbord: beet salad, charred okra, coconut cake. Like at Husk, we ate deviled eggs, shrimp and grits and that crazy-spicy fried chicken, and it was fun to compare the Kitchen Notes versions to the Husk versions. (Don't ask me to pick a favorite; they were both incredible.)
After dinner, everybody but me headed out for a night of dancing. Meanwhile, I had an early morning flight to catch. As much fun as I'd had in two quick days in Nashville, I was looking forward to snuggling my toddler back at home. So I headed back to the hotel with a full and happy belly for a few hours of pre-airport sleep. Before I knew it, I was traveling back to reality from the yummiest town I've ever visited. And I even loved the honky tonks. Who knew
---
Tips from an expat
Laura Ward is originally from 417-land, but she has been living in Nashville for almost a year and a half. We gave her a call to ask her what she loves about her new city, and to see if she has any suggestions for must-do activities
On Why She Moved
"I had an urge to spread my wings a little bit. I visited Nashville and fell in love with the city. I took a huge leap of faith, sold my house, quit my job, moved here and worked part-time until I found the job I have now."
On Why Nashville is Perfect for Music-Lovers
"You never know who you're going to run into. Steven Tyler was in town last week to film the CMA Christmas show. He was seen all over Nashville. He'd just show up to a place and sit in or hang out. I love music. I love listening to live music. In some weeks, there are three or four shows that I'll go to."
On a Must-Grab Mag
"If people come visit, I would recommend they get the Nashville Scene. It's a free publication that comes out on Thursday and lists every show that's happening in town."
A Great Outdoor Trek
Rent a bike and cycle the paved Shelby Bottoms Greenway all the way to the Cumberland River Pedestrian Bridge (above) and links up with other Nashville greenways.
A Splurge-Worthy Restaurant
The Catbird Sea

The Best Nashville Hot Chicken
Hattie B's
A Must-Do Music Outing
Take in some live music at Sunday Night Soul or dance the night away at the Electric Western Dance Party, both at The 5 Spot.
---
Plan it
Want to take your own weekend away in Nashville? Use our resources to help you plan.
Before our whirlwind trip to Nashville, my husband and I did a little research online to try and find some things to do during our half day alone before our friends arrived. We turned up lots of goodies that we ended up not doing—some because they'd be more fun in a few years with our kid in tow, and some because there just wasn't time to squeeze it all in. If you plan a trip that lasts longer than ours did, make sure you give all these spots a try.
Lodging

Dining
Stuff to do
Nashville Convention & Visitors Bureau
Country Music Hall of Fame & Museum
Cheekwood Botanical Garden & Museum of Art
Nashville Zoo at Grassmere
Fun fact: Travel + Leisure named their jungle gym one of the world's coolest playgrounds.
Pub 5 has since closed since the publishing of this article.