Spaces
Vintage Glam
Honey & Hive Salon in Springfield offers clients much more than just a haircut. The glamorous space doubles as an events venue and blends bits of vintage style with modern design.
By Ettie Berneking
Jan 2015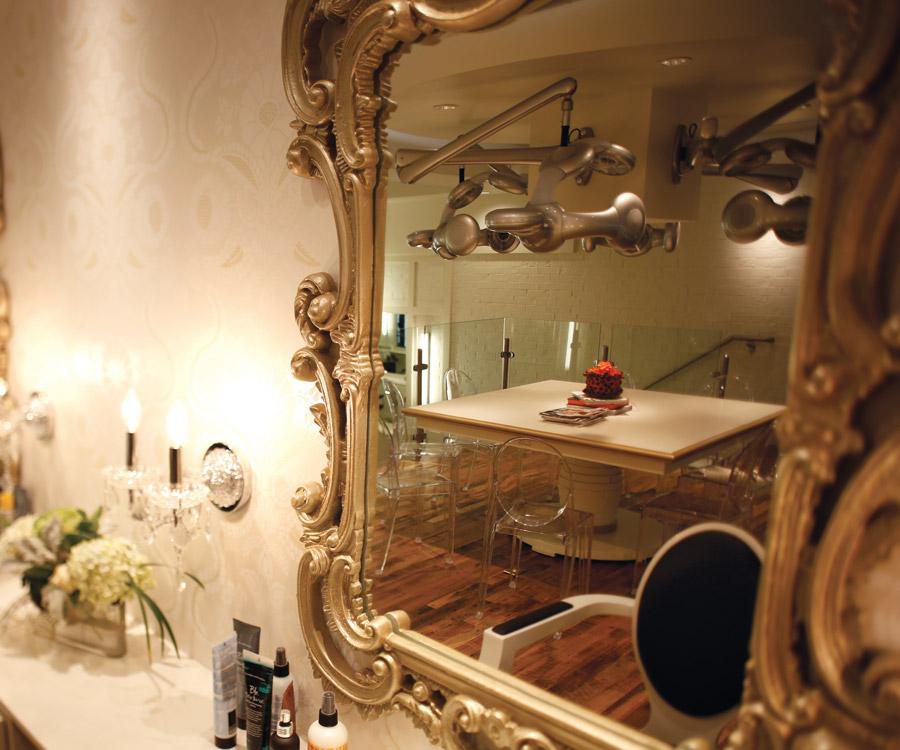 When Honey & Hive Salon opened in October 2013, it was pretty clear this wasn't going to be just another glitzy hair studio. One year later, the studio has become much more than a coiffed exhibition of the latest hair trends. It has doubled as an intimate event space and opened a sophisticated barbershop on the lower level.
When owners Monica Hopper, Cassie Cribbs, Tony Hawn and Geoffery Stanczyk started renovations on the salon back in 2013, they wanted something that would stand out. And once they ditched the idea of seeking out a free-standing building (which there are few of in Springfield), the stylish team set their sights on the multi-story space that sat vacant in the Brentwood center. It was a mix of things that caught their eyes. It was the great front window that now serves as a peep hole into this glamorous salon. It was the lovely tree out front that adds a sense of seclusion and peace to the paved landscape outside the front door. It was the unlocked potential of the mezzanine and lower level. It was the vaulted ceilings, brick walls and hardwood floors. But before their dreams came to life, there was a lot of work that needed to be done. 
After a brainstorming trip out to New York landed Hopper at Rachel Zoe's Dream Dry bar, Hopper returned home with the very same wash bowls and chairs she had seen at the dry bar. For Cribbs and Hopper, it was all about bringing in big-city charm and blending it with their down-home roots. The salon name, Honey & Hive, is named after Hopper's grandmother, who is lovingly called Honey because she routinely washes her hair with milk and honey. With a name nailed down and a white and gold color scheme in place, it was time to get to work on the building.
The team hired Liteworks as the project designer and contractor, and quickly the space came to life. Walls were built to create a bathroom and a lounge-y front waiting area. All new heating and electrical was installed, and 11 stylist stations were set up on the main floor. The staircase to the lofted mezzanine was rebuilt, and a table with a wooden beehive base was custom made by Knot2Rustic to serve as a comfortable waiting station for clients in between wash, color and styling. With the bones in place, the decorating began, and soon the deep red brick was painted the perfect shade of white, and whimsical Anthropologie wallpaper depicting gold circus elephants and trapeze artists was plastered to the front wall. The staircases were done in white marble reclaimed from the Woodruff building, and the wood floors were redone in a herringbone pattern using reclaimed wood from Ozarkaeology. The final result is bright and welcoming with a glamorous pop of style thanks to the simple but chic color scheme. "We wanted to create a vintage but glamorous vibe," Hopper says. The glistening 1930s chandelier hanging up front is the finishing touch. 
To show off their hard work, Hopper, Cribbs and their team of stylists threw a grand opening for their clients. Not long after that, the salon hosted another event on the mezzanine. Then it hosted a bridal shower, then a girls night out event with champagne, shopping, facials and more. Now the space is used for baby showers, girls' night out pampering sprees, bridal showers and any other events the Honey & Hive team dreams up. And for all their loyal customers, the salon brings in cookies every day at noon, and it's not uncommon to see clients snacking on pastries from Aviary Café & Creperie, St. George's Donuts, Elle's Patisserie or Dough A Dear Bakery. It's all part of Cribbs and Hopper's wish to create more than just a hair salon.
The wash bowls and chairs placed around the salon are the same ones Hopper first fell in love with at Rachel Zoe's Dream Dry Bar in New York. Hopper loved them so much, she returned home from New York with the chairs and washbowls in-tow.
The hardwood floors were redone with reclaimed wood provided by Ozarkaeology, and the brick walls were painted a creamy shade of white. "We met several times throughout the day when selecting which color white we wanted," Hopper says. "We wanted to see how the sun would change the color of the walls from morning to night."
The large front windows were part of what captured the Honey & Hive owners' attention when they were looking for the perfect space to open their salon. To add a touch of glam, the team added floor-length drapes, a cow-hide rug and vintage-inspired Restoration Hardware seating to the front waiting area.
The custom-made table that calls the mezzanine home has become the main waiting area for clients as they move between hair treatments and also a central gathering place during bridal showers and salon events.
The salon gets its whimsical name from Hopper's grandmother, who is known for washing her hair with milk and honey. When brainstorming the salon's look, the name made coming up with a color scheme simple. Bright pops of white and gold were an obvious choice.
The lower level of the salon houses the stylish barbershop. White subway tile and metal chairs keep the look simple and modern, and the selection of spirits on the bookcase helps customers settle in for a relaxing trim.