Recipes
Cooking Up Some Comfort With Chili
Chili is the perfect go-to winter dish, so we've rounded up some of our favorite recipes to share.
Written by Vivian Wheeler | Styled by Abby Gust | Photographed by Brandon Alms
Jan 2017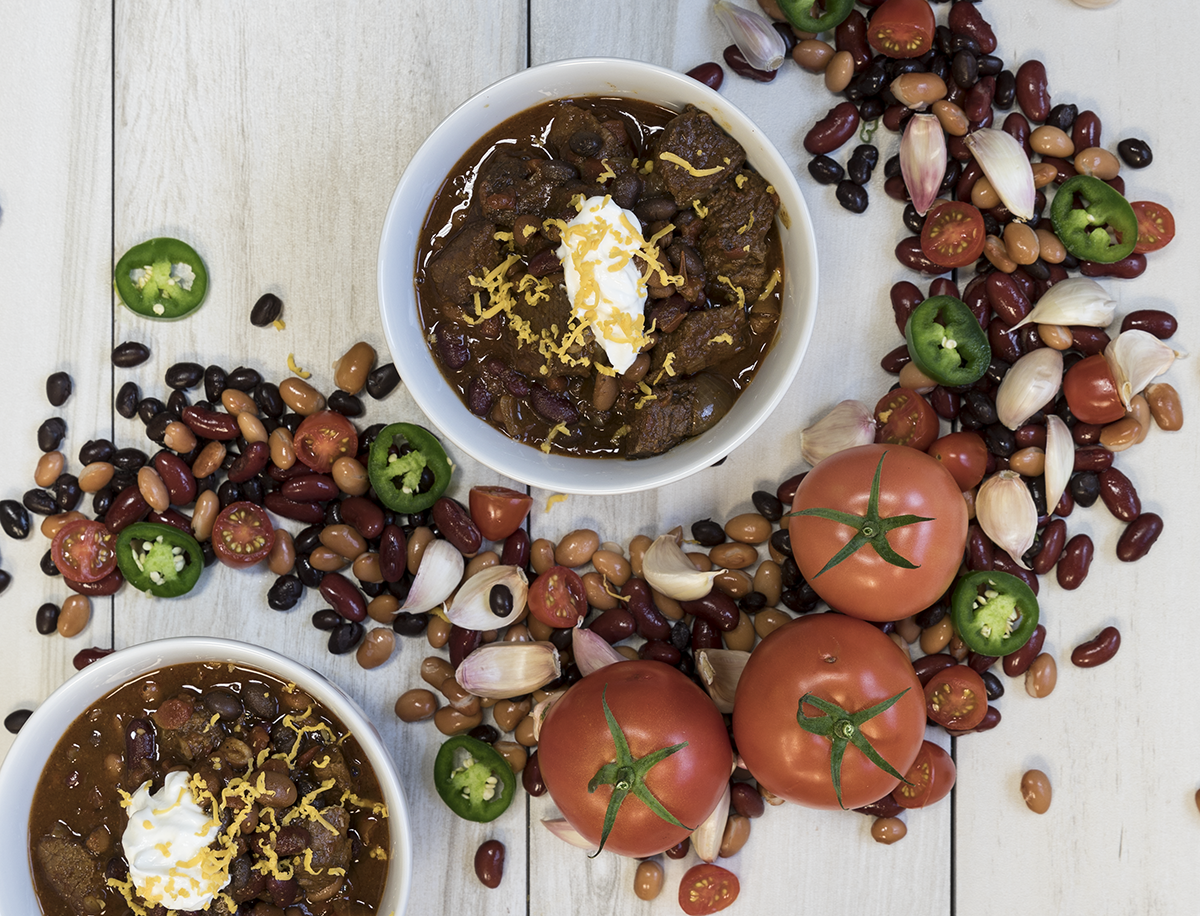 Whether you're making a cozy weeknight meal or cooking up a storm to feed the masses during a Sunday football game, chili is the perfect go-to winter dish. It's hearty, easy to make and always a crowd pleaser. But it can also be easy to fall into a chili rut, making the same recipe time and time again. To help shake things up, we asked three local chefs to share their take on this timeless classic. So, grab your apron and your biggest pot and try something new this season.


The Red Standard: Chef Anthony's Chili
Recipe courtesy of Jimm's Steakhouse and Pub
Jimm's Steakhouse and Pub (1935 S. Glenstone Ave., Springfield, 417-886-5466, jimmssteakhouseandpub.com) offers up a chili recipe that doesn't stray too far from traditional, but that doesn't mean it's not delicious. It's a great choice for those moments when you're looking to make picky palates happy. It also works as a solid base for any toppings your heart might desire.


The Green Queen: Chili Verde
Recipe courtesy of El Imperial
When it comes to Mexican cooking, chili verde reigns supreme on the chili scene. And El Imperial (523 Main St., Cabool, 417-962-3388) is cooking up some of the best chili verde in 417-land. The chefs at El Imperial combine peppers, tomatillos, pork and a whole slew of other tasty ingredients to create this spicy green chili.


Eye on the Prize: Ribeye Chili
Recipe courtesy of Metropolitan Farmer
Wes Johnson, co-owner and chef at Metropolitan Farmer (2144 E. Republic Rd., Springfield, 417-720-1665, metropolitanfarmer.com) ups the ante on run-of-the-mill chili by using ribeye steak as the meat in this recipe. We also like the subtle spice that shines through.
Editor's note 01-03-2020: Metropolitan Farmer is now closed.