Style
How to Wear Chunky Knits
This season's knit pieces go way beyond the tried-and-true sweater. We asked local style gurus how to make the trend work from head to toe.
Written by Rose Marthis | Styled by Heather Kane | Photos by Brandon Alms
Jan 2017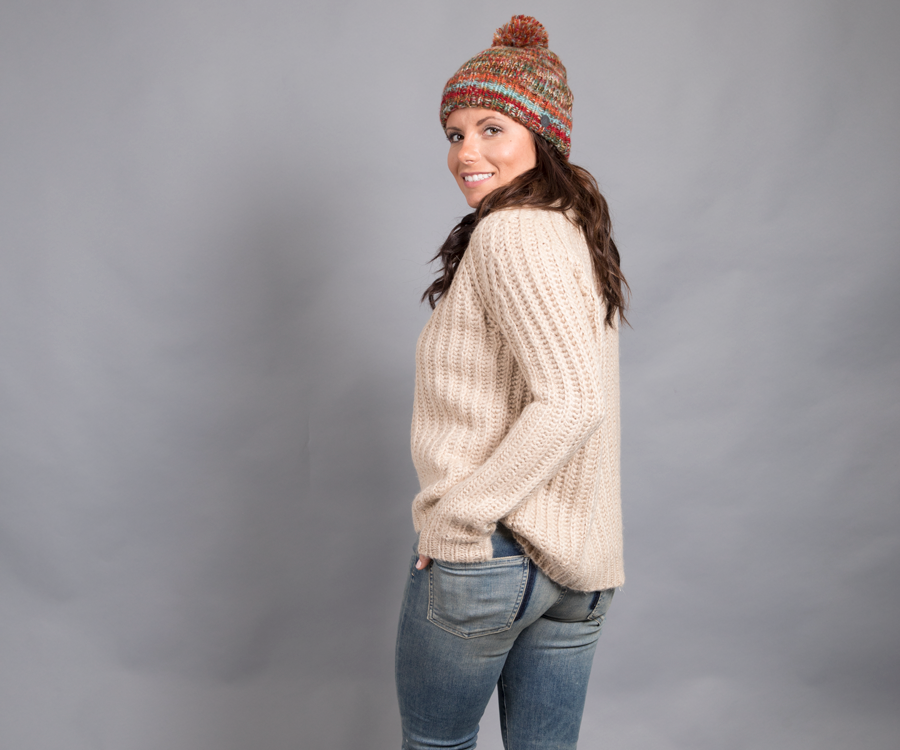 Style Tip: This oatmeal knit sweater paired with these vintage wash skinny jeans is just so effortless. Adding the beanie to the look not only gives this look a pop of color but also draws the attention to her face. She rocks this look, not the other way around. Volcom Truckee beanie, $35 at STAXX; Blank NYC camel sweater, $88 at STAXX; Premium Vintage Rocket Crop high-rise skinny jeans, $278 at Town & County

DON'T: Let it Overwhelm You 
"Wear the right amount of chunky for your body type. If you're wearing a chunky knit, wear leggings or skinny jeans to bring out the contrast in your outfit."—Dena Dill, with Town & County 
DO: Balance out the Textures 
"Suedes, leathers, denims and furs all mix well with the cable knits. You can mix the chunky knits with leather for an edgier look."—Tara Hamilton, with STAXX
For a new take on the traditional sweater (525 America white sweater, $198 at Town & County), try the cold shoulder style. Same rules apply with this look, but that peek of shoulder adds a little something extra. 
DO: Look Beyond the Sweater
Really soft and cozy vests are also really big this season. The softer the better! I love a nice beanie and a chunky scarf over a knit and jeans. Different patterns and textures are fun to mix up."—D.D. 
DO: Make it Work for Work 
"Wear a black chunky knit so that it will be a little more work-appropriate. If you're just trying it out for casualwear, layer it up. Try adding a cute plaid under a sweater, add a scarf with a beanie and have fun with boots."—T.H. 
DON'T: Get Too Bulky 
"[Don't] wear them with wide-leg bottoms. Chunky knits are so cute and comfy but can look frumpy really quick without the right bottoms. I also wouldn't wear a scarf with a chunky knit—the added bulk will swallow you."—D.D. 
Layer up your look with button ups underneath your sweaters. It adds that preppy vibe that makes your look seem more put together and helps create a more flattering style. J.O.A. gray cable-knit sweater, $72; Ash & Amber Belmot plaid button up, $98; Blank NYC Fool Me Twice classic skinny denim, $88; Free People Aquarian ankle boot, $168, all available at STAXX
DO: Think About Accessories 
"Experiment with a chunky knit sock to layer with your skinny jeans or leggings. It's okay to have them peeking out of a boot. You can always wear a base tunic and then wrap the chunky-knit sweater around your waist. That way you can add it to or take it away from your outfit without changing much."—T.H. 
DO: Try New Trends 
"A couple trends we have in the store now are chunky sweaters with a cold shoulder. We also have lots of fringe in sweaters this year and exposed seams, which are also really fun."—D.D.