Spaces
Keeping Your Office Space Modern
Keeping an office fresh and modern can be a daunting task to busy workers, but with these easy-to-follow tips from local professionals, any office can look like new without breaking the budget.
Written by Erin Gregory
Jan 2017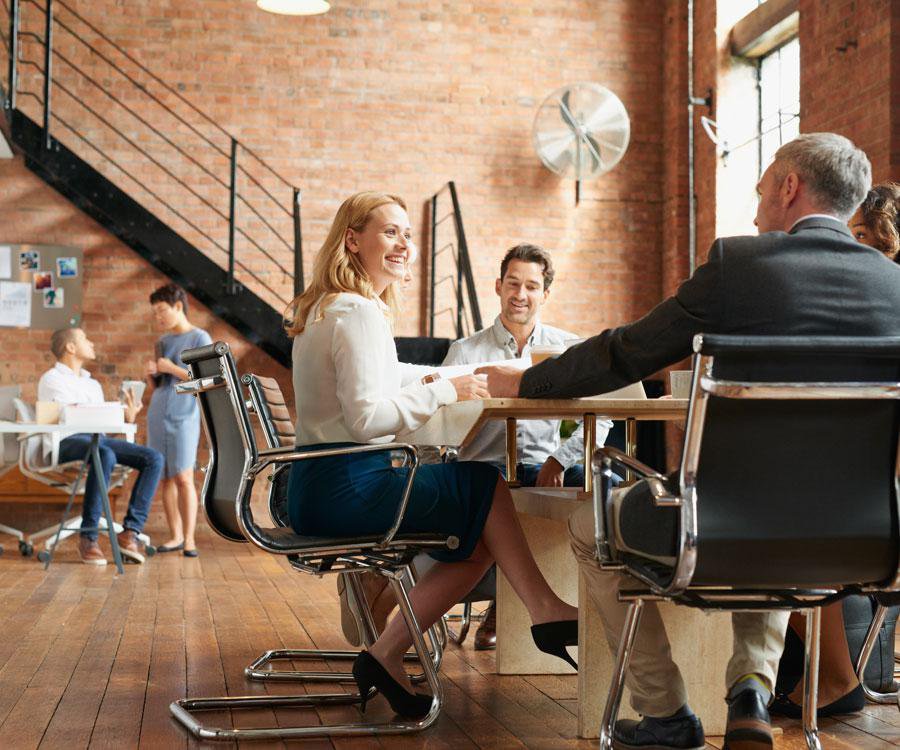 There is a key term that is currently referred to in the office design industry: living office. Herman Miller, the manufacturer behind the cubicle and one of the most prominent names in office design, is the originator of that term and the background behind it. Companies in the modern world are working toward achieving a sense of symbiotic environment in the office.
The living office concept describes an office setting designed to provide the best experience for employees, resulting in the highest level of performance and allowing the organization to reach its collective goals.
"Herman Miller spends millions of dollars on the research behind this concept," says Audrey Garard, of Grooms Office Environments. Grooms works with businesses to encourage constructive work environments through redesign and reorganization.
"We are the only authorized Herman Miller dealer in the area," Garard says. "The living office signifies how long you're in the office a day versus at home. Employee retention and the functionality and overall appearance of an office space go hand-in-hand. The concept describes creating spaces within your office, for example a hive space, huddle space, cove, etc. You want to have those within the space to give each area purpose."
Grooms does space utilization studies with companies to help them make the best use of their spaces by laying them out in a more functional way.
"We used to have these huge desks throughout an office, and now with wireless technology we don't have as much of a need for big storage," Garard says. "I have five designers who work with clients every day to help fix whatever they feel is not working. We try to push them past their comfort zone. We used to have to keep binders and books, but now everything is on the internet, and it's freeing us up."
The biggest obstacle is clients finding the time to maintain the office. "It will not happen unless you make it happen," Garard says. "I understand things get dated, and it's hard to afford to update them, but you can have them cleaned."
Business owners also have to cater to all different kinds of people, large and small, and have to design for the masses.
"If you lined up six business owners, they would all pick out a different tie," Garard says. "Design is really personal, but a business is not a house. Commercial design is very different than residential design. Some people are too complacent about it, but it's a science."
Interior Designer Andrea Deckard gives her input on how to maintain an office space in a low-cost, timely manner. "Create a social space or coffee bar where employees can work in a more relaxed space," she says. "Between the millennial generation and an increasing retirement age, there is a strong variation in styles. Classic design and mid-century modern are styles that are appealing to almost anybody."
Deckard suggests clients bring logo colors into the office on a neutral background to help with branding. Local artwork can make any space more interesting and is a great way to relate to the community. Whatever office managers decide, they should keep their business in mind when considering style. It is not a reflection of your personal taste, it's a reflection of your business.