Spaces
Escape to the Coast in Marta Miner's Home Office
With a little help from designer Andrea Deckard, Marta Miner found spa-like solace in her California–inspired office retreat.
By Claire Porter
Jul 2018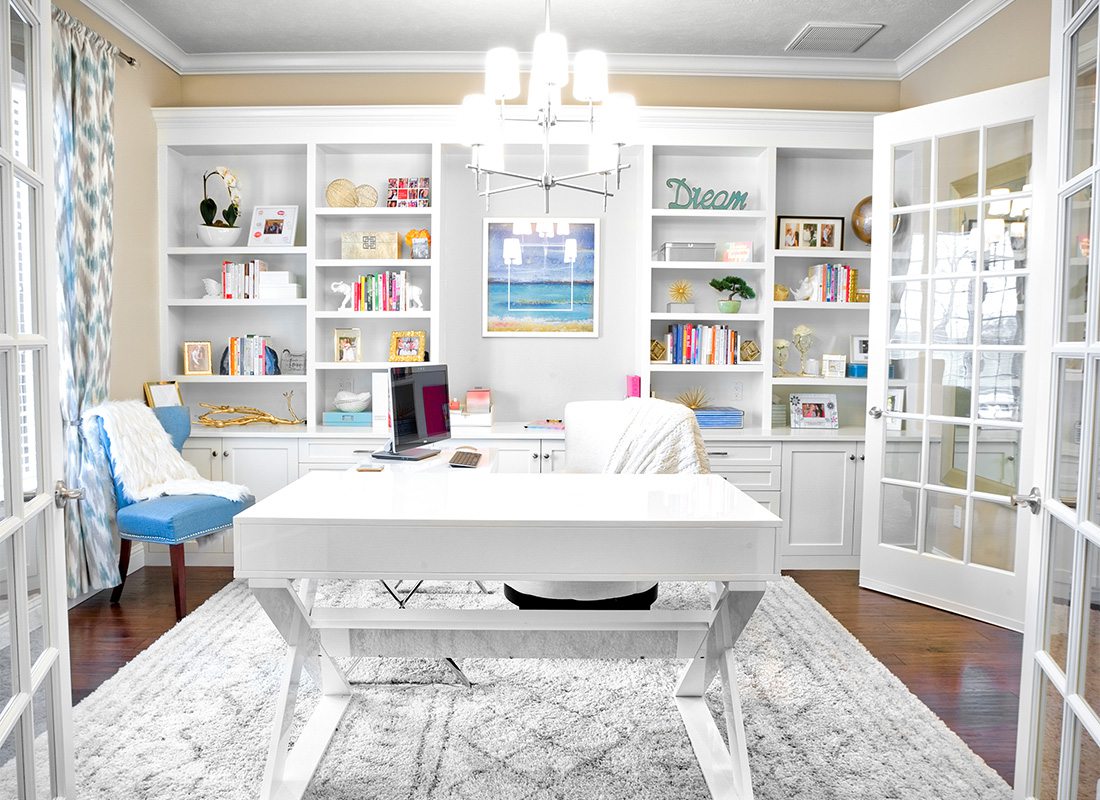 When Marta Miner and her husband, Jeremy, first started their home search in Springfield, the couple was hard-pressed to find something that was light and contemporary with an open floor plan for their West Coast, California-inspired tastes—until Marta walked into this Highland Springs home. Airy rooms, bright windows and indoor-outdoor living made Marta fall in love with the house, but she needed space for her mind-set coaching business, Love Beauty Power by Marta. With Jeremy claiming the more formal office for his sales training business, Marta got creative and turned the dining room into her own office. "When we got this home, I realized there's really no space for me, so I decided to convert [the dining room] into my own office, and that gave me an opportunity to start fresh and create something new," she says. Marta added custom shelving along one wall and French doors on both entryways to keep light flowing throughout the home. 

To keep the design cohesive with the rest of the home—and with the Miners' homes in Scottsdale, Arizona, and at the Lake of the Ozarks—Marta wanted a mostly white color scheme with tons of textures and pops of light pinks and blues. To execute her vision, she brought in designer Andrea Deckard. "I would send her my ideas, and she would say, 'Yes, this will work,' or 'This one doesn't work,' which was a very good collaboration," Marta says. "She didn't push her designs on me. I had a really good idea of what I wanted, and she helped me bring it to life." Deckard helped create a space of serenity with beachy accents, soft window treatments and plenty of bright and functional spaces for working. Marta says the light surfaces admittedly require a bit of upkeep, especially with her giant schnauzer sharing the space and with a baby on the way. "I'm starting to realize it's a high-maintenance kind of design because everything is white and plush," she says with a laugh. But she adds that the work is worth it for a fresh, serene space that she loves. "It's really a place where I feel that I can find this peaceful balance in my home," she says.