Style
Meet the Designer Behind Our Favorite Leather Earrings
Creativity is all in a day's work for Sarah Gugliotta, the style maven gaining a local following for her fabulously bold handmade jewelry.
By Lillian Stone | Photo by Brandon Alms
Jan 2018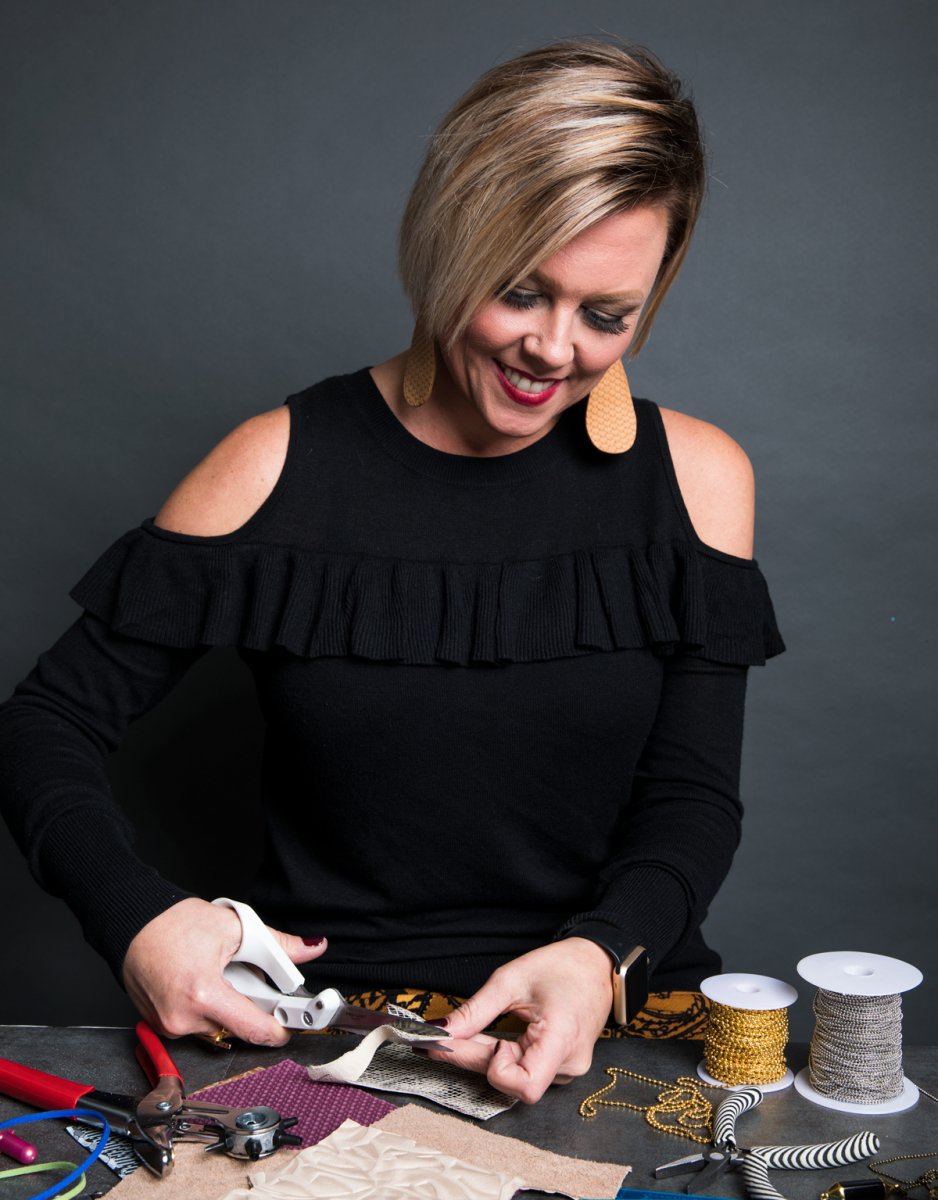 Sarah Gugliotta is an ants-in-the-pants kind of person. "I definitely am that person who needs a creative outlet," she says with a laugh. "If I don't get that, I am not fun to be around." At her day job at Central High School and in her handmade Christmas gifts, Gugliotta works creativity into every aspect of her life. It's no surprise that her jewelry line, Sarah'ndipity Designs, is taking the local boutique scene by storm. The line features funky, one-of-a-kind pieces including a variety of leather earrings that are currently flying off of local shelves. Currently, The Market and Torn Boutique carry the jewelry line.

The Product
Sarah'ndipity Designs was born in 2015 when Gugliotta surprised loved ones with handmade necklaces for Christmas. Word about Gugliotta's stylish charm necklaces spread quickly, and she began selling pre-made designs and custom orders on Facebook. Demand grew organically from there. "It's all very serendipitous how it happened," says Gugliotta, explaining that the brand's name is a nod to its spontaneous inception. "None of this would have happened if it wasn't for the support and encouragement of my husband, family and friends."

Last year, Gugliotta began experimenting with earring designs. On a whim, she bought some scrap leather, started cutting and wound up with several unique pairs. The designs include small, discrete leather rectangles, large, eye-catching pairs featuring bold colors and prints and more. Gugliotta wears her own designs almost every day to express her personal style, which she describes as bold and eclectic—with plenty of animal print thrown in.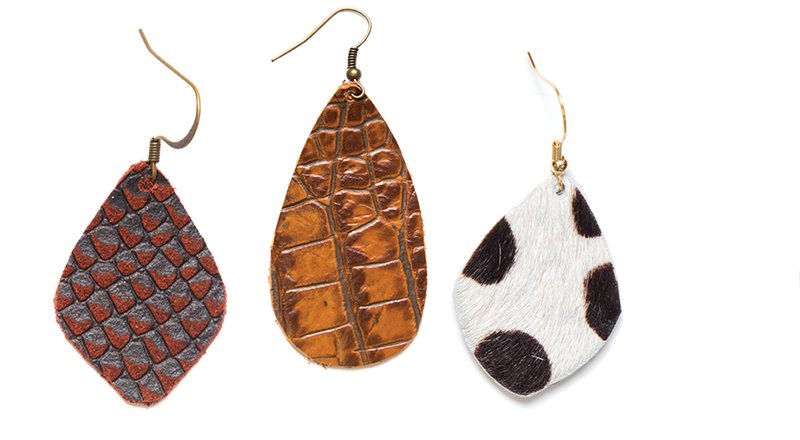 The Process
Gugliotta initially received a degree in interior design and worked in that field for about two years before transitioning into education. But she's maintained a passion for style and innovation. By day, Gugliotta puts her creativity to work as the library media specialist at Central High School. She makes the library's display case as beautiful as possible, filling it with creative book displays year-round. And in her free time, she works on her jewelry line.

Leather earrings continue to be Gugliotta's best-selling product. To create the earrings, Gugliotta sources leather patterns on Etsy or at Springfield Leather Co. "When I started doing [the earrings], I'd just get a big bag of leather and sit on the couch," she says. "Now, I have an organizing bin on wheels that I'll roll all over the house." She admits that watching Netflix is key to her creative process.

Gugliotta sells the earrings on her Facebook page and at several local boutiques. The price point is remarkably low: The earrings sell for $20 in stores and $18 on Facebook. Even more impressive is the fact that no two pairs are the same. "I don't make mass quantities of one thing," she explains. "I hand-cut them all. I trace them with a stencil, and I cut every pair myself."

What's next for Sarah'ndipity Designs? As of now, Gugliotta is taking it slow. "I'll kind of ride the wave and just see where it goes," she says. "Although I did just start playing around with making bracelets." Sounds like a trend waiting to happen.