Style
Gianna Rose Atelier Soaps from The Market
Available in a variety of scents and styles, Gianna Rose Atelier soaps from The Market are great for those moments when you want to treat yourself or your friends to something special.
By Savannah Waszczuk | Photo by Abby Gust
Jan 2016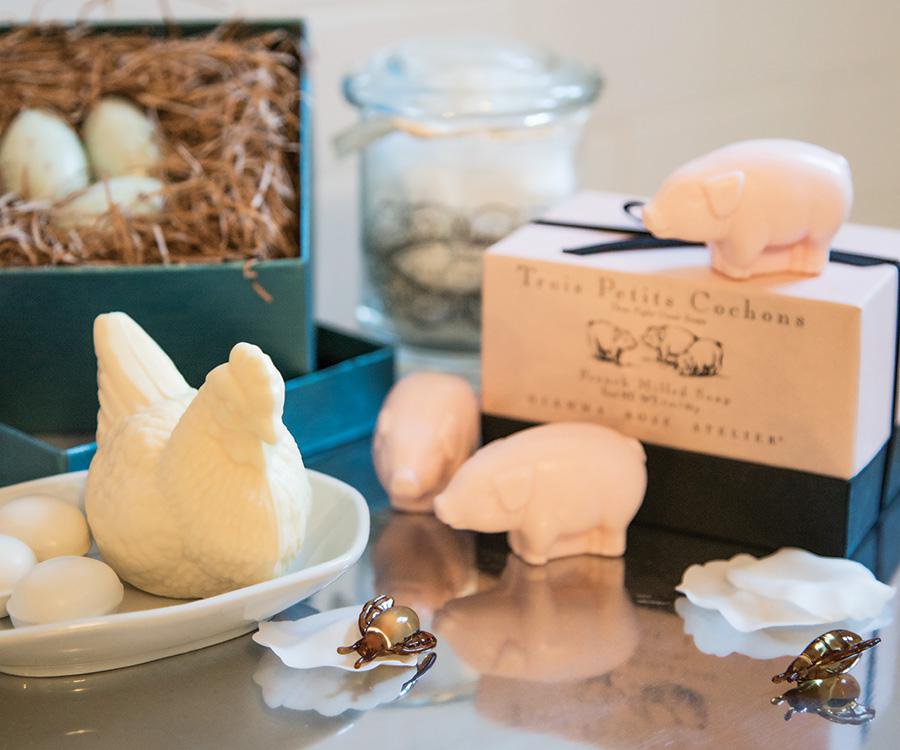 Soaps by Gianna Rose Atelier make trips to the bathroom a little bit more fun.
But it's not just about washing your hands with them. In fact, the "oohs" and "ahhs" from the product come long before you make it to the sink. "One of the great things about these soaps is the packaging," says Lauren Haik, owner of The Market (2628 S. Glenstone Ave., Springfield, 417-889-1145). Delivered in well-designed boxes that come in a variety of patterns, shapes and sizes, their packages are definitely a part of the soap's appeal.  
The soaps themselves are equally pleasing to the eye, offering the traditional bars and squares as well as many available in unusual forms like adorable little animal shapes, beach-inspired items and a line of special novelty creations. The soaps all come in a wide range of colors, too, and each one would add a nice little splash of freshness as it sits by your sink.
But we all know beauty is only skin deep, so the real question about these cleaning creations is how well they do their job. After all, no one needs another soap collecting dust under their bathroom cabinet, right? 
Well, the reports are in, and the product checks out. "The one thing about this company is that they say their product is beautiful, but it's meant to be used, not just admired," Haik says. The soaps are all triple-milled, which is a definite plus in the world of soaps—the triple-milled varieties tend to give a much richer and creamier lather. And Gianna Rose Atelier soaps also come in a huge variety of scents, all with a light, delicate finish. "Many have a romantic, floral smell, but not too overpowering," Haik says. They smell fresh and clean without being overbearing, which is typically a hard feature to find in products so pretty.
In addition to soaps, Gianna Rose Atelier sells scented drawer liners, soap petals and bath oils, all available at The Market and perfect for taking your bathroom to the next level of luxury.