Style
Collections Boutique
Tucked away at Big Cedar Lodge, Collections Boutique sells everything from clothing to housewares and is a great shopping destination for 417-landers.
Savannah Waszczuk | Photo by Brandon Alms
Jul 2014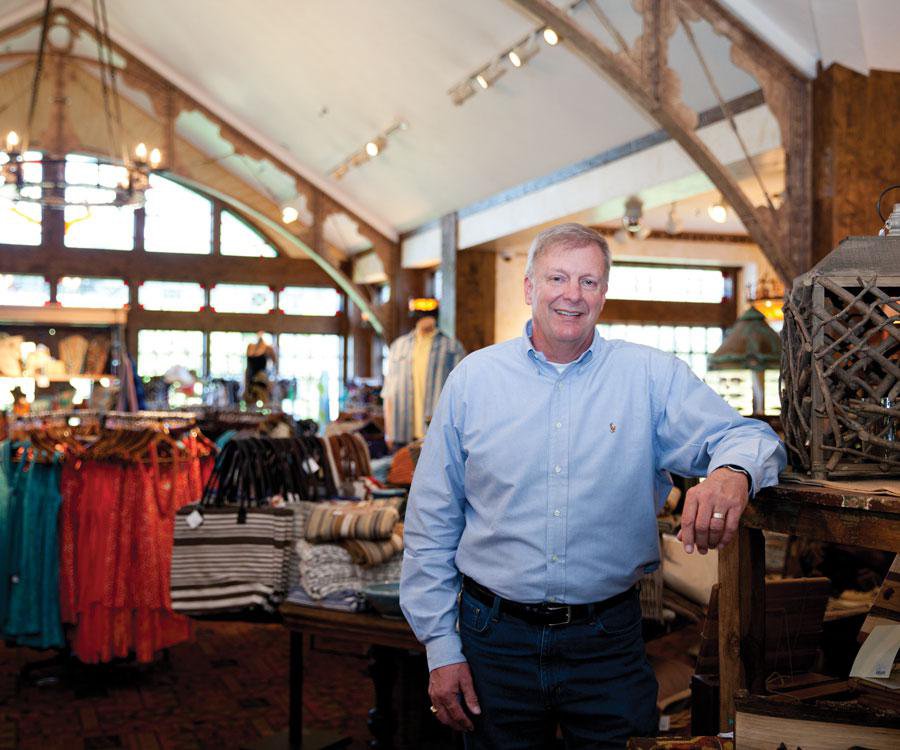 Collections Boutique 
Located at Big Cedar Lodge,
612 Devil's Pool Rd., Ridgedale, 417-339-5182, bigcedar.com; open 7:30 a.m.–8 p.m. daily with extended hours from 7:30 a.m.–9 p.m. during summer months.
Surrounded by breathtaking scenery and colorful landscaping, Collections Boutique is housed in a picturesque white building at Big Cedar Lodge. Once you step foot inside the store, it's obvious that the place is a part of Big Cedar. Rustic beams help define the space, and windows allow shoppers to peek out at Table Rock Lake. 
The merchandise includes everything from clothes, handcrafted jewelry and bedding to blown glass, home décor, cooking gadgets and even handcrafted wood trays made by local artisans. It's almost like a mini department store, with the addition of small items, too. "We try to have everything someone may need on a stay away from home," says Rick Bilyeu, buyer for Big Cedar Properties.This consists of little things, like toiletries, plus bigger ticket items, like an expansive selection of quality swimwear. There are also great gift items and souvenirs, including a variety of locally made food products and even Big Cedar's famous blueberry poppyseed dressing.
A large area of the store is dedicated to clothing, including top brands such as Tommy Bahama and Pendleton. There's also a plethora of merchandise branded with the Big Cedar logo. "The products branded with Big Cedar's logo are some of our best sellers because they are reminders of a great stay," Bilyeu says. Shoppers will also find a large selection of baby and children's clothing, with many pieces printed with cutesy little things like moose and owls to match the rustic feeling of the lodge.
Whether you're sifting through the clothing or meandering your way through the housewares, all of the items you'll find at Collections Boutique are items of quality. "As a part of the Big Cedar experience, we want to make sure that shopping here is incredible and a one-of-a-kind experience," Bilyeu says. "We look for items that reflect that while paying close attention to detail." 
1. Beatriz Ball Forest Wood pitcher, $149 2. Blue Pacific cashmere scarf, $59  3. Mills Floral Co. embroidered belt, $69  4. Lula & Lee African opal and brass cross necklace, $137; Brass cross earrings with gemstone, $40  5. Big Cedar Lodge straight shot mug, $25  6. Pendleton men's plaid short-sleeve shirt, $59; solid short-sleeve shirt, $29.50  7. Ahava men's travel kit set, $38  8. Solid walnut slab serving tray with handle, $120
Q & A with Big Cedar Properties buyer Rick Bilyeu
417 Magazine:  How did you get your start working for Collections Boutique?
Rick Bilyeu: I began as a merchandiser in a department store and then worked as a buyer for Silver Dollar City. With my experience of working with local artisans and craftsmen, the move to Big Cedar (and Collections Boutique) was a great fit. 
417: If you could have anything in the store right now, what would it be?
R.B.: A Martin Dingman leather belt that has a cedar tree embossed on the buckle.
417: What is the No. 1 thing you want your customers to feel?
R.B.: The moment they walk in, we want them to realize it's not just your typical gift shop. We want it to carry out the feeling of the lodge, and really act as an extension of the lodge.