Reviews
Mr. Gilberti's
Tucked away in Hollister, Mr. Gilberti's serves up a variety of classic homemade Italian favorites.
Savannah Waszczuk | Photos by Kevin O'Riley
Jul 2014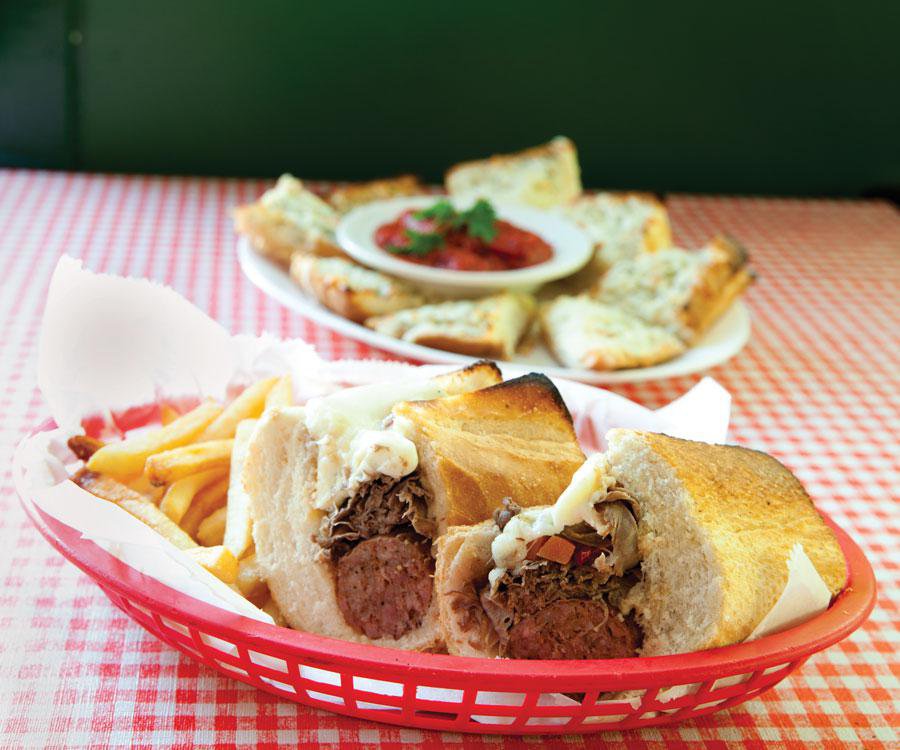 Mr. Gilberti's
1451 Acacia Club Rd., Hollister, 417-334-9322, mrgilbertis.com
PRICE RANGE
Lunch sandwiches start at $6.50; pastas start at $8.25; large pan pizzas start at $15.25
ATMOSPHERE
Located in a quaint little building in Hollister,
this spot is warm and welcoming.
WHILE YOU WAIT
Check out the wall of photographs that feature Mr. Gilberti with family and a handful of notable guests including Tony Orlando, Mickey Gilley, Barry Williams and Whitey Herzog.
HOUSE-MADE 
FAVORITES
Mr. Gilberti's makes several items in-house, including Italian bread, marinara sauce, garlic oil and even homemade Italian sausage.
I'm going to start this out by stating the obvious: I'm not Italian. My last name is Waszczuk, and my dad is from Poland. But as Polish as I appear with my blonde hair, blue eyes and reasonably fair complexion, I also claim to be just a little bit knowledgeable when it comes to Italian food. You see, my mom was raised by her sister—my Aunt Kassie—who just so happened to marry a 100-percent full-blooded Italian man with the last name of Ambrico. Aunt Kassie has mastered many of the Ambrico family's recipes over the years and used her cooking prowess to teach my mom how to cook. That means that when Sunday dinners at the Waszczuk house didn't feature kielbasa and homemade pierogies (Polska!), we feasted on delicious homemade meatballs and red sauce and sweet Italian sausage with sautéed peppers and onions. I'm talking about the good, hearty stick-to-your-ribs stuff that makes you glad to be alive when you smell it cooking on the stove all day. 
After one look at Mr. Gilberti's menu, I was reminded of those big Sunday dinners at Mom's house. In addition to a variety of mouthwatering pastas and Chicago-style pizza, which is what the restaurant is best known for, the lunch menu has a handful of basic yet delicious-sounding sandwiches. There's an Italian beef with au jus, an Italian sausage, a meatball, a marinated chicken breast, a veggie and a combo Italian sandwich with both Italian beef and Italian sausage. 
I started things off with the cheese bread appetizer. To make this cheesy app, the restaurant dips its signature house-made Italian bread in garlic oil then smothers it in mozzarella, bakes it and serves it with house-made marina sauce. What arrived at my table was simple, yet sinful. The garlic oil gives the bread an extra crispy finish, and a generous handful of mozzarella provides plenty of melty-stringy goodness. I told myself I'd eat one slice, but I got two and a half slices down before my sandwich arrived.
About this sandwich—I ordered the big guy. Yeah, I'm talking about the combo Italian with Italian sausage and Italian beef. If there's one thing my giant Polish-Italian family taught me, it's how to eat. The Italian bread the sandwich comes on is just like the bread I remember from my childhood. It had a crunchy bite, but it was soft and pillowy on the inside. Gilberti's makes its own sausage, which provides a mild-yet-meaty base, and on top comes a generous pile of tender, juicy Italian beef. I added sweet and spicy peppers for extra zip, and I dipped every bite of the beefy behemoth in the flavor-packed au jus. When just the sausage was peeking out on a little bread peninsula, I'd dip it in marinara. Naturally, a bit of the au jus mixed with a bit of the marinara (there was a whole lotta eatin' goin' on) but it still tasted spectacular. So spectacular that I ate so much I hardly had any room for the crispy golden fries. 
Bite after bite, I enjoyed the familiar flavors of Mr. Gilberti's. No, it's not a place where you go to order fancy hard-to-pronounce dishes and eat with a napkin on your lap. It's a place that's serving up classic homemade Italian dishes just like your grandma (or your Italian aunt) used to make. Head there with your loved ones, roll up your sleeves, and dig into some seriously good food.
Mr. Gilberti's menu offers plenty of delicious sandwiches, pizzas and pastas. 
The walls at Mr. Gilberti's are covered with photos of family and a handful of celebrity guests. 
3 Questions With Owner Wayne Gilberti
417 Magazine: How did you end up opening Mr. Gilberti's? 
Wayne Gilberti: I was born into the restaurant business. My grandma raised me since I was 7, and she had a restaurant in Chicago a lot like this one. I opened this restaurant with my wife, Susan, when we moved here from Chicago eight years ago.
417: If someone were coming to your restaurant for the first time, what would you suggest they order?
W.G.: You have to try the pizza on your first time. I recommend the Mr. Gilberti, which comes loaded with meats and vegetables. If you like vegetables, try the Mama Gilberti's, named after my wife. 
417: How would you describe your food to someone who has never been here?
W.G.: If you're a connoisseur of Italian food, we're as good as you can get.