Travel
St. Louis Getaway
Head to the Gateway City for a fun-filled getaway where baseball and beer abound. Take advantage of fun hotels, great dining, a few must-see sights, America's pastime and beer of all sorts from big-name bottles to microbrews you just have to try.
Jennifer Adamson | Photos courtesy St. Louis Convention & Visitors Commission, Dwell Nine Twelve
Jul 2014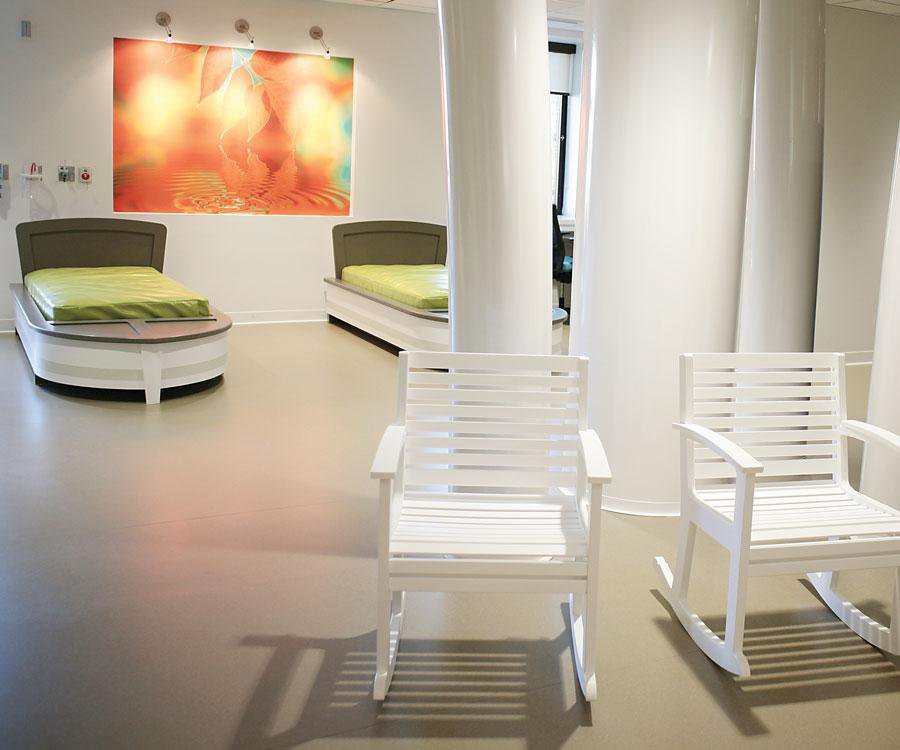 Stay
If you're looking to immerse yourself in St. Louis culture, make a reservation at Dwell Nine Twelve (pictured: 912 Hickory Street, 314-599-3100, dwell912.com). Attached to a restored, turn-of-the-century home in the historic LaSalle Park neighborhood, this private apartment bed and breakfast gives you rest from the hustle and bustle of the city as you unwind with the comforts of a hotel, but in a secluded haven. The eclectic mix of local art and brightly colored furniture beckons cosmopolitan travelers to kick off their shoes and stay a while. 
For some rest and relaxation mixed with plenty of fun, roll the dice on a stay at the Four Seasons Hotel St. Louis (999 N. Second St., 314-881-5800, fourseasons.com/stlouis). Located inside the Lumiere Place Casino entertainment complex, this AAA Five Diamond hotel is cloaked in modern luxury. When you book, choose a city-view room or one that puts you 19 stories up and eye level with the Gateway Arch. Once you arrive, relax with a couples massage, sample tapas in the Cielo Lounge or participate in a variety of rotating weekend activities, like sunrise yoga, pizza-making or July Fourth fireworks. 
Cheer
You know when it's St. Louis Cardinals baseball season. Everywhere you look, someone is wearing red. The smell of ballpark food lingers in the air. This year, fans can root for the Redbirds, as they try for a third World Series appearance in just four years. Don't miss the July 7 through 10 series with Central Division rival Pittsburgh Pirates or the July 6 game against the Miami Marlins, where the first 25,000 fans score a Jim Edmonds bobblehead. To get updated game times, visit stlouis.cardinals.mlb.com.
Sample Brews
Beer geeks, belly up to the bar for your free sample. It's Thursday night, and Perennial Artisan Ales (perennialbeer.com) just put its beer of the week on tap. This inventive way of attracting adventurous craft beer drinkers (in addition to its use of premium ingredients, like nuts and spices) is helping the young microbrewery create a name for itself. Influenced by Belgian and American styles, Perennial has created three flagship beers, on tap year-round, and it rotates others seasonally. Among its most in-demand brews are the Mexican chocolate-tasting Abraxas and the barrel-aged Abraxas, which is an imperial stout that's aged for 12 months. Take a Saturday tour at 2 p.m. to see how ales are made, or enjoy lunch in the tasting room for the total Perennial experience. 
Being able to gaze into the brewhouse through a gigantic window as you throw back a beer is just one thing that makes 4 Hands Brewing Company (4handsbrewery.com) special. Another is its reclaimed vibe, from old sprinkler heads used as coat hooks to pub furniture made from salvaged barn wood. The brewery offers an extensive variety of ales inspired by the American craft movement, as well as traditional French and Belgian styles. Divided Sky Rye IPA, Prussia Berliner Weisse, and Contact High (hoppy wheat with orange zest) are popular summer offerings. Free tours are given every Saturday.
For centuries, European brewers have used chestnut trees to shade their outdoor drinking areas. Today, Urban Chestnut Brewing Company (urbanchest-nut.com) is using the chestnut leaf as a symbol of homage to the history of beer, while simultaneously branding itself as an unconventional-minded yet tradition-oriented brewer. This divergent approach lends itself to a portfolio of aptly named "revolution" and "reverence" blends that showcase the brewery's flair for crafting modern American and classic European flavors. (It's also a nod to the head brewmaster, who was born and trained in Germany.) The company has two locations: the original Midtown Brewery and Biergarten, and the Grove Brewery and Bierhall, just opened in February. Take a self-guided tour of the Grove Brewery to learn about production, as well as UCBC's sustainability initiative. 
No matter how you like your beer to taste, Schlafly Beer (schlafly.com) has the right brew for you. With around 50 styles of beer to enjoy, the brand has grown in popularity since opening the Schlafly Tap Room in 1991, with only two beers on draught. Thanks to a loyal fan base and a surge in business, a second brewhouse, Schlafly Bottleworks, was opened in 2003. Schlafly Beer, operating as the St. Louis Brewery, is now the largest locally owned, independent brewer in the state, with a potential third brewhouse in the works. Weekend tours are only available at Schlafly Bottleworks.
Before craft beer, there was Anheuser-Busch (budweisertours.com). Through the years, the company synonymous with Budweiser has expanded nationally, but the heart of the operation has remained in St. Louis. Imagine going behind the scenes of America's leading brewer to see how it pumps out thousands of gallons of beer a day, or staring up at a Clydesdale horse standing next to you. You'll experience both these things on the Anheuser-Busch brewery tour (and you'll get plenty of free samples.)
Eat
Visitors to Schlafly Bottleworks (7260 Southwest Avenue, 314-241-2337, schlafly.com) will quickly discover the Schlafly Beer brand extends beyond the tap. Schlafly Bottleworks serves lunch and dinner daily, and brunch on the weekend. Meals are prepared using fresh and local produce, some from the restaurant's own garden adjacent to the building. Try pretzel-encrusted chicken, a menu favorite. 
Named for its 360-degree views of the city, Three Sixty (One South Broadway, 314-241-8439, 360-stl.com) features an inventive menu of small-plate items and summer cocktails in an upscale lounge environment. Take your drink on the patio for a bird's-eye view into Busch Stadium, or stay inside and enjoy the game on a flat-screen TV. 
Sightsee
What trip to St. Louis would be complete without visiting the Gateway Arch (11 North 4th Street, 877-982-1410, gatewayarch.com)? Sure, you've skipped it before, telling yourself, "I'll do it next time." Make this trip your "next time," and ride the tram all the way to the very top of St. Louis's most iconic monument. From 630 feet in the air on a clear day, you'll be able to see as far as 30 miles away. Just don't overlook the breathtaking views of downtown right under your nose, and make sure to glance across the Mississippi River into Illinois. There's so much to see from up here!
You've watched them gallop their way through many Budweiser beer commercials. Why not take your kids to see (and pet) the world-famous Clydesdale horses at Grant's Farm (10501 Gravois Road, 314-843-1700, grantsfarm.com)? Once the legendary Busch family dwelling, this 281-acre animal reserve is now home to more than 900 animals from all over the world. In addition to touring the Clydesdale Stables, you can take a tram ride through Deer Park to meet the resident species and learn about the farm's history, dating back to the time of our 18th president and the farm's namesake, Ulysses S. Grant. Visit the stables and carriage house, and take some time to have a beer at The Bauerhof before you leave.