Travel
Meramec Caverns
Head to Meramec Caverns for an adventurous escape to an underground cave, a relaxing float down the river and more.
By Savannah Waszczuk | Photos courtesy Meramec Caverns, Meats and Eats, shutterstock
Jul 2015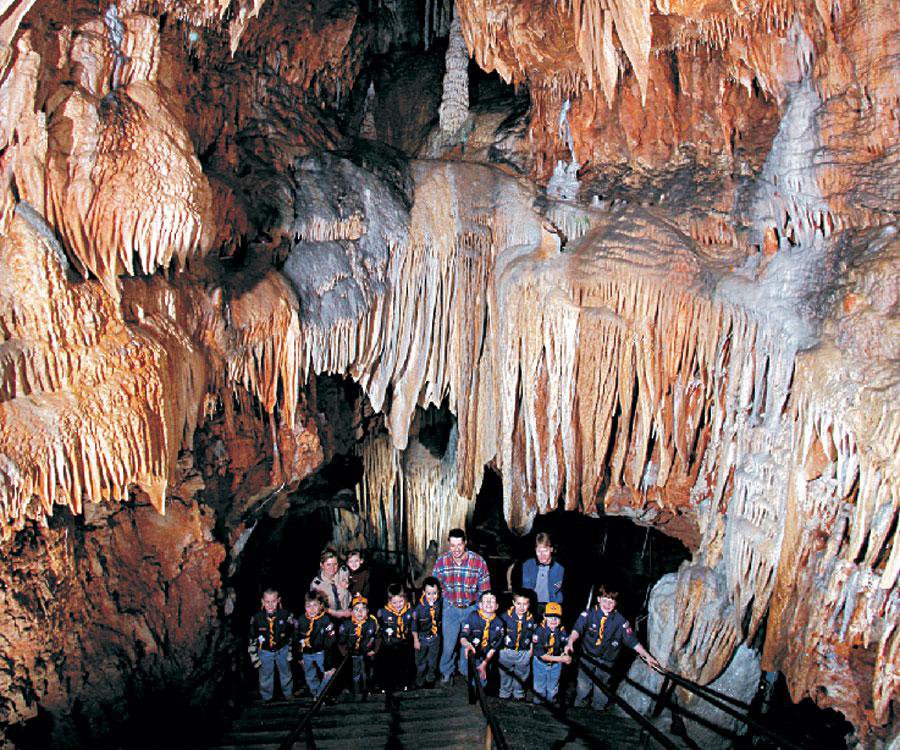 With more than 6,000 surveyed caves, the Show Me State we call home has another nickname: the Cave State. Do you long to see what lies in these dark, cavernous spaces? Lucky for you, Meramec Caverns (1135 Hwy. W, Stanton, 573-468-2283, americascave.com) is the largest commercial cave in Missouri, and it's open for tours! Read on to learn about all the things you'll find at the attraction, then get busy planning your own underground adventure. 
Tour, Explore and More 
The main attraction at Meramec Caverns is the 80-minute cave tour. Actually a 4.6-mile cavern system, Meramec Caverns was formed from the erosion of large limestone deposits over millions of years. The guided tours are conducted along well-lit walkways and include 10 stops, at which trained rangers explain dazzling formations that include one of the world's biggest stalagmites, a one-of-a-kind formation of tiny stalactites and much more. Explorers also get to enjoy a computerized LED light show that is accompanied by the singing of "God Bless America." 
Those who are up for more adventure should check out the Caveman Zipline. This 90-minute canopy adventure includes three swinging sky bridges and four zip rides and allows you to soar through the tree tops and across the Meramec River.
If you're more in the mood for family fun, bring the kids along, and let them dream of striking it rich as they hunt for gold. Meramec Caverns is home to a 19th-century setting where the little ones can search for fool's gold, fossils and other gemstones. 
Get on the Water
After you see everything there is to see underground, head back up, and hop on a canopy-topped riverboat for a relaxing ride down the Meramec River. Departing from the caverns, these half-hour rides give you the chance to take in some natural beauty and a bit of history. 
If you prefer to take in sites from a canoe, you can sign up for 6- or 11-mile floats (reserve a canoe by calling 573-468-6463) and make your way down the river at your own pace. Shuttles run canoers from the caverns to a drop-off, and you'll float your way back to your car. This is the perfect way to work in some exercise on your mini-getaway.
Grab a Bite
When your belly starts to growl, hop in the car and make the 10-minute drive to Sullivan for a meal. With a scrumptious-sounding menu of quiche, soups, salads and sandwiches, the Clark Street Café and Bakery (111 N. Clark St., Sullivan, 573-468-4681) is a great spot for breakfast or lunch. Piled into homemade crust, the quiche Lorraine is a favorite that comes packed with onion, bacon and Swiss cheese. If you need a kick of caffeine, order a specialty coffee to go with your meal. 
If it's closer to dinnertime, head over to Meats and Eats (693 Fisher Dr., Sullivan, 573-468-6328) for some slow-cooked barbecue. Our mouths are already watering for the Triple Meat in Your Mouth meal that comes with pulled pork, pulled chicken and beef brisket sammies. 
Rest Your Head
You don't have to worry about squeezing all your fun into one day—there's a Meramec Caverns Motel on site. Break from your adventures in a quiet, comfortable room equipped with everything you need for a good night's sleep. If you prefer camping, just head over to Meramec Caverns' LaJolla Natural Park/Campground, which is equipped with a picnic area, barbecue pits, a playground, showers, restrooms and river-front campgrounds.