Reviews
5 Best Places to Eat on the Lake
Next time you set sail on a boating adventure, leave the picnic basket at home and float on in to one of these top-notch restaurants on the water.
By Savannah Waszczuk
Jul 2020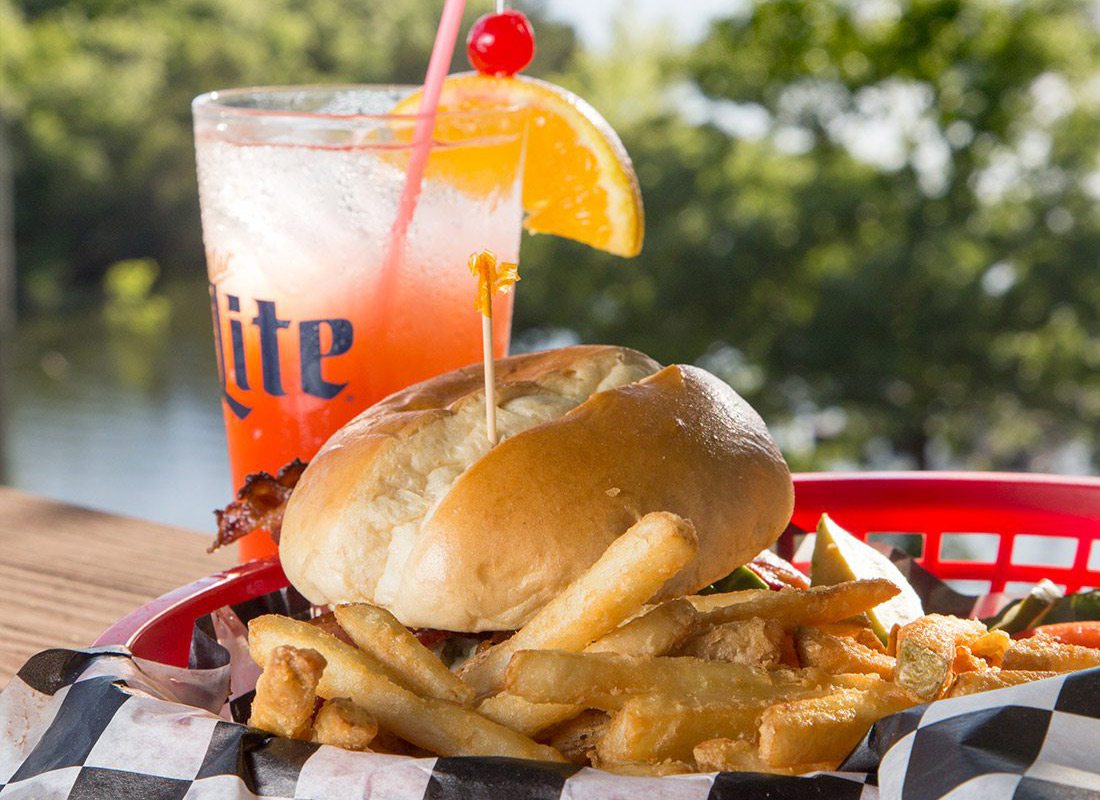 This article has been updated with new information 07/22/2020.
Located at Table Rock Resort at The Rocks, Kimberling City
Located a quarter-mile north of the Kimberling City bridge, The Catfish Hole at Table Rock Lake is the place to go when you're looking to have even more fun in the sun. Plenty of tasty fare and incredible views of the lake make this the perfect place to stop for a bite. People love the catfish, and the restaurant serves half-pound burgers if you're especially hungry.
Located at the State Park Marina
Café Bridges cooks up pizza, sub sandwiches, salads, freshly baked sweet trees, coffee and sweet or unsweet tea. Grab a bite and sit out on the dock to dine with a tranquil view of the lake. Café Bridges is open 8 a.m.–7 p.m Monday–Thursday, and until 8 p.m Friday–Sunday. 

Located at Big Cedar Lodge on Table Rock Lake, Ridgedale
For a meal served up with a side of authentic Ozarks ambiance, cruise on over to Devil's Pool Restaurant. Simply dock your boat at Table Rock Lake's Bent Hook Marina, then walk or ride a shuttle up to feast on a top-notch breakfast buffet, a new ham and pineapple pizza at lunch or the favorite Hardwood Smoked Prime Rib at dinnertime. Floor-to-ceiling windows provide indoor diners with incredible lake views.

Located at Pontiac Cove Marina on Bull Shoals Lake, Pontiac
Bull Shoals Lake lovers head to Just Jackie's when their bellies start to growl. This water-side hot spot has its own dock slips for easy access, and diners have plenty of tasty fare to choose from when it's time to order. Favorites include specialty thin crust pizzas and wings—particularly the butter-garlic wings—and it all tastes even better when enjoyed on the covered deck and paired with a cold beer.
Located at the Kings River Marina, Cape Fair Marina, and Hideaway Marina on Table Rock Lake, Cape Fair
The SS Dockside Cafe and Pub, formerly located in Kimberling City, offers burgers and sandwiches, salads, fried dinners, quesadillas, pulled pork nachos, kid meals and more. This floating restaurant lets you feed the ducks, fish and other river-floating wildlife while you eat. Check on the SS Dockside Facebook page for updates about which locations are open and when.