Reviews
Golden Girl's Summer Menu
Golden Girl Rum Club keeps on impressing with updated menu items that are perfect for a night out with your friends.
By Rose Marthis
Jul 2018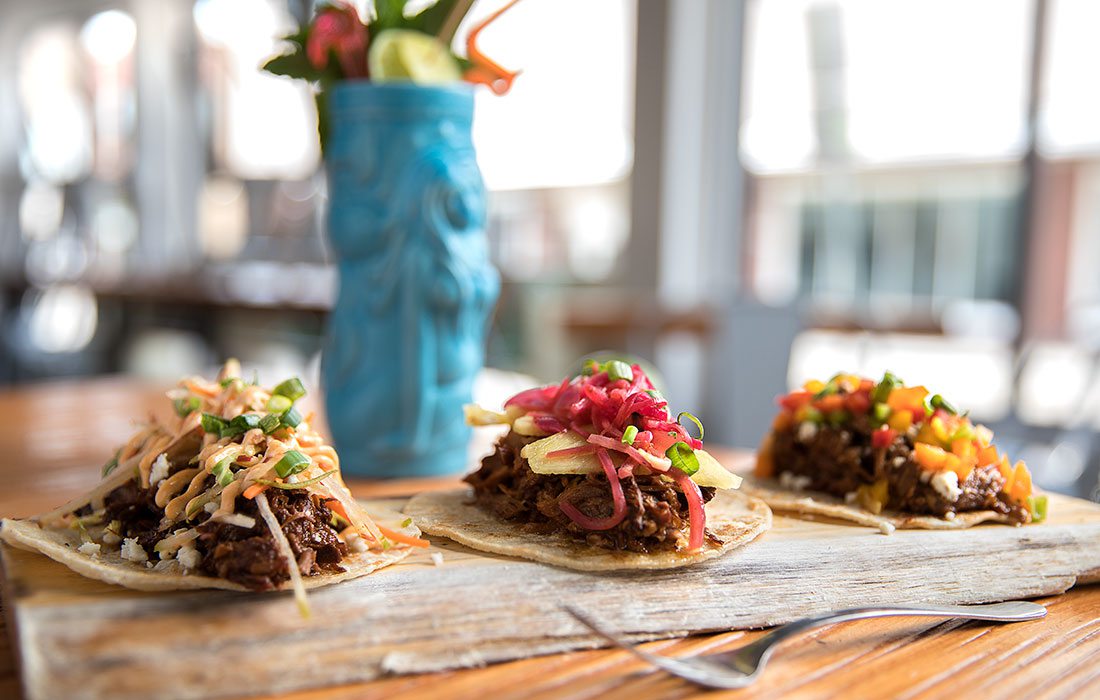 My friend Jessica Sample is leaving the country for two years. So in her final months, we created a "Springfield Bucket List" of places she wanted to try before her move. At the top of that list? The Golden Girl Rum Club. The downtown staple launched a new menu for their two-year anniversary in March 2018, so we decided there was no better time to try it. 
Jess and I met our other friend Katelyn Shively for a weekday happy hour. We hadn't seen each other in about two weeks (which is a long time for us), so we ordered plenty of food and drinks while we caught up. First order of business: booze. Jess keeps it simple, so she ordered the caipirinha, made with Cachaça, turbinado sugar and lime. Katelyn is a sucker for ginger, so she got the "O" You Suffering Bastard, made with PF 1840 Cognac, Citadelle gin, Big O Ginger liqueur, falernum, lime, Angostura Amaro and ginger beer. We all agreed her drink was our favorite. I ordered the We're Gonna Need a Bigger Boat, made with Plymouth Navy Strength gin, Wray and Nephew Overproof, Coruba, lemon, passion fruit, orange, orgeat and Blue Curacao served in the iconic gaping-mouthed shark head. Let me tell you, this is not a drink for rookies. But it somehow got easier to drink every sip I took, and the strong flavors held up to the equally strong flavors of our appetizer: the K-Town Nachos. A mountain of chips was topped with Korean barbecue pork, queso, kimchi pineapple, onion, jalapeño and sour cream. We absolutely devoured them. They're gooey, crunchy, a little sweet, a little salty—they're everything you want in a shareable app.
"We overindulged a little, but it was a special occasion. At least that's how we justified it to ourselves."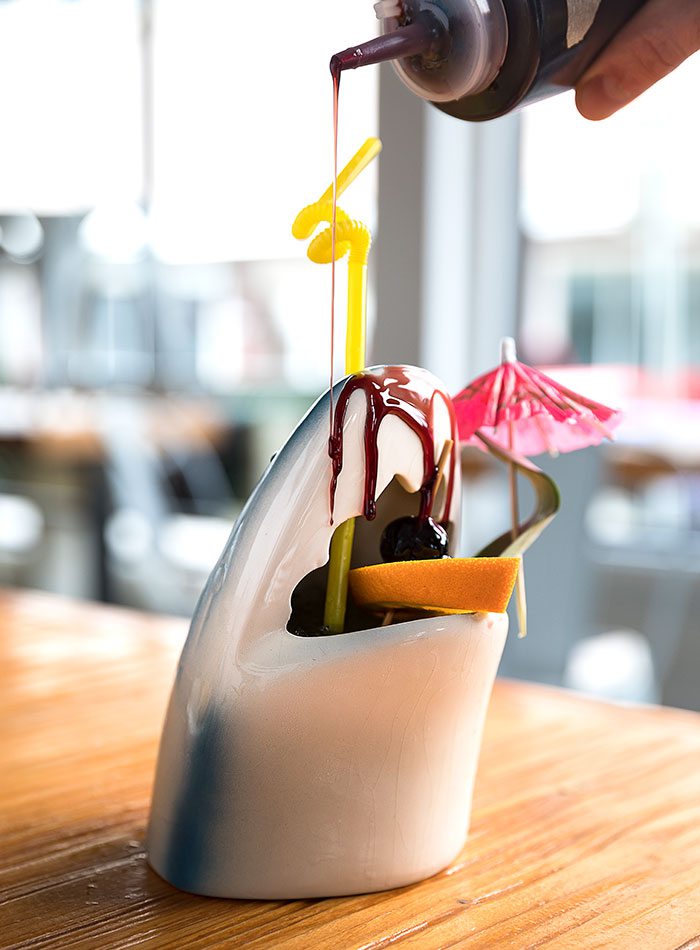 Photo by Brandon Alms
The strength of the We're Gonna Need a Bigger Boat cocktail would give even Captain Quint pause.
Purchase Photo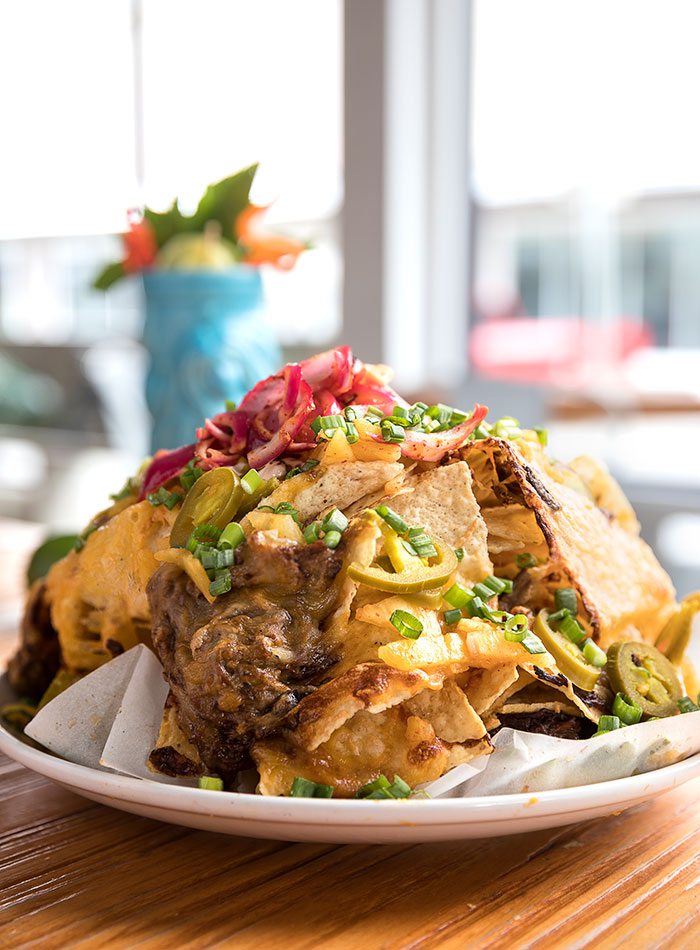 Photo by Brandon Alms
A mountain of Korean barbecue and kimchi pineapple makes the K-Town Nachos irresistible.
Purchase Photo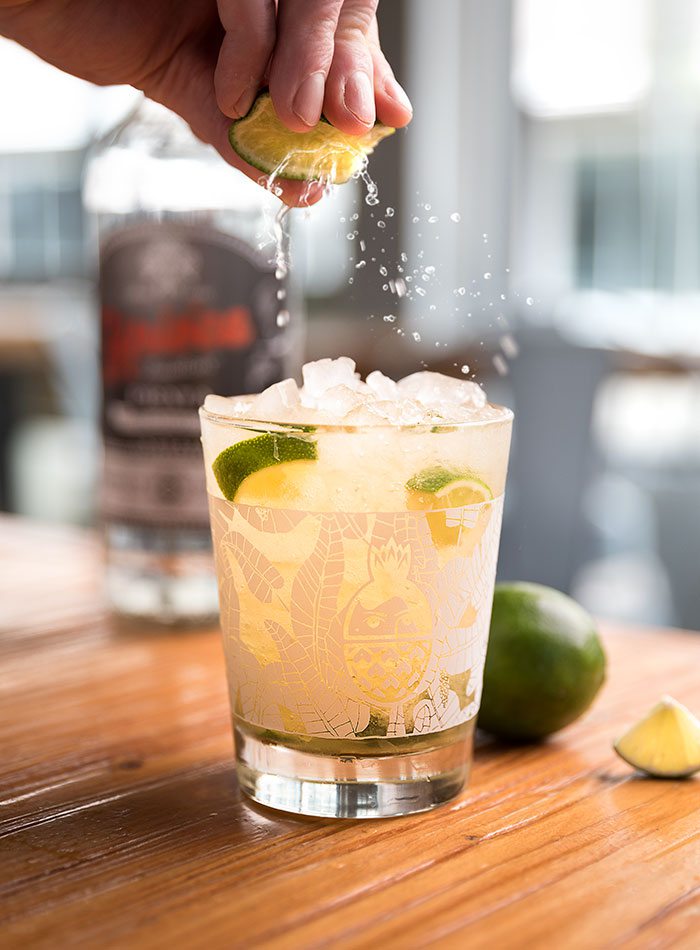 Photo by Brandon Alms
The caipirinha is made with Cachaça, turbinado sugar and lime and keeps it simple in the best way possible.
Purchase Photo
The Golden Girl Rum Club has been a downtown staple for two years now, but their summer menu provides a fresh, exciting spread to try.
We could have stopped there, but we still had more to talk about, so this quickly went from happy hour to dinner. Never one to pass up a Taco Tuesday deal, Katelyn ordered three tacos: Korean barbecue, al pastor and Tiki Masala. The small tacos are packed to the brim with bold flavors and textures. I like to try Cuban sandwiches everywhere I go, and the twist on traditional ingredients intrigued me about Golden Girl's. This one is made with braised pork shoulder and pork belly, kimchi pineapple, Provel and mustard on Cuban bread. I love a good pickle, but I didn't miss it in this because the kimchi pineapple checks the box on the tangy requirement. Jess went for the Club GG, with garlic and herb grilled chicken, gochujang vinaigrette, tomato, bacon and spring greens on Cuban bread. Jess said the bread was the perfect mix of crunchy on the outside and soft in the middle, and a hint of heat came through. Both sandwiches are served with Zapp's Voodoo chips—a New Orleans regional favorite that you don't find everywhere in 417-land.
We overindulged a little, but it was a special occasion. At least that's how we justified it to ourselves. It was a beautiful spring day to enjoy at a restaurant that never fails to transport you to the beach. The garage door to the patio was open, so we got to enjoy a nice breeze and look at Park Central Square knowing we were adding at least one more Springfield memory that Jess could take with her.