Health
Bar Cardio
Tempted by a workout followed up with a glass of wine, we visited Bar Cardio for this month's sweat session.
By Savannah Waszczuk | Photos by Kevin O'Riley
Jun 2014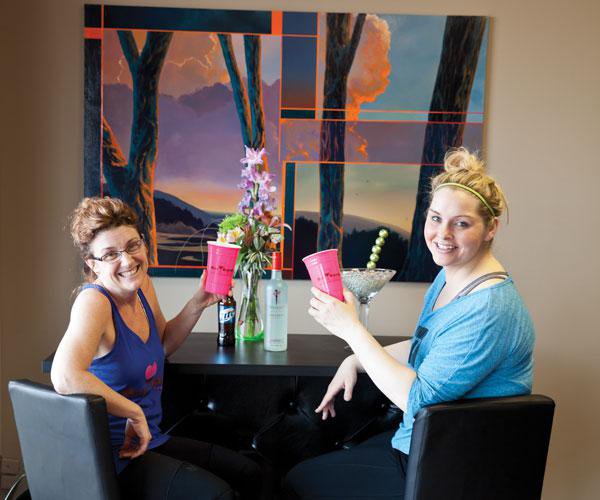 Bar Cardio
1730 E. Republic Rd., Suite Q, Springfield, 417-268-8771, barcardio.com
It's no secret that we ladies love to spend time with our girlfriends. Whether it's shopping, exercising or gabbing over a cocktail, there's just something about girl-only time that makes us giddy. That's why I was so excited when we learned about Bar Cardio, a new Springfield exercise studio that offers a series of workout classes paired with—wait for it—a follow-up drink and social session (if you wish, of course). A workout and wine? What could be better? I had to give it a try.  
The Gym
Kristy Horton is a gal with some serious moves. With a resume that includes dancing for Drury University during college, teaching and choreographing at Danceworks, performing as a saloon girl at Silver Dollar City and a handful of certifications, Horton has been dancing most of her life. And as she has gotten older, she hasn't stopped—she's actually sought out more ways to live a healthy lifestyle. "In all the research I did, I learned that as people age, they need to both stay active and socialize," Horton says. And that's how she came up with the concept for Bar Cardio—the exercise studio she recently opened in Springfield. "After the workout class, you can cool down for 20 or 30 minutes with water or wine," Horton says. "As for alcohol, we have wine, light beer and Skinny Girl products." 
The Experience
Bar Cardio offers several classes including Cardio Lite, Cardio Lite Balance, Zumba Gold, Cardio Tap and Butt & Gut Buster. There are also combo classes, and I tried a combo of Cardio Tap/Zumba Gold. 
I was joined by five other ladies whose ages ranged from early 20s (Horton's niece, who is currently a dancer at Drury University, popped in with her friend) to late 60s. "Our average class size is about eight, and most of our clientele is in the 40-plus range," Horton says. 
We started our 52-minute sweat session with Cardio Tap. Several of the women wore tap shoes, but I wore my light-weight sneakers, which Horton says is perfectly fine. I was really nervous about keeping up since I'm seriously challenged when it comes to any form of dancing, but Horton led the class at just the right pace—fast enough to burn calories and just slow enough for me to follow along. We danced our way through a handful of songs, then started the Zumba Gold portion of the class. "This is a slower-pace basic Zumba with no twisting or jumping, so it's lower impact," Horton says. Moving our feet every which way and often raising our arms above our heads, I found myself smiling as we hit on salsa dancing, the Merengue and even "Thriller." The floor, a Harlequin Fiesta Woodtone Floor with a Liberty Sprung panel system, absorbs your steps and makes less of an impact on your joints and bones, so my feet didn't hurt when it was over. Also, I was offered a glass of wine when it was all done, just as promised. Now that's a workout I could get used to! 
The Effects
Horton designed the classes at Bar Cardio for all fitness levels, and she stresses that men and women of all sizes and shapes are welcome. As with most workout classes, the dance moves can be slightly modified to get more of a workout. I was able to keep up the entire class, but I was quite sweaty when it was over. "You do about 10,000 steps in a class, so it's a really good cardio workout," Horton says. As for working your muscles, this particular class is great for your thighs, calves, core and behind—and it's also great for your mind. "It takes so much brain power to get your feet to do all of those steps," Horton says. And the best part: The class is fun, so you'll leave with a smile on your face.
How to try it
Classes have a drop-in fee of $15, or you can buy class cards of five classes for $60 or 10 classes for $110