Health
Running Clubs in 417-Land
Want to run your heart out and meet a whole network of other running enthusiasts while you're at it? We found three local running groups that can help members accomplish just that.
Jun 2014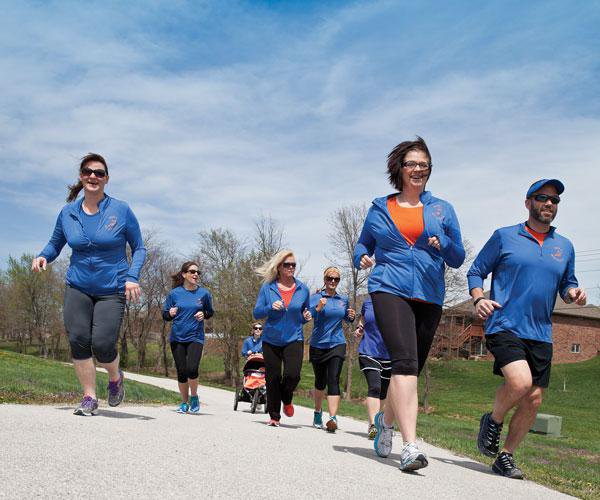 The Nixa Running Club schedules 4- to 5-mile runs nearly every day of the week. 
Nixa Running Club
Location: Nixa
How to Join: Search for Nixa Running Club on Facebook, and request to join the group.
Details: With 4– to 5–mile runs scheduled nearly every day of the week, it's no surprise that the Nixa Running Club is a popular group for those who love nothing more than hitting the open road on foot. Even with a meet-up time of 4:45 a.m., this group often kicks off the morning with more than 40 runners in attendance. The group was started by Shannon Cochran, an administrative assistant at CoxHealth, in 2009 after both of Cochran's parents died and her daughter was diagnosed with diabetes. "I just went for a run one day, and it felt good," Cochran says, looking back on that first run. 
Since then, Cochran has watched as her small running group of four has grown into a dedicated collection of 100-plus runners. The group meets five days each week in Nixa for 4– to 5–mile runs. The routes are always predetermined, and no one ever runs alone. Every runner has a partner. That's one of the draws of this group: safety. "You don't want to run by yourself," says Lindsay Jones. "It's just not safe." Jones, who co-owns Red Poppy Boutique, is a marathon runner who started running with the Nixa club as a way to learn new routes and to meet other runners. No matter the weather or temperature, runs are never canceled. Even when it was -11°F, Cochran and the rest of the Nixa runners were out on the roads, taking it one step at a time.
Idiots Running Club
Location: Gainesville
How to Join: Visit idiotsrunningclub.com
Details: The Idiots Running Club might be based in the rural town of Gainesesville, some 80 miles southeast of Springfield, but it has more than 3,600 members on Facebook, and runners come from all over the Midwest to join the group's runs. In fact, the group even had a runner make the trip down from Canada for the group's annual Skunk Run. The group meets every Saturday with 10 to 12 runners making an appearance each week. "The idea is to show that running can be relaxing," says the group's co-founder David Murphey. "It doesn't take a special gift to run, and that's what we want to show. We're here for runners who are training for 5Ks or marathons." When Murphey and his friend Jon Wilson started the group, it was just him and one other guy. "Everyone made fun of us," he says laughing. "We learned quickly that everyone who runs has someone in their life who will call them an idiot." And just like that, the Idiots Running Club was born. 
Ozark Mountain Ridge Runners
Location: Springfield
How to Join: Visit ozarkmountainridge-runners.org
Details: When it comes to running groups, the Ozark Mountain Ridge Runners is the granddaddy of them all. Started back in 1978, this Springfield-based group is made up of more than 500 members. While there aren't weekly runs or regular meetings, this group helps train other runners for local marathons and races and hosts two marathons each year including the Run to the Ranch race the last Saturday in December. And if you're new to running, you can take part in the beginning runners meetups Monday and Wednesday nights, and once you're a regular, check out the group's website. It's filled with a ton of races held in 417-land.