Reviews
Hangar Kafe
We traveled to Miller for lunch at Hangar Kafe, a cute little restaurant located in an airplane hangar.
By Savannah Waszczuk | Photos by Brandon Alms
Jun 2015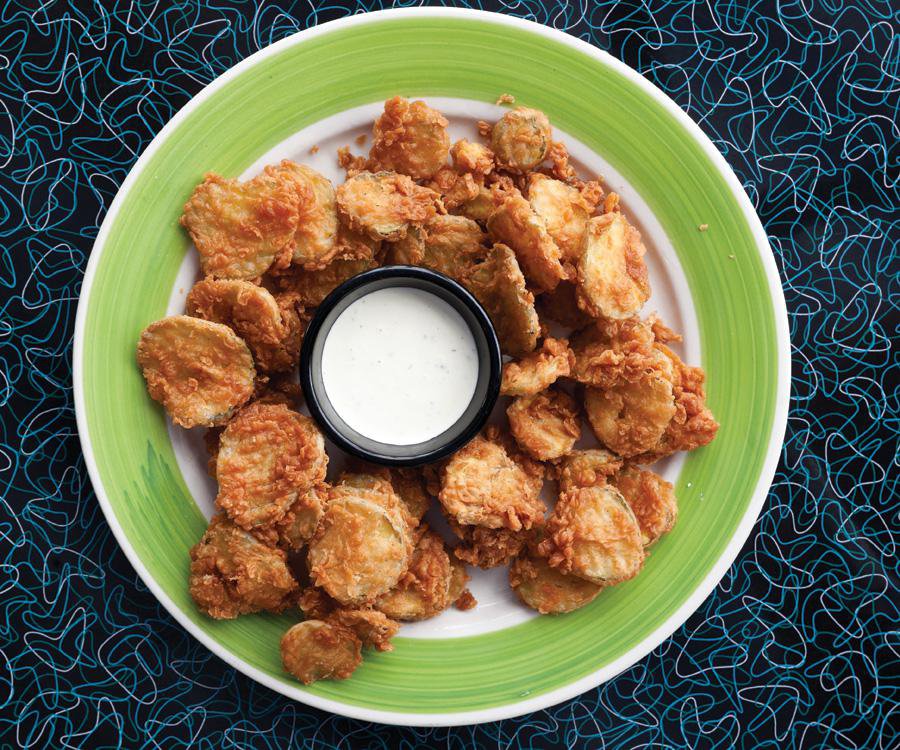 Located in an airplane hangar, Miller's Hangar Kafe is decked out with soaring planes, hot air balloons and a mural of the countryside. 
HANGAR KAFE
3103 Lawrence 1070, Miller, 417-452-2277
PRICE RANGE
$–$$
When it comes to restaurants, we're always eager to try the unordinary and unexpected. This often relates to the food, but sometimes it relates to the location, too. We've visited restaurants in barns, in old homes and even in a rodeo arena. That's why when we heard there was a café in an airplane hangar in Miller, we had to check it out. 
I asked our assistant editor, Ettie Berneking, to venture to Hangar Kafe with me on a recent Monday afternoon. She happily agreed, and we soon found ourselves gabbing about the latest in our lives as we passed miles and miles of rolling countryside. The restaurant is located almost an hour away from Springfield, so our bellies were loudly grumbling by the time we finally rolled in for lunch.
Pulling into the parking lot was quite the sight for our eyes. There are several other operating hangars here, and you can actually fly in for a meal! The restaurant also offers airplane rides and skydiving, perfect for the adventurous souls of the world. The interior of the restaurant was equally pleasing, with model airplanes and hot air balloons soaring through the air from the ceiling and a sky blue wall painted with puffy white clouds toward the back. It's cute and appropriately kitschy, just as you'd dream a restaurant in an airplane hangar to be.
We decided to start off our meal with the fried pickles, which came highly recommended. Just seconds later, a massive pile of indulgent fried goodness arrived in front of us. Our server offered a side of homemade ranch for dipping, and we (of course) said yes. We were soon dunking the crispy little discs in the creamy ranch and talking about how delicious it all was. There was a bit of sourness from the pickles themselves, plus plenty of salty, crunchy breading that kept us going back for more. I kept saying "this is my last one," and before I knew it, there were three pickles left as evidence of our splurge.

The fried pickles at Hangar Kafe are breaded in house and served piping hot with a side of creamy ranch dressing.
The lunch menu is dotted with burgers, sandwiches and a few bigger dishes like country fried steak and fried chicken. Since everything sounded good, I decided to order the waitress's recommendation of the popular pork tenderloin sandwich. I went with waffle fries for my side, because I personally think they pack in more flavor than regular fries. It's something about the squares! When my meal arrived, I realized my eyes were bigger than my stomach. The pork tenderloin took up almost half of my plate. I cut it in half and got to work, enjoying bite after bite of juicy pork wrapped in more of that salty crisp breading. Both the pickles and the pork are breaded in house, which made all the difference. I only got through half the sandwich before I felt as if I was going to pop.
Ettie opted for the chili burger, which features a big ol' hamburger patty smothered in homemade chili and shredded cheese on a pillowy soft bun. She debated how to tackle the creation for a half a minute or so before deciding on the safe, clean eat-it-with-a-fork approach, then she quickly reported that it tasted similar to a sloppy joe. Her side of sweet potato fries came sprinkled with brown sugar, which we agreed was a nice finish. 
As we pulled away from Hangar Kafe with full bellies and plenty of leftovers, we discussed how the spot is perfect for a fun meal with a side of adventure. We also talked more about those fried pickles, which I wanted more of by the time we got back to Springfield.

The pork tenderloin sandwich is among the most popular menu items at Hangar Kafe. Customers also love the burgers, one served topped with chili. 
Q&A
Kiman Kingsley, owner of Hangar Kafe 
417 Magazine: What led you to open Hangar Kafe?
Kiman Kingsley: Well, I'm a farmer and a crop duster, and I've done a lot of flying in my day. I've been all over the country, and it's really interesting when I'm able to fly in to a spot where there's a restaurant. You can fly in, eat and then fly off. This is an attraction for airplane people, plus people in the rural area, so I thought that would be good for here.
417: What are some of the most popular items on the menu?
K.K.: The fried chicken, the hot beef and the pork tenderloin. Also, a lot of people like our cheeseburgers, and steaks on Friday and Saturday nights. We've got a full menu. Basically, whatever people like—we have it.
417: What is something you offer that no other restaurants offer?
K.K.: You can come out and eat and get an airplane ride while you're at it.