Travel
Kimmswick, MO
Located just 25 miles south of St. Louis, Mastodon State Park and the town of Kimmswick are the perfect getaway for a relaxing weekend full of historic charm. You can browse more than 20 gift and specialty shops, hike beautiful trails and immerse yourself
By Kaleigh Jurgensmeyer | Photos courtesy Missouri Department of Tourism, Mastodon State Park
Jun 2015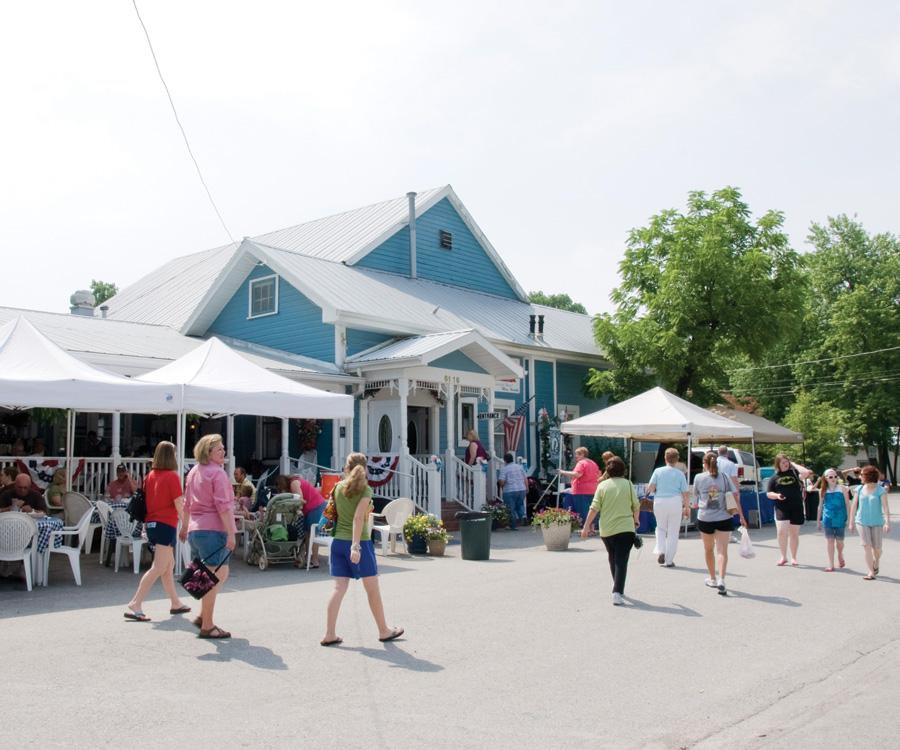 Explore
Check out Mastodon State Park Historic Site for a hike or museum visit (1050 Charles J Becker Drive, Imperial, 636-464-2976, mostateparks.com). The Limestone Hill Trail is a bit challenging with steep slopes and rocky terrain, but it's full of beautiful views of Seckman Valley, wildflowers and other wildlife. You can also visit the museum and learn about the Kimmswick Bone Bed, one of the most well-known and extensive Pleistocene ice age deposits of fossils—including a number of bones of giant mastodons. The museum is $4 for adults and free for children.
If you can travel to Kimmswick at the beginning of the month, make sure to attend the town's annual Strawberry Festival from 10 a.m. to 6 p.m. on June 6 and 7. Taste everything from strawberry shortcake and strawberry cheesecake to strawberry iced tea and strawberry wine.
Craft and food vendors also line the streets as live entertainers perform at several areas throughout town. This is a kid-friendly event ,too—there are fun rides, a petting zoo, games, face painters and caricature artists.
Anheuser Estate, also known at Fedmar Farms, is another great place to stop for a little history (6000 Windsor Harbor, 636-464-7407). Enjoy looking through the beautiful historic home of Mabel-Ruth and Federick Anheuser, which sits on a sprawling 23 acres and houses family and brewery artifacts, antiques, portraits and a family library. The view is spectacular too; bald eagles are often spotted flying along the river bluffs, and horses are still stabled on the grounds. Guided tours are available from noon to 4 p.m. every Thursday, and the cost is $5 per person. 
Eat
For all the sweet tooths out there, make sure to stop at the Blue Owl Restaurant and Bakery (6116 Second St., Kimmswick, 636-464-3128, theblueowl.com), which is home of the Levee High Pecan Apple Pie—featured on the Today show, Oprah, the Travel Channel and Food Network. This pie contains 18 Golden Delicious apples, each hand-peeled and placed in the pie to create a delicious dessert that weighs in at an enormous 10 pounds. Blue Owl also has hearty breakfasts and country-style lunches, including homemade soups, salads, sandwiches, quiches, croissants and other yummy dishes your whole family will love.

The Levee High Pecan Apple Pie at Blue Owl Restaurant and Bakery is made with 18 apples.
Another great place to eat is The Dough Depot Café and Gifts (216 Market St, Kimmswick, 636-464-9339, thedoughdepot.com). Built in 1965, The Dough Depot has since been restored and converted into a restaurant on the main floor. It serves sandwiches, soups, pizza, homemade candies, ice cream, desserts and a famous pretzel bread. After you eat, get a head start on your holiday shopping by checking out the wonderful handmade dough ornaments.