Travel
Spend Some Time in Santa Fe
Go for the art, stay for the food. New Mexico's capital city is a perfect long weekend getaway.
Written by Joan Whitaker | Photos courtesy Visit Santa Fe
Jun 2017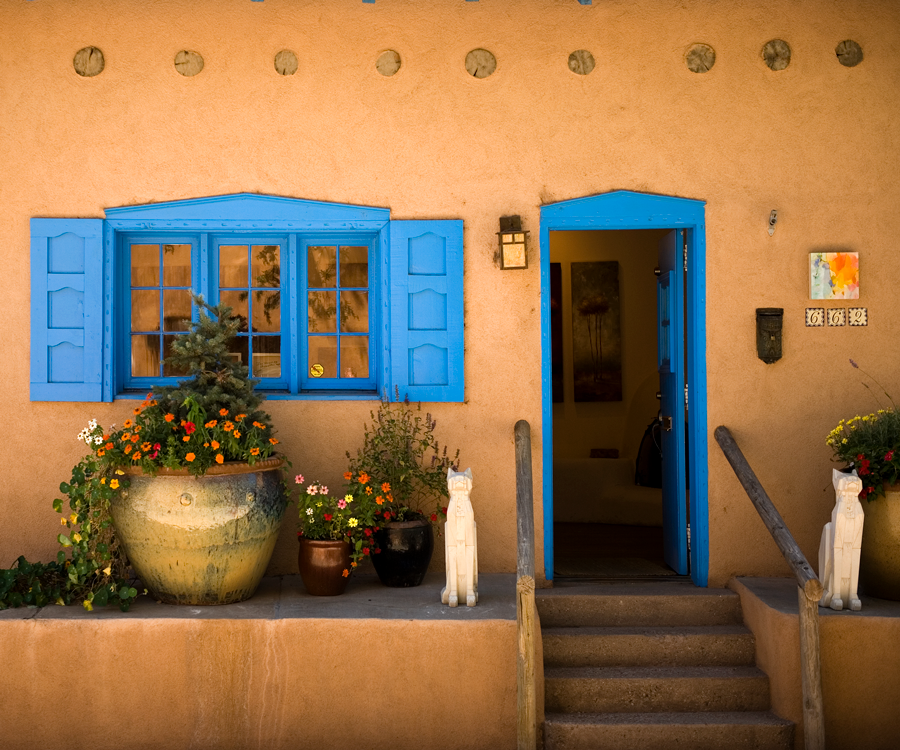 You can drive it in about 12 hours or take a quick hop through DFW on American Airlines with a direct flight into the teeny, tiny Santa Fe Municipal Airport. Wait until you see baggage claim—laughable or charming? You be the judge.
Long before white settlers arrived, the Pueblo people inhabited the area, and their influence remains in architecture, art and cuisine. Santa Fe has been inhabited as a city since 1607, making it the country's second (or third, depending on who you ask) next to St. Augustine—older than Boston, New York or Philadelphia. To say there's plenty of history in a small area is putting it mildly. And it's mostly walkable because the downtown area is concentrated in a 2-mile radius.

Gems of History
Missouri gets a shoutout in Santa Fe's history because the Santa Fe Trail originated in Franklin, Missouri—what is today Columbia—establishing a trade route between the East and West. In many older cities, major historic sites tend to be churches, and Santa Fe is no exception. Most notable and worth a visit are San Miguel Mission, Loretto Chapel and Cathedral Basilica of St. Francis of Assisi. San Miguel Mission dates back to 1610 and is the oldest known church in the U.S. Loretto Chapel is modeled after Sainte Chapelle in Paris and is famous for its gravity-defying staircase. The basilica, built in the French Romanesque revival style, is a stark contrast to the surrounding adobe buildings. For more history on Sante Fe, spend some time at the New Mexico History Museum and the Palace of the Governors on the plaza, which is the oldest continually occupied public building in the country.
Santa Fe is the capital of New Mexico, and the government buildings are on Don Gaspar Avenue, right in the thick of the downtown area. If one word sums up the Capitol complex, it would be casual. The only security we saw was a uniformed officer who was so nice and polite when informing protesters they could come in and protest, but they'd have to leave their signs outside. Everyone is welcome to come in, walk around, visit sessions in progress, relax on a comfy sofa, mix it up with the politicians and enjoy the enormous collection of New Mexican art lining every square inch of space. We even visited the governor's office to see a folk-art exhibit.

Confession: I first visited Santa Fe on a girls' trip years ago. We stayed at the Don Gaspar Inn bed-and-breakfast, which means we walked by the Capitol every day on our way to the plaza for shopping and eating. None of us ever realized it was there. We must have been talking.
The plaza of Santa Fe remains the city's bustling center. There you'll find shops and art galleries in addition to places like the New Mexico History Museum and the Palace of the Governors.
Handmade Handiwork
When you tire of history, get your culture on by popping into some of the more than 200 art galleries. It's said if you were in Santa Fe for a month, you couldn't make it through all the history and art museums and galleries. That might be true, but a good start is the Georgia O'Keeffe Museum, home to the largest permanent collection of her mesmerizing abstracts. A downloadable audio tour is the best way to enjoy her remarkable works.
Okay, so with history and Georgia checked off your list, it's time to shop. There are hundreds of places to indulge in some retail therapy. Make sure to visit the Native American vendors who lay their handiwork on blankets in front of the Palace of the Governors. If you see something you like, buy it. Vendors are chosen daily by lottery, so they might not be back the next day if you "want to think about it."
Uber or Lyft your way to the top of Canyon Road. Drop in the Tea House for a pick-me-up and fortification before you visit (or bypass) the more than 100 art galleries and shops located along Canyon Road. 
There isn't a sidewalk, but because there's only one-way traffic, it's easy to crisscross back and forth, wandering in and out of gallery after gallery. It's a pretty spectacular way to spend a day whether you know anything about art or not. We visited in March and luckily hit perfect weather, which we understand was extremely fortunate. The upside of visiting in March or April is reservations at the best restaurants are easier to come by, and the galleries are willing to bargain. They don't budge on prices in the high season, which runs from late spring into early fall.
Many Cultures, One Plate
Truth be told, most people go to Santa Fe for the food. When asking friends for advice on what to do in Santa Fe, without question the answers were always about food. After spending time in Santa Fe, it's easy to understand why. A surprising observation was the number of French restaurants and French-inspired menus there were. We OD'd on foie gras, escargot, demi-glace, French bread and pastries. Arguably the two best restaurants in Santa Fe, Geronimo and The Compound, are located along Canyon Road. Both are open for lunch and dinner. Make sure you have your credit cards paid up because both will set you back some change. Don't let that stop you, though. Both are worth every Ben Franklin. In season, making reservations well in advance is critical. For a more affordable French experience, try Bouche, a tiny bistro that will transport you to the Left Bank. For breakfast, brunch or lunch, indulge at Clafoutis French Bakery or Chez Mamou.
You're probably thinking, "Santa Fe and French cuisine? What about Southwest cuisine?" Well, it's abundant, too. The two must-eat spots for chiles—both red and green—are The Shed on Palace Avenue (which has a sister restaurant, La Choza, on Alarid Street) and Café Pasqual's at the corner of Water Street and Don Gaspar Avenue. Don't be put off by the wait for a table. That's how you know it's gonna be good. Pasqual's occupancy is 45 people, but the service is swift, and tables turn fast. The Shed is much larger, so they seat people fairly quickly. Between the two places, I prefer Pasqual's for food and The Shed for margaritas. Visit both and decide for yourself.
Beyond the Plate
To get a good overview of the area's cuisine, consider a walking food tour from the Santa Fe School of Cooking. The school runs three walking food tours, each visiting four different restaurants. On our tour, we went to Terra Cotta Wine Bistro (huge wine-by-the-glass collection), Inn of the Anasazi (internationally inspired menu and killer margaritas), Dinner for Two (lots of tableside preparations) and State Capital Kitchen (a rustic dim sum–style, locally sourced fusion of flavors). It's a great way to sample a bit of all that Santa Fe has to offer. Go hungry and leave full.
Another way to capture the flavor of Santa Fe is at the Santa Fe Farmers Market. Open on Saturday mornings year-round, it's a rainbow of locally grown and raised meats, fruits and veggies. Vendors set up around the perimeter of the building, so it's also a good place to shop for handmade items. If you're lucky, you might even get to hear Springfield native Tim Davis entertaining guests on his stand-up bass.
If you're visiting on a Friday or Saturday night, see if Charlie Tichenor is performing at Los Magueyes on Burro Alley. Charlie is a cabaret-style singer and piano man who enlists diners to help him entertain. Eat before you go. Food and drink are marginal.
When your feet give out, head to the corner of Lincoln and Palace Avenues. Tour companies offer narrated trolley tours that show you downtown, Canyon Road and some places farther afield.
While you're in Santa Fe, make time to see awe-inspiring views at the Kasha-Katuwe Tent Rocks National Monument. 
Where to Stay in Santa Fe
There are plenty of options for resting your head and tired feet. Three distinctly different and of-note locales are Rosewood Inn of the Anasazi, Drury Plaza Hotel and La Posada de Santa Fe.
Inn of the Anasazi is mere steps from the plaza, so it's the most centrally located if you want to be right in the thick of the action. It is beautiful, elegant and refined.

A few blocks away is a gigantic Drury Plaza Hotel. Formerly a hospital, the building has been completely remodeled with modern rooms, suites and terraces. Tip: Ask for a room on a high floor, or you might find yourself in the morgue. The rooftop Bar Alto offers a bird's eye view to watch the sunset, and its restaurant, Eloisa, was a 2016 James Beard Award semifinalist for Best New Restaurant. 
For a bit of a mystical experience, consider La Posada located directly across the street from the Drury. It dates to 1882 when Abraham and Julia Staab built a mansion to entertain Santa Fe society. In the 1930s the mansion was converted to an inn. Over the years, it has expanded and welcomes visitors to enjoy its beautiful grounds and lovely pueblo-style casitas and spa. It is said Julia so loved her home she never left and still visits (haunts) regularly. A restaurant there is named in her honor. Over and over, locals say La Posada is their favorite place. All three welcome canine friends.