Reviews
Taj Mahal Indian Restaurant
Springfield's second Indian restaurant is serving up a full buffet at lunchtime and an enormous menu at dinnertime.
By Katie Pollock Estes
Mar 2013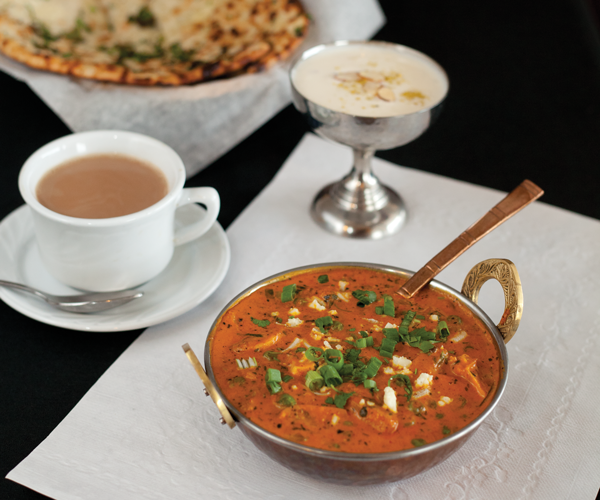 Taj Mahal Indian Restaurant
1250 E. Republic Rd., Springfield, 417-719-4573
Open for lunch and dinner daily.
My husband, Eli, and I are total suckers for Indian food. We love it, and it's one of our favorite indulgent meals. Indulgent because we always desperately over-order and over-eat, usually with lots of leftovers to over-eat again the next day. So we were pretty excited when a new Indian restaurant opened up in Springfield. Recently, we decided to give Taj Mahal a try.
Our meal started with one of my favorite Indian-restaurant snacks: papadum. These are thin, nutty lentil crackers that are served with sweet tamarind chutney and herby-spicy mint chutney. The mint chutney is always my favorite part,  but I love it when I get a bite of papadum that has a little of both chutneys mixed together. It's spicy, sweet and fresh all at once.
The papadum came on-the-house, but we also ordered a dahi vada appetizer . These soft, little ping-pong-ball-sized lentil dumplings are served buried under tempered yogurt and topped with a sweet date-tamarind chutney and a sprinkle of fresh cilantro. We had never tried dahi vada before and didn't know what to expect. We were surprised that they were served cold. (For some reason we expected warm dumplings, even if the yogurt was cold.) But after getting past the unexpected temperature and our ignorance about the dish, we really enjoyed these tasty little treats. 
For our entrées, we ordered a couple of dishes to eat family-style so we could both try a little of everything. We got the karahi lamb ($12.95) and the mushroom aloo matar. They both came with basmati rice. We ordered the karahi lamb spicy (the options are mild, medium or spicy), and it came to the table with quite a punch. It wasn't too much to handle, but it definitely made us reach for our water glasses. The tender chunks of lamb are served with green bell peppers and onions in a rich, flavorful and spicy sauce that had hints of hot chili peppers, ginger and coriander.
I enjoyed the karahi lamb quite a bit, but I liked the mushroom aloo matar even more. I'm a big fan of creamy, rich sauces in Indian food, and that's what we got with this tasty dish. Swimming in the sauce were big chunks of potato, sliced mushrooms and some green peas. We asked for medium spicyness, and it wasn't very hot at all. But the creamy tomato-based sauce had plenty of kick from the coriander, onion, cumin and more.
Both of those entrées featured a heck of a lot of sauce, so we were glad we had ordered some paneer paratha. This was naan bread filled with homemade cheese and gave us a vehicle for sopping up all that tasty sauce.
For dessert, Eli had a hot cup of milky masala chai tea. I ordered some kheer., Indian rice pudding served with golden raisins, cashews and some slivered almonds for garnish. It was a sweet ending to our hot and spicy meal.