Reviews
Indulge Restaurant & Bar Inside Andy B's
Before you get your game on in the lanes, duck into Indulge Restaurant & Bar at Andy B's for a meal that's several notches above typical bowling alley fare.
By Katie Pollock Estes | Photos by Brandon Alms, Chuck Travers
Mar 2016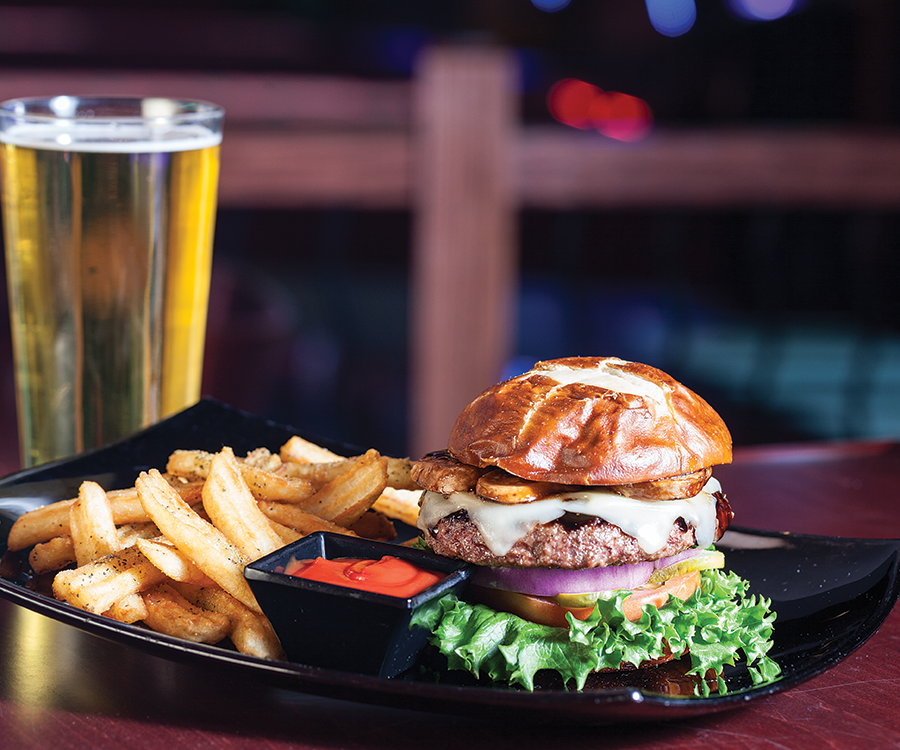 I'm not an avid (or skilled) bowler by any stretch of the imagination, but I have been partaking in the pasttime since I was a little kid. Some of my earliest memories involve spending some quality time with my Great Aunt Marge at the bowling alley was when I way too little to be any good at the game. I remember little paper cups full of fizzy Pepsi, hot pretzels dipped in bright orange cheese-goop, yard-long ropes of licorice and stiff movie theatre–style nachos.
Bowling is fun, but the food has always left a little something to be desired.
Then Andy B's (1127 E. Battlefield, Springfield, 417-883-1234), the bowling-arcade-laser tag combo on East Battlefield, remodeled what used to be Battlefield Lanes. When they did that, the bowling experience got a major makeover, and the food did, too.
Now, the bowling alley features a full-service restaurant and bar called Indulge that features real food… not bowling alley food. It has comfortable, modern decor where you can actually sit down and savor your meal and a drink instead of ordering at the counter or bar and juggling your plate in your lap in between turns at the lane.
Along with my husband and son, Eli and Oliver, I popped in for lunch on a busy Saturday. As we sat down in a roomy booth and started to check out the menu, we could hear the tinny sounds of arcade games and the cheers of a big bowling party that spanned several lanes. It was a hopping place that weekend. 
A server came out right away to greet us and get our drink order. We told her we wanted to start with the loaded nachos, and she brought them out super-quickly. They featured tortilla chips topped with creamy queso, a five-cheese blend, spicy jalapeños, grilled chicken, sour cream, shredded lettuce and guacamole on the side. The queso and guac were a nice touch, and we loved the zip of the hot peppers. But there was a little too much lettuce for our taste, making the nachos less indulgent than we expected.

The loaded nachos come piled high with queso, jalapeños, grilled chicken, sour cream, shredded lettuce and guacamole. 


The menu was full of heavy, hearty fare like burgers, buffalo chicken sandwiches, pasta dishes and pizzas. I was in the mood for a burger, and I appreciated that they had a few creative options. My eye went straight to the balsamic Swiss burger, a fat and juicy patty topped with tender sauteed mushrooms, melted Swiss cheese and a thick balsamic reduction. It's served on a soft pretzel bun. Everything in the world should be served on a soft pretzel bun, my weakness. If you expect bowling alley burgers to be limp, wimpy, flavorless patties on flat, wimpy, flavorless buns (you know… concession stand food), then you'll be pleasantly surprised by the burgers at Indulge. They're real burgers! And the balsamic reduction added a fun bit of sophistication to the belly-filling lunch. 
That balsamic reduction was pretty sweet, so I added all the optional veggies and really loved the salty fries that came on the side. Both helped to offset the sweetness of the burger. Those fries are thick steak fries with plenty of crisp crunch.
Eli, always a pizza fiend, opted for the Hawaiian pizza, which comes topped with sweet pineapple, crispy applewood-smoked bacon, Canadian bacon and four cheeses. It came to the table piping hot on a thin and crunchy-chewy crust. He loved it. For our son, we ordered the corn dog with fries… perfect easy-to-eat fare for a hungry 3-year-old. 

The Hawaiian pizza features both Canadian bacon and applewood-smoked bacon, with pineapple and four cheeses. 


After we had sufficiently stuffed ourselves, we made an afternoon out of it and stuck around to play. We grabbed some shoes, picked out some balls and hit the lanes for a while before trying our luck in the arcade.


Five Things to Do After You Eat
1. Bowl, of course
Whether you're there with kids, like we were, or with other adults, the bowling here is top-notch. We chose a silly theme that our 3-year-old got a kick out of and used the bumpers and kiddie ramp, but there are lots of options to choose from. If you opt to bowl in the private VIB area, you get a few extra bells and whistles (like food service from Indulge).
2. Challenge your friends to a game of laser tag
The theme is "The Forsaken Mine," which fits because you head down a flight of stairs to get there. It's dark, it's awesome and it's the perfect place to geek out and act like a kid as you take your competitors out.
3. Get competitive in the arcade
There is no shortage of flashy attractions in the arcade at Andy B's. The games are big. Physically, really big. My husband said they made him feel like a kid again. And I believe him because before I could blink my eyes he had purchased a $50 game card and started racking up virtual tickets.
4. Play the biggest claw game you've ever seen
I cannot resist claw games. I will drop any amount of money for a chance to pull some cheap toy out of a big glass box. At Andy B's, there's a massive claw game that features things like giant bouncy balls, oversized Jake the Dog plushes and other huge toys. I tried twice to win my son a ball. I failed. Maybe next time.
5. Duck into the Evasion Chamber
Sounds scary, right? It's not! It's a big, dark room full of flashing pressure-sensitive floor plates where you can dance your socks off to your choice of music.