Spaces
Home Theater Trends
This year brings tons of trends for your home theater, and we rounded up the best ones. Use them to create your perfect movie escape at home.
Written by Julie Sedenko Davis | Photo courtesy SCS Home Entertainment
Mar 2016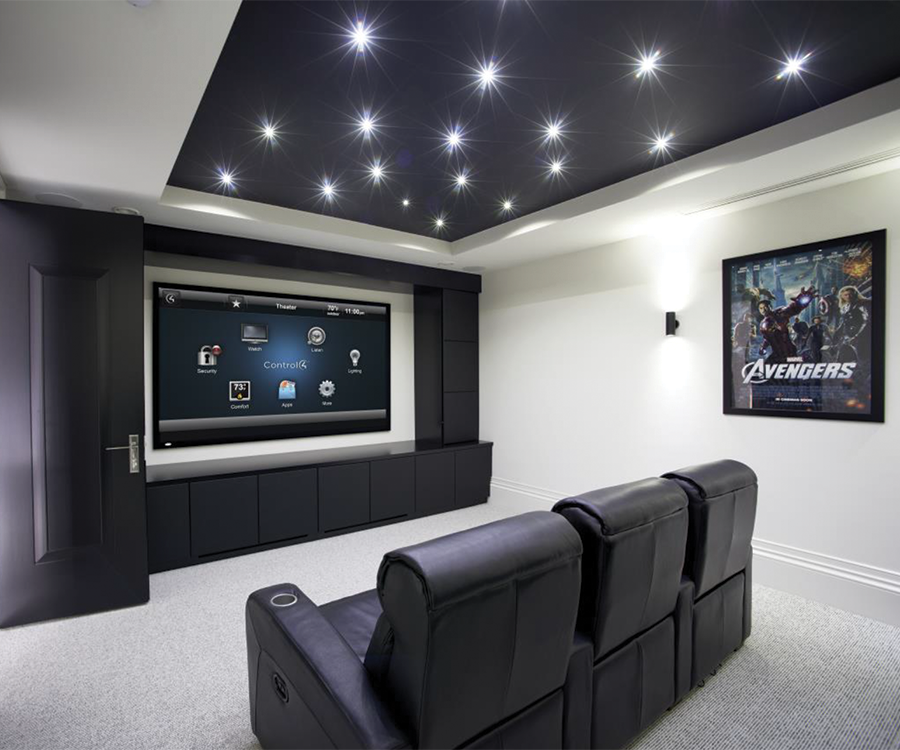 Everyone needs an occasional escape. Today that getaway is possible without leaving the driveway. "When you go into a properly designed home theater, you feel different after you see the movie, like you've been transferred to a different place," says Mitch Smith, owner of rAVe Design Services. These latest innovations in technology, acoustics and seating easily place you in the environment of your choosing.
Home Automation
$499–1,500 
Control4, Crestron and Savant are competing brands in home automation, each offering different capabilities. All have the ability to control your television, lights, thermostat, security system and more from your smartphone or other portable device. Home automation is practically a requirement for a home theater. "If you're not putting in a control system to operate everything with one button, you've really missed out," says ForresterTech Chief Operating Officer Ben Forrester. 
4K Ultra High-Definition TV (UHD)
$800–3,500
The new 4K UHD TV quadruples the resolution standard of regular high-def TVs. In reality, 4K UHD really isn't necessary unless you have a ginormous screen. "When you go to a 100-inch television you need that extra resolution so the picture doesn't look fuzzy and dull," says Mark Cloninger, sales manager at SCS Home Entertainment. 
Dolby Atmose Surround Sound System
$800–2,500
Experience sound as if you are actually in the movie's environment. You'll need the Atmose receiver and ceiling speakers or Klipsh RP-140SA speakers ($500 for a pair), which sit on existing speakers and send sound upward into the room.
Organic LED TV (OLED)
$2,000–6,000 
Regular LED TVs aren't really LED. They are LCD TVs backlit with LED. That is, they were until now. With Samsung or LG's new OLED TVs, each pixel generates light. Reviewers call it the best display ever made. 
Acoustical Treatments
"You can make a system sound a lot more expensive with proper room design and acoustical treatment," says Smith. Stretch fabric treatments come in every color, while acoustical wall panels can be made to look like columns, wainscoting or a style to match your décor.
Seating
Power theater seats allow you to recline in your favorite position. "They have theater chairs that have speakers built into them, some with movement, like jets or bombs, that would shake your chair," says interior designer Jacque Pitts. Big, comfy sofas or chairs with ottomans offer a family-room feel. Pillows on the floor create the perfect spot for kids to relax.
Design
Anything goes when it comes to design, says Pitts. Velvety, Vegas-style carpets are popular choices that often determine a room's theme. Murals, fiber-optic lighting and even barnwood transform ceilings. Wall and step lighting add a cool vibe while allowing you to move around during the show. Pitts often adds a stage with draperies or cabinetry framing the screen.
Movie Makeover
Here's where to go when you're ready to create a dream home theater.
ForresterTech
605 N. Booneille Ave., Springfield,417-864-8324, forrestertech.com 
Jacque Pitts, Designer
417-818-6882, brashears.com
rAVe Design Services
137 E. State Hwy. CC, Nixa, 417-447-3344, ravedesignservices.com 
SCS Home Entertainment
2868 S. Glenstone Ave, Springfield, 417-887-9558, scshomeentertainment.com