Style
Find Designer Resale at The Review Shoppe
Throw out your notions of what resale means, and head to The Review Shoppe, where you can find beautiful designer pieces for up to 70 percent off retail prices.
By Julie Sedenko Davis | Photos by Kevin O'Riley
Mar 2016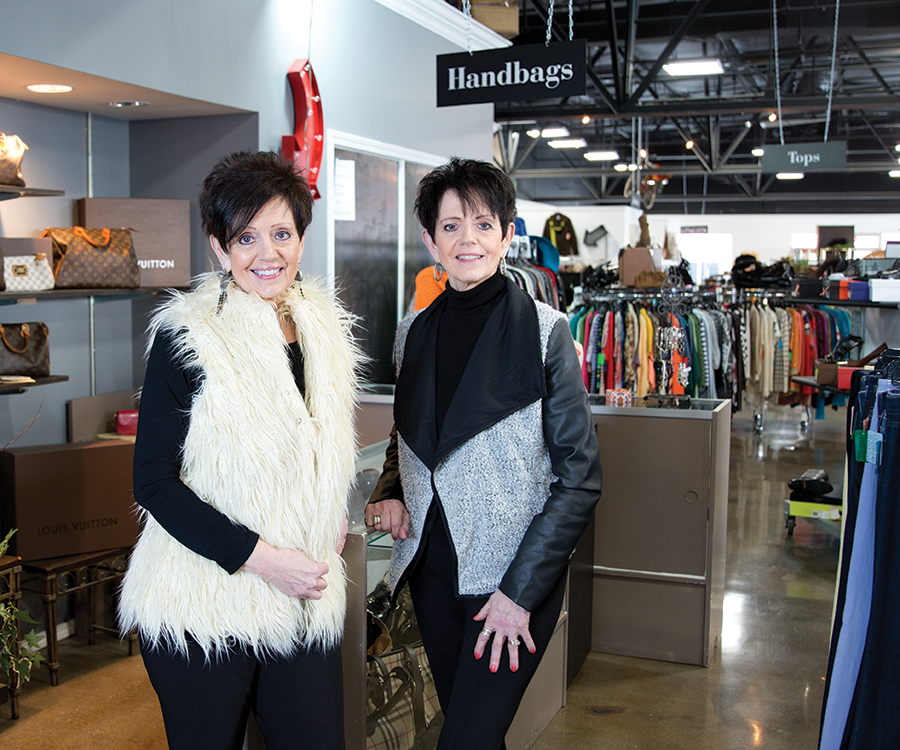 If you've ever wanted to raid a well-dressed woman's closet, your wish has come true in a big way. Imagine 7,500 square feet of designer clothes, shoes, accessories and purses—all for the taking.
The Review Shoppe (305 W. Walnut Lawn St., Springfield, 417-887-7795) has been a Springfield shopping staple for 25 years. Its new location on Campbell and Walnut Lawn is more than double the space of its former Brentwood Center location. The new look is edgy yet comfortable and spacious. Industrial pipes combine with cozy wood pieces to create an eclectic, big-city shopping vibe. 
The shop features upscale contemporary clothing lines like Alice + Olivia, Joie, BCBG, Michael Kors and many more. Most of the clothes are pre-owned (purchased within the last one to two years), but you'd honestly never know it. "After you tear the tags off, it's used," says Chelsea Bassham, the store's personal stylist and promotional coordinator. New items are coming into the store all the time. "Literally, we will get hundreds of items a week," Bassham says. 
The Review Shoppe also offers new merchandise. An entire boutique section is devoted to unworn clothing, purses, accessories and shoes. The clothes come from buy-outs of other retail stores and boutiques, so prices are still deeply discounted. 
Bassham offers free style consultations by appointment. It's like having that trendy best friend help pick out your clothes. But, she's careful to make sure you wind up with something you love. They'll also arrange alterations for pieces that are an "almost perfect" fit.
If you love designer purses, hold onto your bags and breathe. The Review Shoppe guarantees in-stock Louis Vuitton and Burberry purses every day. Handbag prices, like the store's clothing, are 50 to 70 percent off retail. 
The Review Shoppe's larger location has also allowed the addition of a new furniture and home décor department. Pre-owned couches, desks, lamps, pictures and more are on display. "We're constantly trying to get more stuff in there because it goes quickly," Bassham says. "The prices are good." 
Layaway and online shopping (via Amazon, eBay and Tradesy) are also available. "We want it to work," Hopkins says. "We try to be customer-service friendly." 
Q&A with The Review Shoppe's Chelsea Bassham
417 Magazine: What is one piece of clothing every woman needs?
Chelsea Bassham: Blazer. You can wear it with ripped jeans or to a wedding over a dress for a light jacket. You can do so much with a blazer. It takes you through the fall and spring transitional seasons. Put it with jeans and a T-shirt, and make it you look like you tried. 
417: What should every woman remove from her closet?
CB: Pieces that no longer fit. If you do try and wear it, you're just tugging on it all day. Get rid of them and make room for something that does fit. And, old, crappy bras. If you don't have the foundation underneath the clothing, you're not going to have a nice, clean, put-together form-fitting shape, where all the bumps and curves are where you want them to be. 
417:  What three words best describe The Review Shoppe?
CB: Current. Metropolitan. Variety.
417: What would you say to someone who has never shopped resale?
CB: It's not like a thrift store. It's curated pre-owned. We have all kinds of things that have clearly never been worn.